What Happens When You Put A CGC Slabbed Captain Marvel Comic In A Woodchipper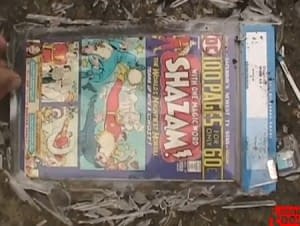 To paraphrase Joss Whedon's line from the X-Men movie – "same thing that happens with everything else you put in a woodchipper." But said in the throwaway fashion he intended.
Oh go on, while we're at it, Classic Comics: Kidnapped being paintballed…
A mint copy of Dazzler #1 being eaten by pigs
And Walt Disney's Comics And Stories being blended into a delicious strawberry shake.
Why do I suddenly think this will be the post popular post of the day, hmm?