Sacha Baron Cohen Responds (in Character) to Sarah Palin's 'Who Is America?' Accusations
With Sacha Baron Cohen staring down the premiere of his new Showtime comedy series Who Is America? in less than four days, you would think he'd have his hands full promoting Sunday night's start. But the writer/director of the seven-episode series found time to respond to U.S. vice presidential candidate Sarah Palin's Facebook accusation that she was "duped" by Cohen's "sick humor" into being interviewed for an episode.
Cohen "spoke" on behalf of his series character Billy Wayne Ruddick Jr, Ph.D, taking to Twitter on Thursday to respond in typical Cohen fashion to Palin's claims (an image of the response is above; and the actual tweet below) — and even demand an apology.
Palin took to Facebook earlier this week to express her disgust at having "fallen victim to the evil, exploitive, sick 'humor' of the British 'comedian' Sacha Baron Cohen, enabled and sponsored by CBS/Showtime" Among the accusations made by Palin: that she was tricked into being a part of the series after being told it was for a Showtime historical project; that she was lied to when told the project was to benefit military veterans; and apparently her daughter's not going to be starting a fan club for Cohen anytime soon.
"Out of respect for what I was led to believe would be a thoughtful discussion with someone who had served in uniform, I sat through a long 'interview' full of Hollywoodism's disrespect and sarcasm – but finally had enough and literally, physically removed my mic and walked out, much to Cohen's chagrin."
Here's a look at the image of Palin's response; as well as a look at the original Facebook post: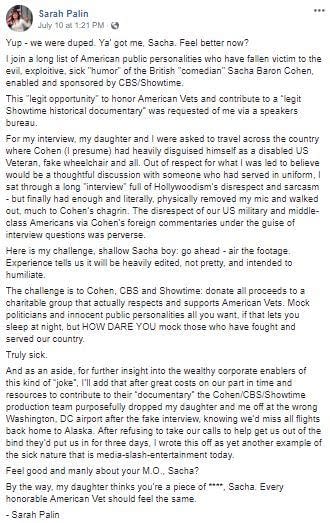 Yup – we were duped. Ya' got me, Sacha. Feel better now? I join a long list of American public personalities who have…

Posted by Sarah Palin on Tuesday, July 10, 2018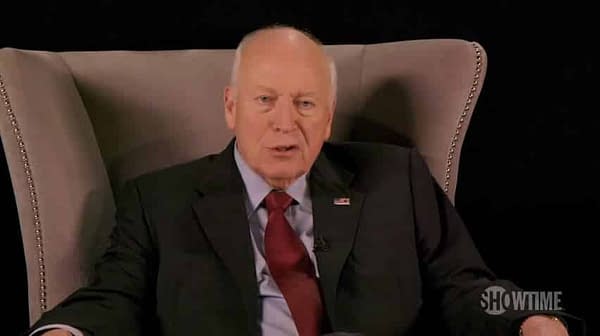 WHO IS AMERICA? is a satirical half-hour series from comedian Sacha Baron Cohen, in his return to series television for the first time in more than a decade. In the works over the past year, the seven-episode series explores the diverse individuals, from the infamous to the unknown across the political and cultural spectrum, who populate our unique nation.

WHO IS AMERICA? debuts through streaming, online, and on-demand beginning Sunday, July 15 at 12 AM midnight ET (9 p.m. PT July 14); and premieres on air that same night at 10 PM ET/PT, with subsequent episodes airing Sundays at 10 PM ET/PT.