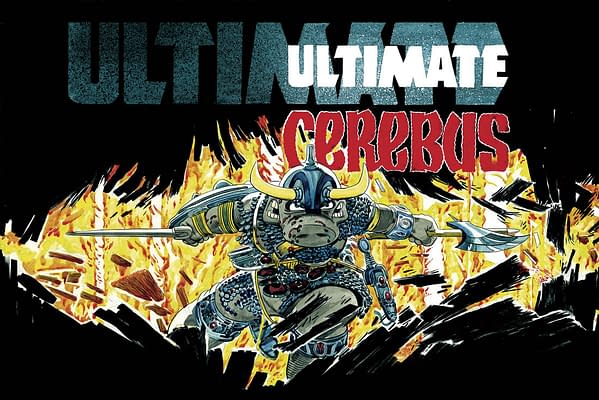 Well, now, this is a thing. Creator of the long-running, legendary Cerebus, Dave Sim writes about revisiting those early issues, with an all-star cast.
I asked Ted Adams during our phone chat a couple of weeks back if IDW would be interested in publishing ULTIMATE CEREBUS: basically the "re-telling" of the first 25 issues by other writers and artists and he was VERY enthusiastic.

My thinking is basically that the CEREBUS volume is a tough "sell" for a lot of people since I was, at best, semi-professional at the time but that there's enough Warner Brothers-style funny

and well-designed (though not IMHO well-drawn) raw material there to produce 25 comic books and a trade paperback if enough top-quality writers and artists want to have a go at them.

Let me emphasize "TOP quality" writers and artists — amazing veterans or undiscovered geniuses, I'm not fussy :) — there's not much point in replacing my semi-pro comics with someone else's semi-pro comics — writers and artists who are able to

meet a deadline obviously preferred.

This could, potentially, become a "feed-in" volume to the self-published Aardvark-Vanaheim trades starting with HIGH SOCIETY (and a Plan B if it takes much longer to get the CEREBUS trade back in print — basically skipping printing the CEREBUS trade and going right to printing the HIGH SOCIETY trade).

You may have noticed that anything having to do with Dave

Sim and CEREBUS tends to go "lariv" on-line (that is, the opposite of viral), so I think I'm safe in saying that if any TOP quality artists and writers have a favourite among the first 25 issues (and ONLY the first 25 issues) and are interested in trying out it might be worth doing a few sample pages and sending scans or photocopies of them to Ted Adams, ULTIMATE CEREBUS, 5080 Santa Fe Street, San Diego, CA, 92109. You'll be one of the few, practically guaranteed. And if you have the "chops" a regular paying gig for the next couple of years. Not

without pressure attached. I imagine long-time CEREBUS fans will be very critical.

Note that IDW doesn't accept ANY unsolicited manuscripts or submissions, but I think an exception can be made in this case because I'm the rights holder and all you would be doing is a variation of what I already did. And

you'd have to get a green light from Ted before he would send something to me. If you don't hear from Ted, that would tell you, pretty much, whether you were considered a TOP quality writer and/or artist. i.e. NOT! :)

And if this goes "lariv" no harm, no foul, eh?
So, I wonder if John Layman has emailed yet? Or John Roberson? Roger Langridge? Paul Grist? Nate Taylor? Alex Robinson? Todd McFarlane? Richard Starkings? Dave Sim's influence is far and wide, the only thing that might stop such folk is pure, unadulterated fear. Something like this.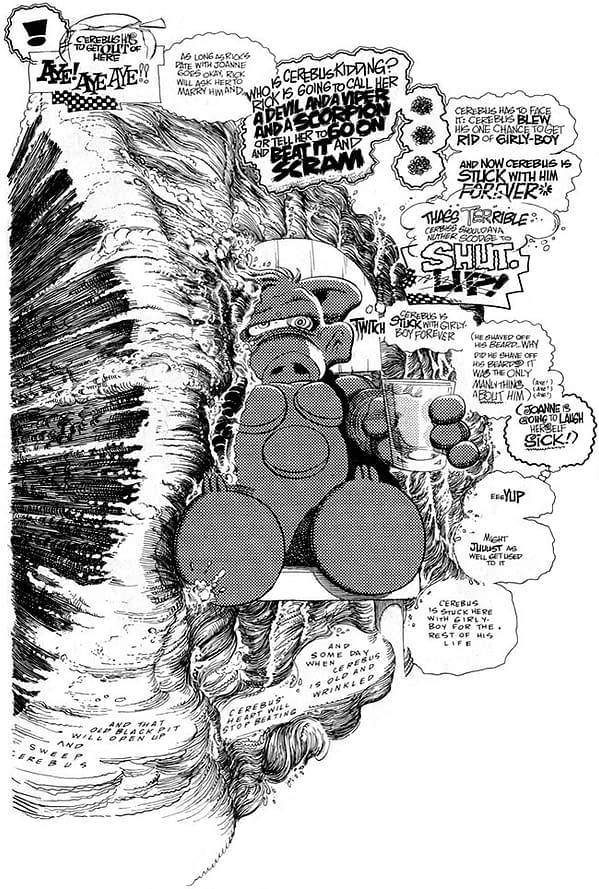 Cerebus is one of the greatest comic book works of the twentieth century. Some would say the greatest and I'd be hard pressed to argue. And Dave Sim is asking folk to recreate those early issues, when it was more a parody of Conan The Barbarian and less an indictment of politics, religion and social mores. Although… those aspects were still there as well. As were Sim's experimentations with with the format of comics, that the likes of Kieron Gillen and Jamie McKelvie occasionally play with today.
And, yes, I'd like to see their Cerebus too. And this is an opportunity. So… who would you like to see recreate Cerebus? Chris Ware? Adam Hughes? Katie Cook? JH Williams? Mark Millar? Who?
Enjoyed this article? Share it!