Posted in: Comics, Image, Review | Tagged: cullen bunn, danny luckert, fantasy, image comics, marie enger, regression
---
Regression #8 Review: Reincarnating into the Family
Adrian is cornered Wilson, the man who was once Temperance. Wilson explains what his life once was as Temperance. Wilson invites Adrian into his community, but the darkness in this group of people isn't hard to find beneath the surface. Elsewhere, Anton and Molly go to a hypnotist in the hopes of getting some answers.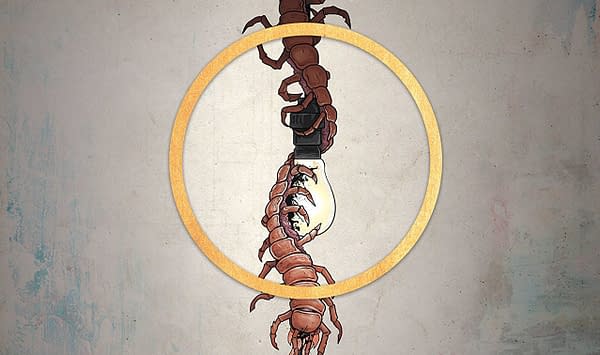 This is my first excursion into Cullen Bunn and Danny Luckert's Regression, and, admittedly, this wasn't the clearest issue to start the series upon. However, it's not impossible to get a bead on some of the plot, and the characters present themselves in a coherent enough fashion to get an idea of who they are.
The encounter between Adrian and Wilson is bizarre and unnerving. The story of Temperance is violent yet hopeful. Wilson's community seems nice on the surface, but it doesn't take much intuition to suspect that there is something horrible going on. Bunn balances several complex emotions in this book, and it succeeds in being compelling.
The parallel plot with Anton and Molly is left unfulfilling as a result, as they're only able to catch a small glimpse of what is going on. There is some charm in the interplay between Anton and Molly, but it doesn't have a lot to offer in comparison to the Adrian and Wilson plot.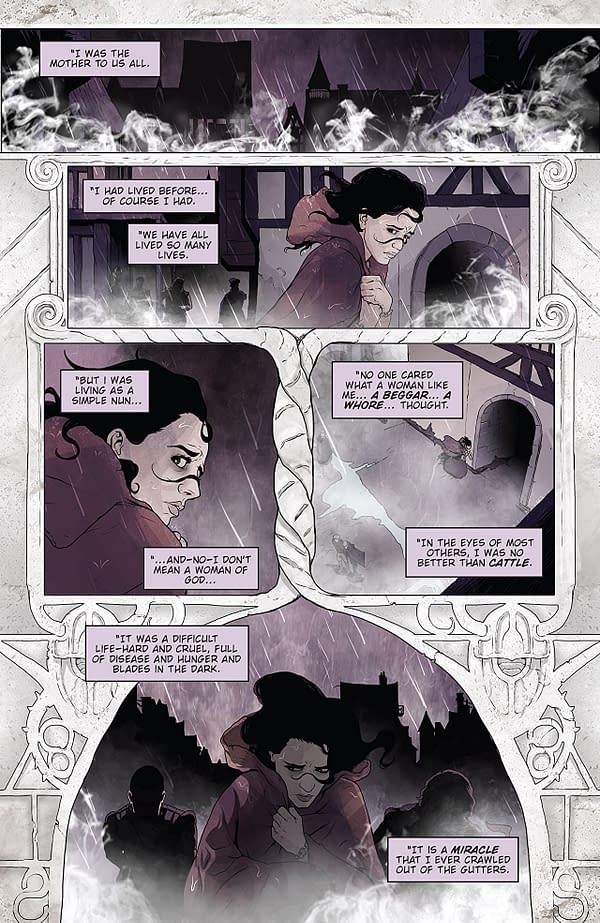 Danny Luckert's art is highly detailed and yet restrained enough to balance the seemingly mundane overtones with the ominous dealings underneath the surface. Marie Enger's color work is a similar balance of lights and darks contrasting one another. Again, there is a subtle ominous atmosphere to the color work that helps maintain the story's personality.
Regression #8 is an intriguing and oddly beautiful story of reincarnation and cults. It has a lot to offer the supernatural aficionado, and it once more shows how great a writer Cullen Bunn can be. While the b-story is a little lackluster, the main plot is a weird bit of morbid fun. This one gets a recommendation. Check it out.
---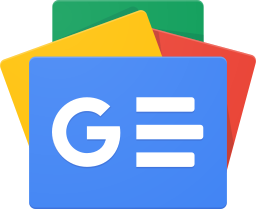 Stay up-to-date and support the site by following Bleeding Cool on Google News today!