Remarqued Uber Collection Sells Out Fast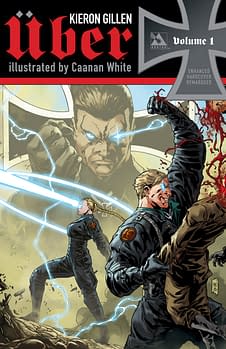 I thought I saw Kieron Gillen with a spring in his step as he walked down the Thor: The Dark World red carpet at tonight's premiere, cheek by jowl with Jamie McKelvie.
Well, we's got a lot to be pleased about, with Diamond Comic Distributors selling out of his and and Caanan White's remarqued enhanced Uber hardcover from Bleeding Cool's publishers, Avatar Press.
A rather gruesome comic featuring a Nazi Germany that developed superheroes in the last days of World War II and use them with unimaginable brutality.
And the Enchanced hardcover 336 pages long with 176 pages detailing the complete first chapter of the story and 160 additional pages of design art, interviews, behind the scenes notes, and creative extras, all signed and numbered by Gillen and White who also draws a sketch character in the book, and limited to 350 copies at $99.99. And now all sold out…