Renaissance For Angoulême Proposed By The Great And The Good For 2017

Remember when the world's biggest comic book event Angoulême exploded in a sea of controversy earlier this year, over sexism, racism, competency, accountability, boycotts and – well, the involvement of festival director Franck Bondoux – with everyone saying they were going to sit round and sort it all out? With even the government getting involved?
Yeah, well they are still not sorted.
The mediator appointed by the Minister of Culture, Jacques Renard must make his report at the end of the month, having consulted all parties involved in the Angoulême festival and the seven Grands Prix awards of Angoulême . But Patrick Mardikian, son of the co-founder of the festival, John Mardikian, has proposed an alternative solution.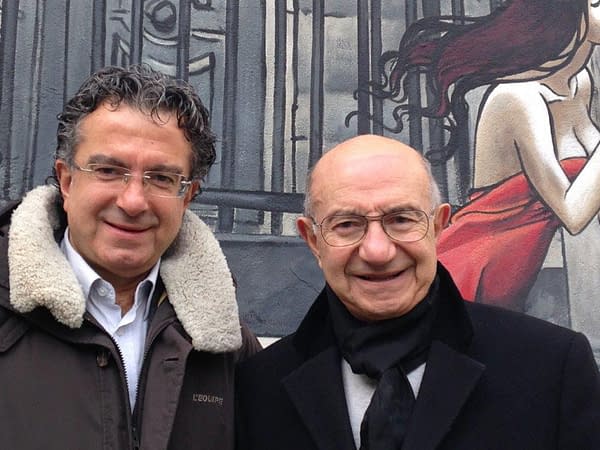 Patrick is the co-creator of the Angoulême Francophone Film Festival. And he's putting together an expanded steering committee to create a "Renaissance" for Angouleme.
He is supported in that endeavour by seven Grand Prize of the Festival, Florence Cestac, François Boucq, André Juillard, Régis Loisel, Frank Margerin, François Schuiten and Martin Veyron, London's own Paul Gravett, initiator of the States General of Authors, Benoît Peeters , journalist Laurent Mélikian , comic book translator and former bookseller Philippe Touboul and specialist BD educational and scriptwriter Didier Quella-Guyot . The idea is to create an
In a statement embedded below, they declare a desire to work with publishers, local authorities and government representatives in a 2017 event that can be the beginning of a renaissance for comics in the town.
Our thinking is nourished by our knowledge of the business of comics and events, our meetings with stakeholders in the profession, publishers, authors, booksellers, scholars, elected officials, …

We want a sustainable event and share the festive spirit which becomes a priority. We want a meeting which projects light on all the trends in comics worldwide.

We want to rebuild trust with the private partners offer innovative joint actions. We want a festival where the authors return to the center of reflection, including the revitalization of the Academy of Great Angoulême prize and the festival boosts their business.

We want an official selection established in a transparent and clear ranking for the public and professionals. Finally we want the festival breathes dynamics throughout the year and it bears the name of Angouleme beyond the ramparts. We want it to work with employees, locals, festival, holders of essential expertise and with the International City of comics and image, must pool resources and skills.

We are ready to take up the gauntlet for a new festival with the support of all who place particular importance to this event .
They also propose bringing back the staff before Franck Bondoux's involvement.
[dailymotion]http://www.dailymotion.com/video/x4eykt6_interview-de-patrick-mardikian_news[/dailymotion]