Restaurant to Another World: Yen Press Launches Fantasy Cookery Manga
The ever-prolific Yen Press announced a new manga series today. Restaurant To Another World is written by Junpei Inuzuka with art by Katsumi Enami, who provided artwork for popular light novel series Baccano!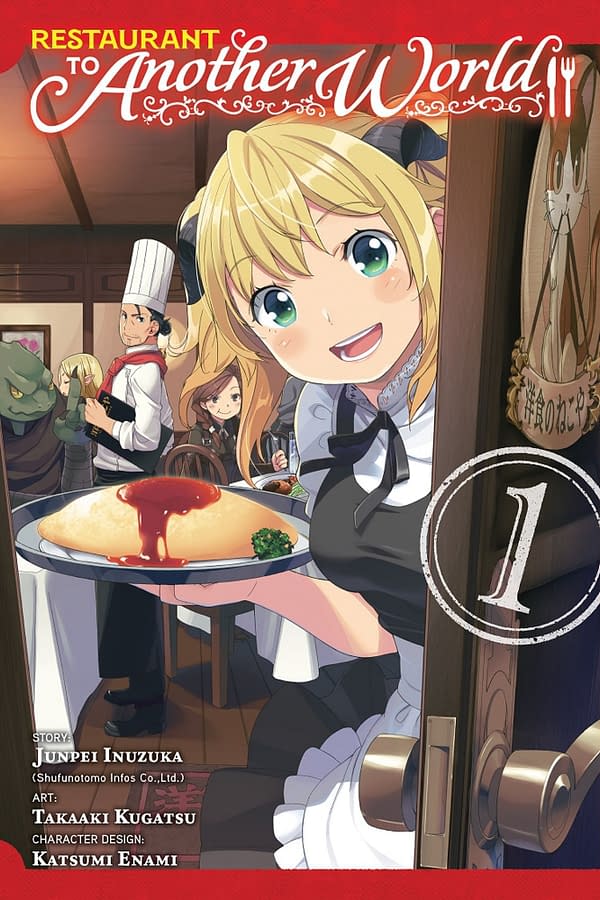 Yen Press announced the series today on Twitter:
As the official synopsis goes, "By all appearances, Western Restaurant Nekoya is a normal restaurant serving normal people-but unbeknownst to the regulars, it also attracts an alternative clientele. Every Saturday, all manner of fantastical beings come to dine, and what is familiar fare to humans can be downright exotic for visitors from beyond. To these customers, Nekoya is known by a different name: Restaurant to Another World.
READERS BEWARE: Reading this manga may lead to uncontrollable drooling and a grumbling belly!"
Restaurant To Another World is another new type of story that mixes two different genres that somehow the Japanese do before anyone else does: the foodie genre with the fantasy genre. The restaurant is a gateway to mythic lands where elves, dragons, and other mythical fantasy creatures come to dine on Saturdays. The main character is a demon girl who waitresses at the restaurant. Many manga and anime series features real recipes that audiences can cook for real… the ones that don't involve dragon meat anyway. There's a secret agenda in these stories to teach the audience how to actually cook. Who says there's no educational value to cartoons and comics? Each story in this series revolves around a particular dish and how to cook it. If there's one thing manga and anime seem to be teaching us, it's that the Japanese seriously love food, food of any kind, as long as it has carbs and protein and tastes good.
The new series is based on the popular light novel of the same name. An anime series is also currently streaming on Crunchyroll and Funimation.