Eliot Cole writes for Bleeding Cool
Avengers Academy thirty three is the best tie in to AvX that I've read. It's also in the top tier of AA issues, too.
That this issue is so good is a surprise, I'll admit that much. That's not because Gage and company don't have form, I'm of the opinion that this is the finest team book being produced by Marvel, and also on the shelves full stop. The Academy's AvX issues, though, have been middling thus far, albeit with some great incidental humour and character moments. The issues were still hovering above average (a three) every time. So; it's good, but we know that the creative team can handle tie-ins from the Fear Itself event issues and merge that with the drama that these kids are going through.
This particular issue riffs off the recent additions to the crew, and is very much (as is frequently the case at AA) a focus on one of them, Juston. Every single cut scene, break away and flashback is important in the telling of this particular done in one. I call it a done in one because, sure, it does owe the general storyline and plotting to the AvX issues, but, really, everything that happens in this issue can be taken in during reading just these pages.
Taking a look at page five there's a clear example of growth within this series. It's not included in the previews, so I'm unsure whether I've got clearance to post pictures from it, but I'll supply them, and if they can't be put online, you'll get the drift.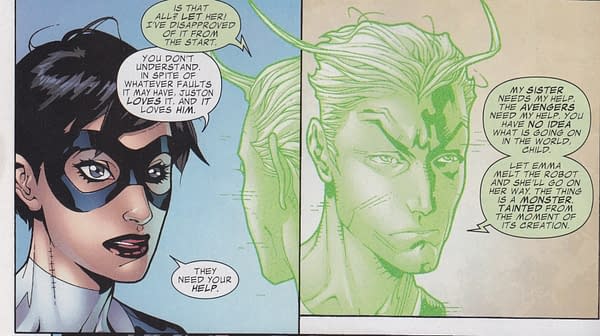 However emotionless Finesse may be, her prime instincts now are protective of her team. Whether this is prosaic or actual human emotional growth is up for grabs is unclear, but her conversation here shows a marked social improvement. Quicksilver is also well realised, too. His modern character was cemented (I think) by his interactions with the Inhumans. He's still mostly cold as ice, but this is a man that puts in a good shift every day, and is making good as well as he can. All mostly off the radar, too.


Pretty Succinct, I'll not go into it.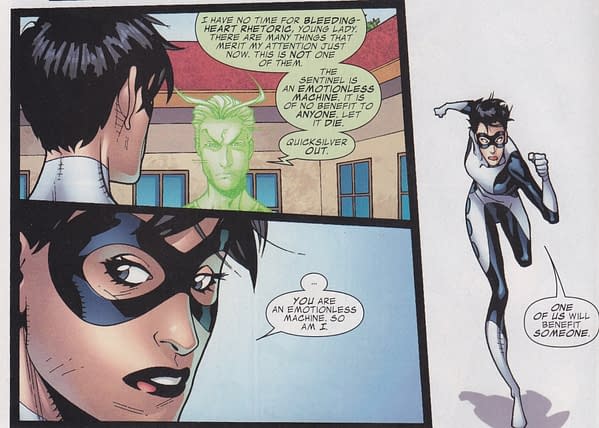 Finesse provides reiteration of her earlier point, and the progression from that, but more importantly there's the character definition and conflict at the heart of this individual story (from Pietro). We also get a nice segway back to what's going on back in the fight with Emma Frost.
Green's pencils are clean lines, with some nice minimal cross-hatching lending a slight nineties feel (occasionally) and just a smidgen off a JRjr amongst it all. I would just say that there is little to no background detail here. I'm not really thinking of it as a drawback, as this is one of Marvel's bi-weekly books. However it is indicative of a trend that may see this period looked back upon as a decade of low incidental detail. But that's my mindless speculation, there's still plenty going on here, even incidentally (see story page thirteen's hidden frogs, shuttlecocks and more).
Ultimately my love for this particular issue  comes from the emotional tides that flow through it. Finesse's interaction with Quicksilver, Laura's choices and relevance, and obviously any man or boy crying is strings at the movies! Although we don't really touch on the whole crew here, I feel like this AvX issue is an excellent introduction to what this title can do on a broad scale. Also, if you're already reading AvX, this would be a great side-bar for you, especially at $2.99.
The coda will knock you on your feet if you're a regular reader, and will certainly have some impact to the casual reader. I love every part of this book, and every time I try to do a cold re-read the tears well up. This is a five-by-five piece of capes and tights!
Enjoyed this article? Share it!