Review: Times Like These – Graphic Reports of Modern Life by David Ziggy Greene
Every couple of weeks, David Ziggy Greene's Scene & Heard strip runs in Private Eye Magazine, surrounded by political, social and media scandal pieces, and cartoons takes satirical jabs at modern life. In the midst of it all is something different, something more laid back and using a few extra centimetres to take a broader, wider view of something happening.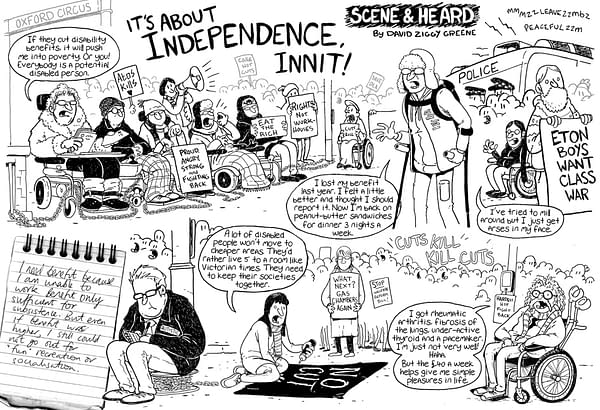 Greene hits the road, finds things going on, or just people with something to say and records them in a composite collage of cartoon bites. Maybe there's an event, a march, a shop, or just question he wants to put to people. Often lacking a punchline, with the barest of structure, it's more of a slice-of-life documentary, heavily edited down to these tiny representative sound bites. Each one is a trailer, but a trailer for life.
What you get in a collection such as Times Like These, his second of the Scene & Heard strips, is an even broader scope, seeing these snapshots of society spread out over the weeks, months and years, providing a narrative lacking in the originals. And you see patterns, repetitions and transformations, similar reactions from very different people in very different circumstances, but also the change in position of a certain type of person, spread over time.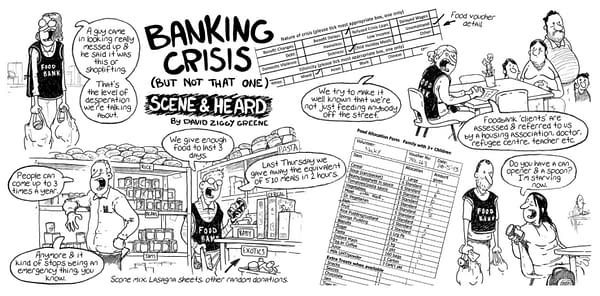 The book also contains the process, strips that were started, stopped and reworked, those that didn't make it to the Eye for one reason or another. We get to see the process of someone doing something very different to anyone else – but also representative of how illustrative reports used to be done in an early Victorian era.
The detail of minutiae of language reminds me most of Aardman's early animations such as Creature Comforts, taking the odder phrases and couching them in a cartooning reality – but also combined with the cartooning eye for people and poses of Posy Simmonds, but weaponised and sent on the road.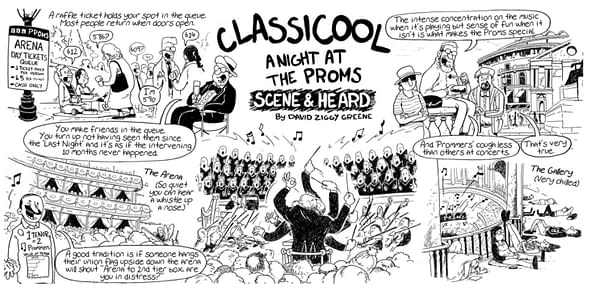 So whether that's discovering at a cybersecurity conference that a high-viz jacket makes you invisible, asking about the minimum wage with fast food being blamed, or discovering why people who have voted every time for 50 years can't be bothered anymore, it's a ride through humanity. Which, yes, is often hideous but the details are fascinating. Green's pen-line makes sure of that.
He gets cover quotes from Black Mirror showrunner Charlie Brooker, comedian Rufus Hound journalist Miranda Sawyer and cartoonist David Squires, with a forward from comedian and social activist Mark Thomas. Times Like These is published by September Publishing.