Richard Starkings Debuts New Elephantmen Comics at Comixology
New Elephantmen comics from Richard Starkings are coming this week from ComiXology Originals. The long-running anthropomorphic series began in July 2006, long before Zootopia normalized furry police officers. Since the debut of the series, the creative team has produced 80 issues of the indie comic. Now, this Wednesday, Starkings returns with longtime collaborator, artist Axel Medellin, and Boo Cook with a continuation that has a title almost as long as the series' run: Elephantmen 2261 Season 3: Theo Laroux Meets the Elephantmen.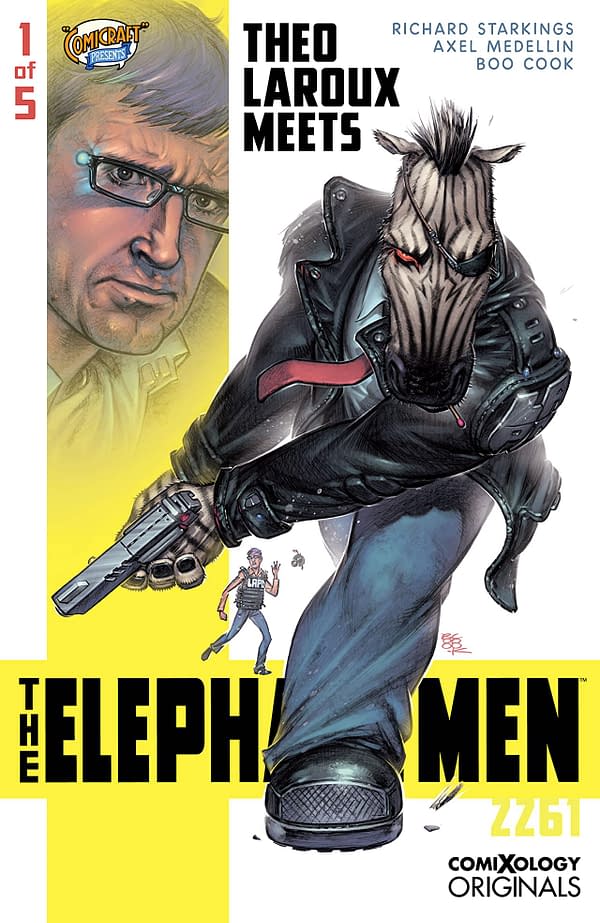 Here's how ComiXology Originals pitches the new series:
In Elephantmen 2261 Season 3: Theo Laroux Meets the Elephantmen, British documentarian, Theo Laroux is making a documentary about the Elephantmen. Laroux arrives in California to begin interviews. He seeks out SKYCAB driver Miki in an effort to understand her apparent infatuation with one of the more well-known Elephantmen, Hip Flask and asks for her help in making the introduction to his first subject: LAPD Lieutenant Trench. Trench is a no nonsense, one-eyed zebra/human hybrid who takes him on a ridealong on the darker side of Los Angeles, 2261. But has Laroux unwittingly stumbled upon another story with much broader implications for all the Elephantmen?
ComiXology Originals has been getting some heat recently for their original content, with the recent Amazon pick-up of Curt Pires and Alex Diotto's Youth, which we reported on last month. It appears that they are attempting to become something similar to a streaming service for comics, with their ComiXology Unlimited initiative as well as their mixed slate of originals and continuing indie series like Elephantmen.
The series, which will run for five issues, can be found starting July 7 at Comixology Originals site and app and will be available for members of Amazon Prime, Kindle Unlimited, and ComiXology Unlimited at no extra cost.