Rick Remender On Extraordinary X-Men #10? No.
In the Marvel Previews catalog for May-shipping comics this week, it lists Extraordinary X-Men #10, thus;

Written by Rick Remender. But in the released listings, it reads;
EXTRAORDINARY X-MEN #10
JEFF LEMIRE (W) • HUMBERTO RAMOS (A/C)
AGE OF APOCALYPSE VARIANT COVER BY Reilly Brown
"APOCALYPSE WARS" continues here in "OMEGA WORLD": Part 3!
• Trapped a thousand years in the future, the X-Men are literally mutantkind's last hope!
• Not only has Apocalypse deemed the mutant race obselete, but he's also claimed one of the X-Men as his newest Horseman.
• Can the X-Men survive a trip across the perilous landscape of Omega World to restore mutantkind's future and rescue their teammate?
32 PGS./Rated T+ …$3.99
Written by the writer we were expecting, Jeff Lemire.
Was it just a Marvel misprint? Something surviving from a previous listing? Bleeding Cool has previously reported that Rick Remender was originally going to be writing Extraordinary X-Men, back when Mike Marts was X-editor and the book would have been set on the moon of Europa rather than a pocket of the limbo dimension. Because that's much more realistic…
The odd thing is that the Diamond Previewsworld listing also says Rick is writing the book…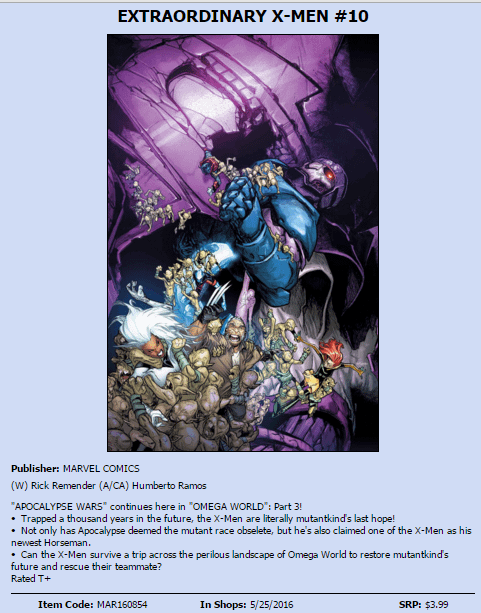 So does Westfield Comics.
Marvel representatives did not respond to enquiries made earlier today.But Rick Remender confirmed that this comic has nothing to do with him.
Expect a Ch-Ch-Changes note in days to come….