Rob Liefeld's Struggle With Clothing Policies in Saudi Arabia
Rob Liefeld has been attending the Saudi Arabia Stan Lee Super Con in Riyadh and has been posting to Facebook.
I just had the best time ever @stanleesupercon2019 in Riyhad. I had no idea what to expect but the people here were the finest, funnest most energetic folks I've encountered! This is the furthest I've ever traveled and I was simply blown away by the hospitality and kindness. Also, this crowd LOVE their comic books! So excited to have shared the voice of comic books and of Marvel in particular with this far away land! Hope to be back again someday soon!
He also posted about the cultural requirements of his attendance, regarding dress code – but also how no one else seems to be abiding by them. Well, not the youngsters, anyhow. He writes,
Before I left to go to Riyadh I was given a list of rules to follow – 1. No short sleeves, arms must be covered. 2. No shorts, legs must be covered. 3. No flip flops, no exposed feet. Basically, Anti-Rob wear. Also, never cut a line, always walk around any line formed. Upon arriving at the actual show, I saw kids, and I mean, tons of kids, teenagers, sweet youthful souls. They were wearing short sleeves, board shorts, ball caps, and while on stage I riffed on it, playing with the crowd that they were all in danger of being arrested for breaking these rules. In unison, a couple of passionate young men and women cried out "No, no…Saudi is changing Mr. Liefeld!" "We are changing for the better Mr. Liefeld!" "Those are the old ways.." They were so passionate and excited to interact with western culture, just as I was thrilled to interact with their culture. My driver, a 20-something youth, "Mo", spoke of how the advances in the culture are happening for the first time in his life. They are opening movie theaters, having rap concerts. He said he wants to get to Los Angeles and I told him to look me up when he arrives. They are so excited to experience everything that life has to offer and pursue their dreams, just like all of us. I was so blown away by this sojourn across the world and away from my comfortable existence. Kids in Riyadh are the same as kids everywhere all over. Thank you @stanleesupercon2019 for bringing this opportunity for us to interact.
Basically shorts and T-shirts are Rob Liefeld's Berlin Wall. And Liefeld is David Hasselhoff… in so many ways.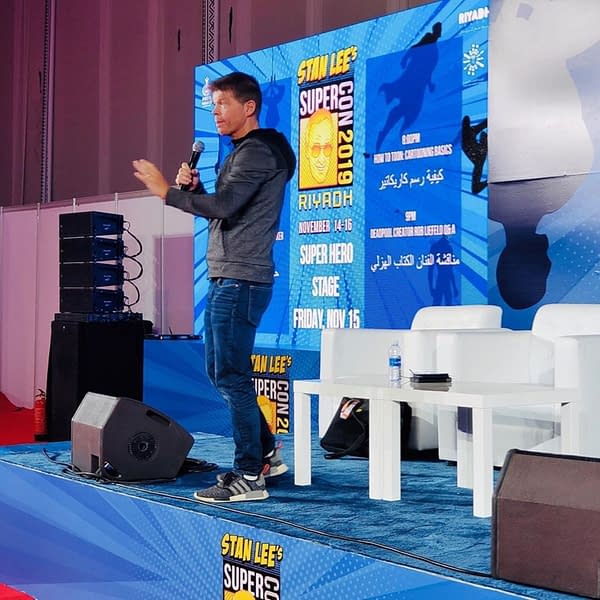 What he needed was some ripaways…