Ron DeSantis Names Gender Queer Graphic Novel In "Fact Sheet"
Last week, Ron DeSantis held a press conference in which he showed a video, including selected scenes from Gender Queer, to justify book bans.
---
Ron DeSantis, Florida Governor, expected to run for President of the United States, recently signed the Parental Rights in Education law, known as the Don't Say Gay bill, which bans public school teachers in Florida from mentioning sexual orientation or gender identity from kindergarten through third grade, and the state is considering expanding to the 8th grade. His actions have led to numerous books and graphic novels being removed from school libraries, and that has included the Gender Queer: A Graphic Memoir by Maia Kobabe.
DeSantis rejects that this is "book banning" and last week held a press conference in which he showed a video, including selected scenes from Gender Queer, saying "I just think parents, when they're sending their kids to school, they should not have to worry about this garbage being in the school" and that the only reason anyone is complaining against the removal of such books is if an educator is "putting your own agenda ahead of the wellbeing of the students. And that's what we see too often."
Following video scenes of empty shelves in school libraries after the enaction of this law, the Florida Department of Education published a "Myths Vs Facts" leaflet that labelled "Gender Queer: A Memoir – an explicit, pornographic book showing sex acts."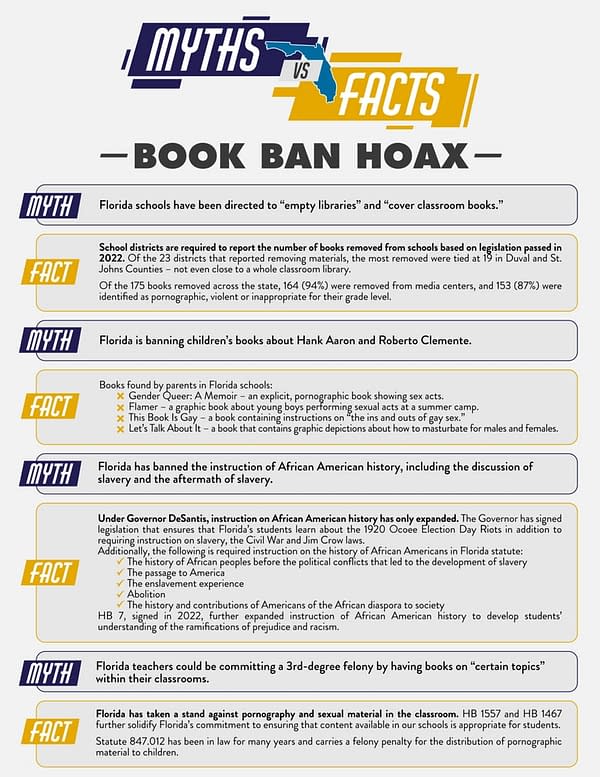 This is, of course, a rather inaccurate description. Bleeding Cool has pointed out previously how law enforcement officials had to declare otherwise, and how court dismissed such charged when previously filed by politicians in Virginia. It is also notable that the Myth Vs Fact sheet may add more context from the state's side, but often doesn't actually contradict the claims they are stating. Gender Queer has played a prominent role in some political advertising campaigns in the mid-terms, but that those candidates who did so, found that they lost the election in question. One side-effect is, of course, that Gender Queer has become one of the biggest-selling graphic novels in the industry.
DeSantis stated "You have some groups that want to take away classic books like 'To Kill a Mockingbird,' but they want things like, 'Gender Queer: A Memoir,' which is a cartoon-style book with graphic images of children performing sexual acts. That is wrong. They want to eliminate 'Of Mice and Men,' but 'Lawn Boy,' a book containing explicit passages of pedophilia is somehow accepted." Basically, if it's old, it's fine, if it's new, it's not. There are, as it stands, no calls for To Kill A Mockingbird or Of Mice And Men to be banned in school libraries, only to their inclusion on required or mandatory reading lists. Neither Gender Queer nor Lawn Boy are on any required school reading lists.
Bleeding Cool has repeatedly covered attempts by politicians and political activists to ban the graphic novel Gender Queer from school libraries, public libraries, college libraries and Barnes & Noble. The bans, or attempted bans, are often weaponised for electoral purposes, though the organised and replicated publicity at local levels has seen sales of the book rise leading to a new edition of Gender Queer is coming out from Oni Press.
A memoir from the perspective of realising a non-binary nature, Gender Queer was initially written and marketed toward older audiences, but won an American Library Association Award in 2020 for "books written for adults that have special appeal to young adults ages 12 through 18" which saw copies ordered by high school libraries and public libraries in the USA, where political campaigns have found it an easy touch for "what about the children" style rabble-rousing.
The Comic Book Legal Defense Fund's current Interim Director, Jeff Trexler told ICV2; "I mentioned the parent in Virginia who went viral after talking about this. Then, that became the heart of the Youngkin campaign. One could say that the protest of Gender Queer became the hub or the foundation of a movement that ended up getting the Republican Governor of Virginia elected". Since then, obscenity lawsuits against Oni Press and Maia Kobabe have been filed by lawyer Republican Virginia assembly delegate Tim Anderson on behalf of himself and Republican congressional candidate Tommy Altman citing an obscure state obscenity law, though were dismissed. Campaigns against the presence of the book have continued apace, with every week revealing a new ban. There are many attempts across the country to get the book banned in one place or another. And news stories and coverage of these attempts keep rolling on.