Posted in: Comics, Current News, Oni Press | Tagged: fox news, gender queer, graphic novel, Lion Forge, Maia Kobabe, NPR, oni press
---
Gender Queer Continues Making Headlines Across The USA Over Book Bans
Maia Kobabe's graphic novel Gender Queer continues making headlines across the USA, as Fox News picks up on an NPR interview and more schools and libraries consider book bans.
---
Bleeding Cool has been running many articles about recent news coverage about the graphic novel Gender Queer: A Graphic Memoir by Maia Kobabe as a new edition has come out from Oni Press. Initially marketed toward older audiences, winning an American Library Association Award in 2020 for "books written for adults that have special appeal to young adults ages 12 through 18" saw copies of Gender Queer ordered by school libraries and public libraries across the USA, while political campaigns have found it an easy touch for "what about the children" style rabble-rousing. The Comic Book Legal Defense Fund's current Interim Director, Jeff Trexler stated that challenges to this comic had become a hot talking point in local politics and were being weaponised for political gain. He told ICV2; "I mentioned the parent in Virginia who went viral after talking about this. Then, that became the heart of the Youngkin campaign. One could say that the protest of Gender Queer became the hub or the foundation of a movement that ended up getting the Republican Governor of Virginia elected". Since then, obscenity lawsuits against Oni Press and Maia Kobabe have been filed by lawyer Republican Virginia assembly delegate Tim Anderson on behalf of himself and Republican congressional candidate Tommy Altman citing an obscure state obscenity law, though were recently dismissed. But there are many attempts across the country to get the book banned in one place or another. And news stories and coverage of these attempts keep rolling on, with students getting heckled by parents, and the greatest defense is people actually reading the book. It will also be notable to see how people react to Saachi's Stories, eir upcoming graphic novel aimed at middle-grade readers.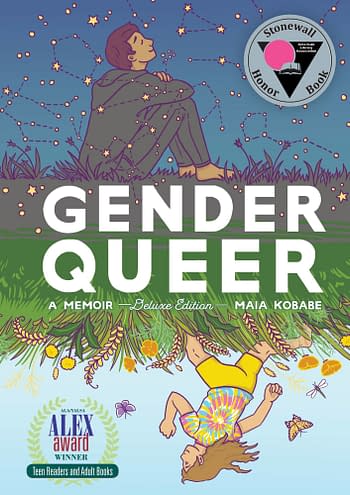 Gender Queer on NPR
Maia Kobabe was interviewed by NPR about the book, and its impact on America this past year. E wrote an essay for NPR that began "In mid-2018 I showed a partial draft of Gender Queer: A Memoir, my first full-length book, to my writing group. One fellow cartoonist, Jimmie Robinson, said, "Get ready for this book to be challenged, and take it as a compliment when that happens." Robinson is the author of a dark political satire series that shows a villainous, mostly nude, main character facing off with heroes and a certain former president. He was very well familiar with people misunderstanding and misinterpreting his work. He added, "Maybe go make some friends at the Comic Book Legal Defense Fund now." I was obviously already aware that queer, trans, and nonbinary narratives often receive pushback. I did brace myself, in 2019 when the book was released, for a certain amount of negative attention online, if not a full-on wave of internet hate. But it didn't come. Instead, Gender Queer was met with a wave of online love."
Instead, the negative attention would only come years later, as Republican politicians mobilised with concerned parents and made the book a campaigning issue in the midterm elections. A following interview with Kobabe on NPR had Rachel Martin of the Morning Edition ask "Let me ask you this. I mean, some of the criticism is about how explicit the book is. There are some graphic panels where you're describing some of your sexual encounters. Did you consider doing less graphic versions of those scenes? Just to not give grist to the critics who you anticipated were going to come at you anyway?" Kobabe replied "I drew as much as I felt like I needed to tell the story that I was trying to tell and get the points across that I was trying to make. And I honestly think the book is a lot less explicit than it could be, or would have been if written by a different author. The topic of gender touches on identity and touches on sexuality, and it touches on all of these things. And it's hard to fully explain, I think, how a gender identity can impact every facet of life as an adult without touching at least a little bit on sexuality. And so I wanted to not shy away from that."
…and then on Fox News.
Fox News rereported this interview with the headline 'Gender Queer' author doubles down on extremely graphic images of sex acts, says it could have been worse" while also reporting the words of parents who call the book paedophilia.
Gender Queer in Kentucky…
The challenges at schools and libraries across the USA continue. The Winchester Sun reported a heated debate at the end of the year, after which the Kentucky Clark County Public Library Board of Trustees approved a motion four to one that Gender Queer was to be restricted to individuals over 18 unless a parent or guardian gives written consent. In the meeting 25 of the 35 members of the public present expressed concern over the ban. Board member Tim Janes stated "It seems a very high standard to me that there's nothing we would consider unreasonable for children to receive. The real issue for me and the context and my argument is that public taxpayer organizations [have] no obligation in any way to provide sexually explicit material to those under the age of 18…. I don't think any of us wanted to ban the book. We've got those three options. Somebody is going to be upset regardless of what action we take. If the idea is that protecting the child or young adult is bad, then I'm a bad person. If that's wrong, I'll be wrong every day [for] the rest of my life."
Tiffani Hayes, a social worker and mental health professional presented another graphic novel that depicted heterosexuality, saying "Why were you not concerned about banning these books? Cause your bias is clear, and it's telling. The LGBTQ population has a history of being harmed by people in power" and that taking actions like this harms LGBTQ people and that it could lead to higher suicide rates." while another resident Dr. Jutta Liddle, originally from Germany, is quoted as saying "I grew up in the time of the pre-war and the post-war, and I saw what impact it had on people, how dividing it is to make judgments on what you should do and should do. Especially America. I mean, we are the shining lighthouse for democracy in the world. So what are we doing here by banning books?"
In Illinois…
The Riverside & Brookside Landmark reported that the Illinois Riverside Library was pushing back on a request to ban Gender Queer from two residents, but the Riverside Public Library Board of Trustees will place a request from two local residents to remove a book from their collection on its agenda. At the library board's last meeting, they expressed support for the decision to keep Gender Queer in circulation, but moved the book to the library's adult collection, stating "We do not practice censoring and we follow our collection development policies, and we felt this book fulfilled all of the criteria, but that we were going to take it out of the teen collection and put in the adult graphic novel collection." It had previous been placed in the Young Adult graphic novel collection in the new Teen Room.
Riverside resident Maria Hawk and teacher at a Catholic elementary school in Oak Park was the first to request the removal of Gender Queer from the library's collection, claiming the book was inappropriate for children due to "pornographic/obscene images" while Dawn Burda, the other objector, in her request to remove the book called it "blatant pornography" and said, "In conversations with several police officers, this resource as a whole is pornographic material. And this should not be made available to children in a public library." Neither had read the whole book.
Earlier this week four Riverside village trustees and the village's president expressed public support for the staff and trustees of the Riverside Public Library, lauding them for resisting calls by residents to pull the book. The decision will be an item in the library board's 10th of January meeting. Village Trustee Edward Hannon stated "Given the topic of the book, transgender and queer topics, I like the idea that our library provides that resource for young people who are struggling, that they can go to our library and find that material to figure out 'what are these thoughts in my head, why am I different, who can I reach out to,'" Hannon said. "And our library continues to be a resource for all people, any sort of education materials, and do so without fear."
Trustee Megan Claucherty stated "These book bans typically seek to limit access to books that offer empathy, knowledge and power to young people. And they disproportionately affect books by and about LBGTQ [individuals] and people of color." President Joseph Ballerine stated "It should not matter if a book is applicable to me, or makes me feel uncomfortable. It's important to recognize the material may be helpful to other people in our community and, therefore, we should not be censoring materials."
…and back in Maine
The Sun Journal of Maine, reports that a committee at the Maine School Administrative District 52 has been formed to review the Gender Queer and evaluate its appropriateness for high school students, composed of one administrator at the appropriate grade level, one librarian, one classroom teacher, the department head in the subject area of the challenged material and one community member, all appointed by the superintendent. Previously in the district, Jay-based Regional School Unit 73 voted in November to keep the graphic novel in its high school library, while neighboring Dixfield-based RSU 56 voted in August to remove it.
---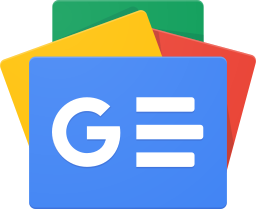 Stay up-to-date and support the site by following Bleeding Cool on Google News today!