We noted that Sara Pichelli wasn't drawing the big wedding issue of Fantastic Four #5. Or #6 for that matter, Aaron Kuder on art for both issues.
We now learn that, in a change to previous solicitations, she won't be drawing Fantastic Four #4 either, and instead it will be drawn by Iron Man, Spider-Man and Avengers artist Stefano Caselli instead.
But we still have her Fantastic Four #3 to enjoy… delayed until November 14th. And you may look elsewhere for more Sara of course…
FANTASTIC FOUR #3
(W) Dan Slott (A) Sara Pichelli (CA) Esad Ribic
FREE-4-ALL!
• The Fantastic Four is more than a team. It's a family. And when the fate of the very Multiverse is at stake, that means it's time for the ENTIRE family to have a reunion.
• Everything you've been waiting for? It's in THIS issue.
• Guest-starring: Spider-Man, Wolverine, the Hulk, Ghost Rider, Medusa, Crystal, Luke Cage and MORE.
Rated TIn Shops: Nov 14, 2018 Final Orders Due: Oct 22, 2018 SRP: $3.99

FANTASTIC FOUR #4
(W) Dan Slott (A) Stefano Caselli (CA) Esad Ribic
Meet the Marvel Universe's New Fabulous Foursome: THE FANTASTIX!
• Wait. What?! Who are these imposters? Why are they in the Baxter Building?!
• And how is it that they own the lease?!
• A strange new turn in the Fantastic Four's legacy!
• A secret side mission for the Thing!
• All this and a special appearance by one of the FF's oldest foes! Rated T In Shops: Nov 28, 2018 Final Orders Due: Nov 05, 2018 SRP: $3.99

FANTASTIC FOUR #5
(W) Dan Slott (A) Aaron Kuder, Adam Hughes, Michael Allred (CA) Esad Ribic
SPECIAL 650th ISSUE SPECTACULAR!
The wedding that's been years in the making…Ben and Alicia say "I do!"
No bait. No switch. Not a dream. Not a hoax. And we swear, not a single Skrull around. This is really happening! From the book that brought you the first, best and longest running super hero marriage in comics, we give you…the wedding of Ben Grimm and Alicia Masters! Featuring an untold tale of the courtship of Ben and Alicia. A bachelor party that only Johnny Storm could throw. And a very special ceremony brought to you in the Mighty Marvel Manner.
Rated T In Shops: Dec 26, 2018 SRP: $5.99

FANTASTIC FOUR #6
(W) Dan Slott (A) Aaron Kuder (CA) Esad Ribic
HERALD OF DOOM!
• GALACTUS HAS RETURNED TO DEVOUR THE EARTH……and only one man can save us: DOCTOR DOOM!
• And where is that agitator, Reed Richards and his meddlesome family? What are they doing?
• They're locked in battle against the brave new hero of the Latverian people, VICTORIOUS!
Rated T In Shops: Jan 09, 2019 SRP: $3.99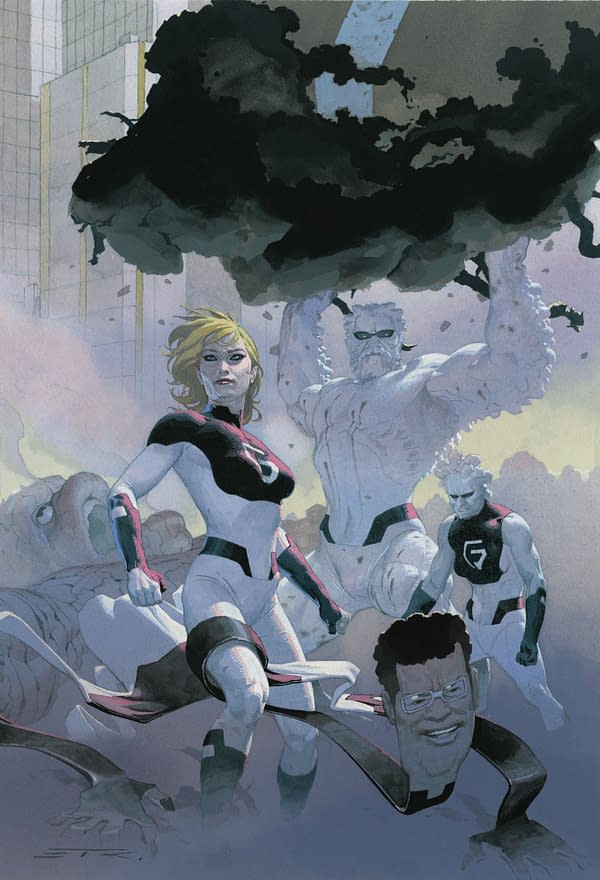 Enjoyed this article? Share it!