Schomburg's Princess Pantha Cover for Thrilling Comics #63, at Auction
Alex Schomburg created around 40 airbrushed covers for Ned Pines's Standard/Better/Nedor titles during the period of 1947-1948.
---
In regards to the artistry of Alex Schomburg, Stan Lee may have said it best. "I've always felt that Alex Schomburg was to comic books what Norman Rockwell was to The Saturday Evening Post," Lee once noted. "He was totally unique, with an amazing distinctive style. You could never mistake a Schomburg cover for any other artist's. When it came to illustrating covers, there was simply no one else in Alex's league." Perhaps best known for his early pulp covers and his beautifully detailed artwork for Marvel/Timely covers on titles like Marvel Mystery Comics, Captain America Comics, Human Torch, and many others, Schomburg's later-era airbrushed comic book covers for titles like Wonder Comics and Thrilling Comics have steadily commanded more attention in recent times. Alex Schomburg's classic airbrushed cover for Thrilling Comics #63 featuring the jungle girl character Princess Pantha is up for auction in the 2023 February 23 The Thrillingly Exciting Heroes of Nedor Comics Showcase Auction #40219 at Heritage Auctions.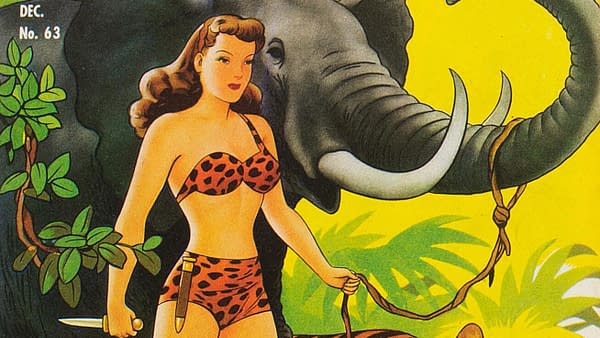 Princess Pantha was likely created by artist Art Saaf for her debut in Thrilling Comics #56. Alex Schomburg regularly drew her cover appearances, and his cover for Thrilling Comics #63 is on par with his best airbrushed work of this period. Schomburg created around 40 airbrushed covers for Ned Pines's Standard/Better/Nedor titles during the period of 1947-1948, and these are often referred to as the "Xela" covers due to Schomburg signing his work from this time frame using his first name spelled backward. The iconic airbrushed Schomburg cover for Startling Comics #49 has become one of the most valuable comic books of the Golden Age era due to its likely influence on the creation of the Futurama robot Bender.
As for Princess Pantha herself, she's a classic comic book jungle girl character in the Sheena, Queen of the Jungle mold. Notably, the character was used by Alan Moore in the Tom Strong spin-off Terra Obscura. This copy of Thrilling Comics #63 has been graded Fine+ by Heritage Auctions. While this is an unslabbed, raw copy, there are 51 entries for this issue on the CGC Census, and high-grade copies of this issue are always in demand and rarely change hands. All prospective bidders should ensure they are familiar with Heritage Auctions' bidding process and their FAQ for more information about registering and placing bids.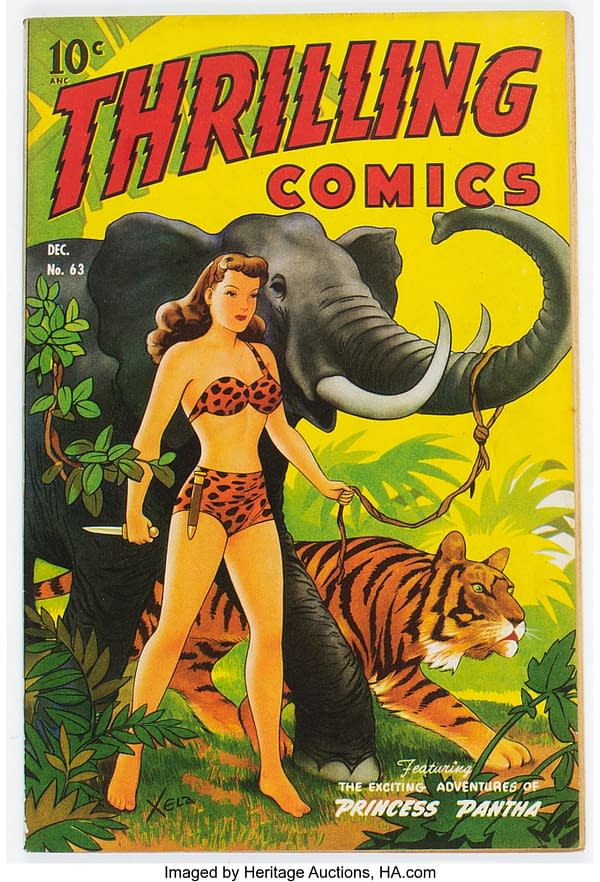 Affiliates of Bleeding Cool buy from and/or consign to Heritage Auctions.