Sci-Fi Speed Dating Employee Claims Boss Sexually Assaulted Her at Pensacon
NBC15 is a weather and news TV station serving the Mobile, AL and Pensacola, FL regions — which included the Pensacon comic convention that ran in Florida last week. They are reporting that a female booth worker, Kristen Reynolds, claims she was sexually assaulted by her boss when walking from the Pensacola Bay Center toward the Grand Plaza Hotel parking lot.
She told NBC 15 that she has worked for a speed dating company, who were operating at the show, for six months and that this was her third comic-con working for the company. She states she has filed a report with the Pensacola Police Department.
She also told WeAreTV that the company has 45 shows lined up for the year. On Facebook, she writes:
WARNING: Last weekend while working in florida at Pensacon, I was sexually assualted by my then boss. Pensacon staff went above and beyond to ensure my safety alongside of my eye witness and has aided in the on going investigation and have been nothing short of outstanding.

Please spread the word in hopes to keep conventions safer seeing as his company is incredibly well known- with over 45 shows booked this year.
Pensacon organizer, Kat Bishop said "The vendor will not be invited back to return to Pensacon… This is a very serious allegation and we want to make sure that everyone knows Pensacon is a safe place to be." They issued the following statement:
This past weekend, one of our vendors was accused of sexual assault by an employee that he brought in to work the convention at their hotel. It was brought to the attention of our transportation department, whose admin is a police officer, and took appropriate actions to report the incident to the proper authorities.

Pensacon has a zero tolerance policy when it comes to sexual harassment or assault. Period. This vendor has been banned from attending our convention and we are cooperating with authorities fully in this matter.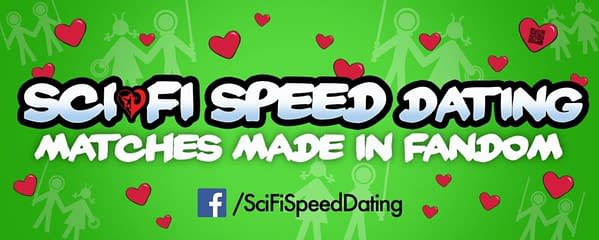 Pensacon did indeed host a Speed Dating event at the show, but the company, Sci-fi Speed Dating of Rochester New York, run by Ryan Glitch, has closed their Facebook page but it still available through Google cache and they describe themselves, thus:
Sci-fi Speed Dating is all about helping convention goers find somebody special! We are a 7 person operation, and we are all committed to making our sessions fun and safe. We have been around since 2010 and we have never had a bad show. We have been at New York Comicon, C2E2, Boston SuperMegaFest, MegaCon Convention, and our personal favorite, Star Wars Celebration V
Bleeding Cool called the company using the phone number on Google Cache, and spoke to Glitch. He told me that he has stepped away from the Sci-Fi Speed Dating company, has handed it off to his second in command, and is no longer running it while this is an ongoing situation. And that a press release will be sent out later in the week.
However, some individuals have already stated that they will not be bringing Sci-Fi Speed Dating to their show as a result.