By Michele Brittany, West Coast Correspondent
ComiXology Co-Founder and Director of Submit John D. Roberts began Sunday morning's panel, Creating Comics the ComiXology Way, with an overview of the current French invasion of comic books and sales available at ComiXology. Roberts then introduced Alex DeCampi (Valentine, Sensation Comics Featuring Wonder Woman), Reilly Brown (Power Play, Deadpool: The Gauntlet Infinite Comic), Mark Waid (Insufferable, Daredevil: Road Warrior Infinite Comic), and Chris Sheridan (Motorcycle Samurai).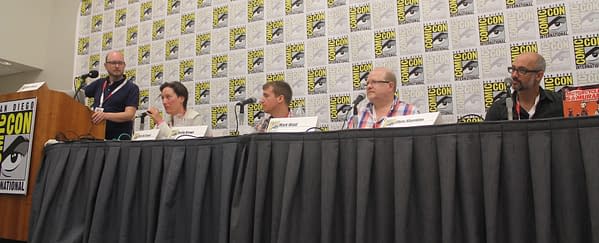 ComiXology's Guided View technology was developed so that comic books could be digitalized in such a way as to mimic the reader's eye motion while reading. The comics available originated from a print format, however a handful of creators looked to Guided View as an innovative tool in which to re-imagine the approach to creating digital comic books called "Guided View Native" stories.
DeCampi created Valentine utilizing Guided View in order to present readers with an enhanced experience that captures nuances of the narrative that includes zooming in, zooming out, changes in character expressions, or shifting dialogue bubbles. Now, each panel was built off of each other in a consecutive manner rather than by a page format of a traditional print comic book. Think more of a flipbook depicting one panel at a time that the reader controls by the speed of their thumb.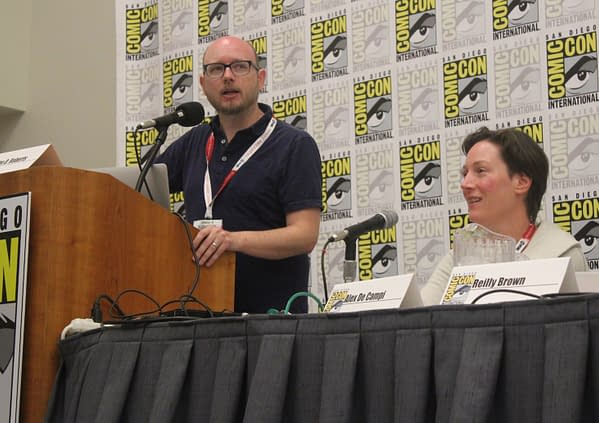 Brown's Power Play was also purposely designed with no regard to the printed page. As Brown explained, he created transitions between panels that were subtle and more interesting. For example, he used a superimposed method between transitions. Printing comic books is a large cost in this industry, Waid explained. He read a couple of articles on reading and using digital technology and decided to give it a try with Insufferable. He commented that what makes a comic a comic, whether print or digital, is that the reader controls the progression of time. This is a crucial point, because the motion generated in Guided View Native stories may have the feel of being animated, but it is still a comic.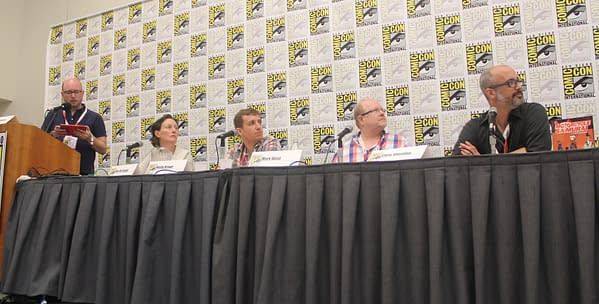 Sheridan created Motorcycle Samurai, which provides yet another example of creating the comic panel by panel rather than page by page. He reused images from one panel to the next and situated the subject matter to capitalize the black space and create motion across the device's screen without the reader losing control over the timing between frames. One could see how dynamic the experience of reading a comic can be using the Guided View Native approach to creating stories. Roberts said that it was an "innovation that inspires." Comparing a Guided View Native comic with a comic that had first been in a printed form was dramatic.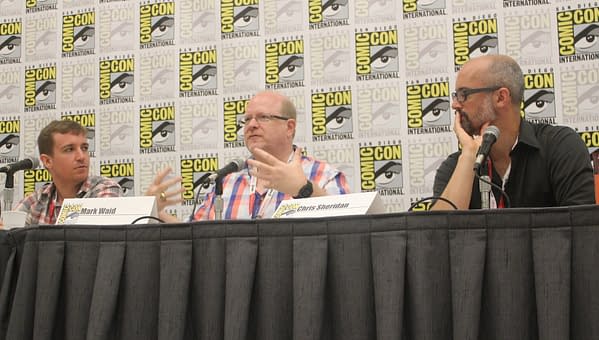 DeCampi explained that the difference comes from the approach. She said it comes down to approaching the Guided View Native comic's page as a building block that is built upon. For example, Sheridan's opening sequence starts with a dialogue box that transition to another dialogue box and a creature's eye, then to the creature with the same dialogue box and then to the creature, in the same position, but with a different dialogue box. As the subject moves across the page, the eye is guided along with it. It's a fascinating approach. Roberts projected a "behind the scenes" look so the audience could see each page side by side. The design starts to make sense and the potential revealed.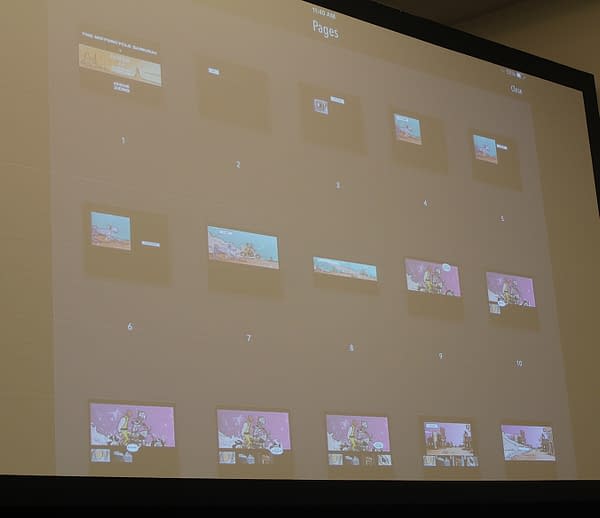 Roberts let the audience know that Guided View Native comics are denoted by "GN" in ComiXology. In addition, in these stories, Guided View cannot be turned off. It will be interesting to see more stories created in this format and to witness new and exciting innovative storytelling that develops from this technology.
Event photos were taken by Michele Brittany.
Michele Brittany is an independent popular culture scholar and semi-professional photographer and editor of James Bond and Popular Culture: Essays on the Influence of the Fictional Superspy (McFarland & Company) as well as the forthcoming book Essays on Space Horror in Films, 1950s – 2000s. Read her reviews and analysis on the spy/espionage and space horror genres via her blogs at Spyfi & Superspies and Space Horror Films. Follow Michele on Twitter: @mcbrittany2014.
Enjoyed this article? Share it!