Sean Gordon Murphy and Blake Northcott on Catwoman for DC Comics in 2020
Fresh from his critically-acclaimed and bestselling Batman: White Knight and Curse Of The White Knight series for DC Comics, Sean Gordon Murphy tweeted out news of his next gig for DC Comics, drawing covers for, and co-writing, Catwoman with Blake Northcott. First, Murphy posted the following,
Catwoman cover I'm doing for an upcoming series I'm plotting with the great @BlakeNorthcott . Stay tuned for more details.

*This is the first time I've ever drawn her, so I went with my own twist on the TAS version (grey suit). Whisker marks on her mask? Yes please. pic.twitter.com/F1uWlvvFG4

— Sean Gordon Murphy (@Sean_G_Murphy) January 6, 2020
Then Northcott, former prominent cosplayer, CBS correspondent, Millarworld editor and Fathom writer, who recently worked with Scott Lobdell and Roc Upchurch for the Kickstartered Everglade Angels comic as part of her new Northworld imprint, posted,
The cat is out of the bag: I'm working for DC Comics!

I'm writing a CATWOMAN story, co-plotted by @Sean_G_Murphy (he's doing the covers, too!)

2020 is going to be wild! Can't wait to show you what we've been working on … #meow🐈 pic.twitter.com/e4EmV7MlMy

— Blake Northcott 🐈 (@BlakeNorthcott) 7 January 2020
And we learnt that Matt Hollingworth would be colouring it as well.
I am officially in love with the whisker marks! 😍

This looks INCREDIBLE. I can't wait to see it coloured by @MDHollingsworth!

— Blake Northcott 🐈 (@BlakeNorthcott) January 7, 2020
And Murphy seeks out the best in inspiration.
I had your "DC COVERS" book out all day Adam. Damn your sexy black leather!!

— Sean Gordon Murphy (@Sean_G_Murphy) January 7, 2020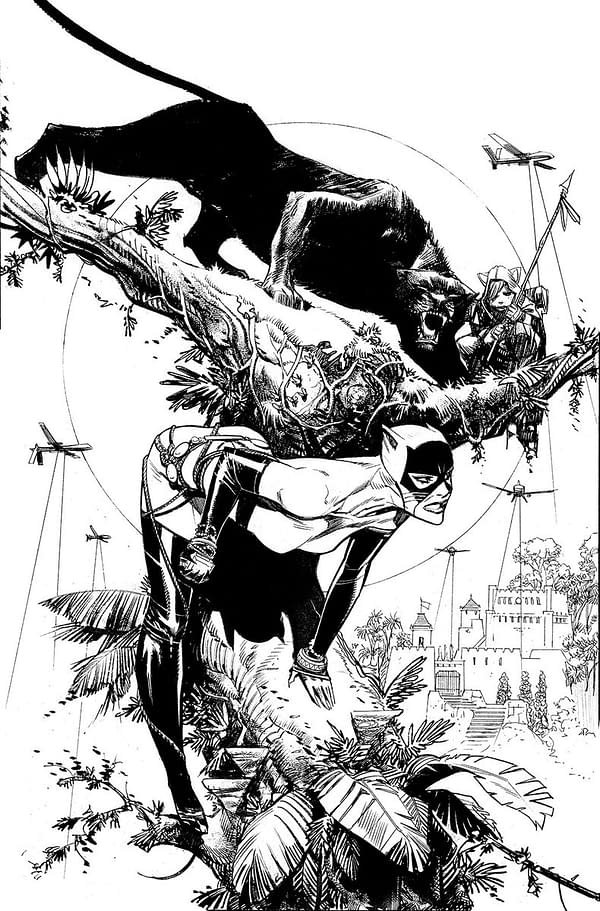 As for current Catwoman creator Joelle Jones, she has something else she's working on too…
View this post on Instagram