Separated at Birth: John Gallagher, Captain Canuck and Sideshow Collectibles
Over the weekend, we looked at John Gallagher's work on a variety of Transformers comic book covers, that appeared to be filtered shots of the Transformers toys, or other Transformers artists work. But it goes further than the plastic-and-metal toy set. Gallagher also did a run of covers on the Chapterhouse comic book Captain Canuck, that received considerable praise and attention.
But was he up to his old tricks? Take this cover to Captain Canuck #1…
It looks like he was using a flipped version of this Sideshow Collectibles 6 inch poseable figure, released alongside Captain America: Civil War.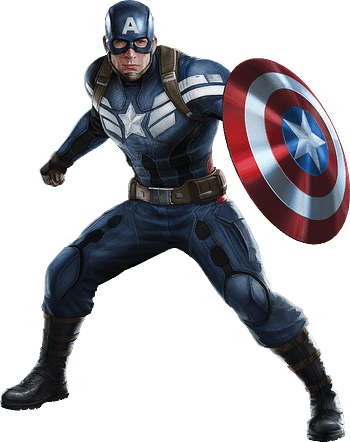 With this flipped pose:
While at the back is another Sideshow figure, Scarlet Witch from Age Of Ultron…
Any more for any more? He did do quite a lot of Captain Canuck covers – and will Canadians really appreciate their hero modelled on the American equivalent?
Separated At Birth used to be called Swipe File, in which we presented two or more images that resemble each other to some degree. They may be homages, parodies, ironic appropriations, coincidences, or works of the lightbox. We trusted you, the reader, to make that judgment yourself. If you were are unable to do so, we asked that you please return your eyes to their maker before any further damage is done.
The Swipe File didn't judge; it was interested more in the process of creation, how work influences other work, how new work comes from old, and sometimes how the same ideas emerge simultaneously as if their time has just come. The Swipe File was named after the advertising industry habit where writers and artist collect images and lines they admire to inspire them in their work. It was swiped from the Comic Journal, who originally ran this column, as well as the now-defunct Swipe Of The Week website.