Before his death on Monday, Bleeding Cool had been covering a very difficult two years for Stan Lee following the death of his wife Joan Lee in 2017. There have been allegations of elder abuse, harassment, court proceedings, police involvement, and social media accounts. There has also been a variety of businesses using his name for a variety of reasons, with varying degrees of understanding of what Stan did and didn't know.
From our perspective, it began with an allegation by LA journalist, media personality and former friend of the Lee family, Alan Duke. Duke says he had learned that Joan Lee had been the subject of physical abuse, and that he had spoken to witnesses who claimed that this was as a result of action taken by their Stan and Joan's daughter JC Lee and that he called the police.
However, after police visited, no action was taken. Another explanation was given by the family and alleged witnesses did not repeat their story to the police. Accusations against Stan Lee from alleged nursing staff were sent to Duke and to the Daily Mail newspaper, though again, no further action was taken by authorities.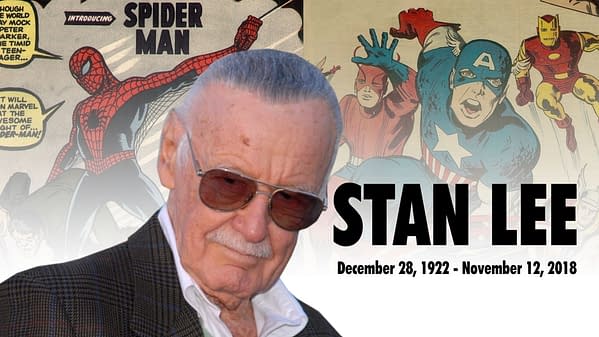 As a result of this sequence of events, Stan Lee's then-business manager Max Anderson was ousted by JC Lee and Stan's new associate Keya Morgan. Morgan himself would later be ousted, with court order protections and allegations of elder abuse.
In a new podcast launched yesterday, Scandal: Stan Lee's World: His Real-Life Battle With Heroes With Villains. Alan Duke is using audio that he has recorded over a period of years with Stan Lee, JC Lee, Joan Lee and others. From this preview, it seems particularly damning of JC Lee. Duke states that he wanted the podcasts to get the LA Police to intervene in his life, but now Duke wants what he believes to be the truth to be known.
You can hear the first episode of his podcast here.
It begins,
This has been a very tough week. We've lost a friend. I've been planning to launch this series for months. Until Monday morning, it was to be called Saving Stan Lee — A Time for Heroes. But the time for heroes passed when Stan died.

My mission was to help my friend by convincing Los Angeles police, adult protective services, and others to do their jobs and protect him. I — and many others — hoped a judge would appoint a conservative — a neutral lawyer — to watch over this 95-year-old man who was legally blind and almost deaf.

But now my mission is to reveal the truth. Stan loved his fans and they loved him. They deserve to know what Stan's last years have been like. Who were the villains and who were the heroes? It is not easy to sort them out, but since I know them all, maybe I can help.

I've chosen a new name for the series — Stan Lee's World: His Real Life Battle with Heroes and Villains.

I've kept these secrets for years out of respect for Stan and his wife Joan. They confided in me, even though I was a CNN reporter — but I never told. That changed last year when I saw something I could not ignore OR UNSEE. Photographs of severe bruises on Joan Lee — the queen of Stan Lee's Universe — the matriarch without whom we would have never known Spider-Man or any of his Super Hero siblings.

I took those to the LAPD with a list of witnesses they could interview. But It appears detectives never spoke to any witness not named Lee.
The podcast quotes the Lee's former asset manager Brad Herman alleging that he was there when JC Lee physically attacked her mother. Duke says he will post photos of the injury in later weeks.
Duke also runs audio from Stan Lee talking about his daughter's mental health in despairing terms, and from JC Lee herself saying during a heated conversation, "I am the talent, I am the f-cking talent."
There's also audio from Joan Lee talking about JC having many "suckers" around her. The quotes have clearly been cut and juxtaposed next to each other for dramatic impact.
Duke says he decided to run this information after hearing JC Lee promoting a character she was working on with her father called Dirtman on TMZ. Duke says that Stan rejected that project but Duke decided that if JC wasn't going to wait, then neither would he.
Duke also talks to Max Anderson, who Duke says was ousted due to people loyal to JC last February. Anderson and Duke talk about Stan's devotion to his wife. They allege a sequence of events after Max was ousted: Stan was surrounded by strangers and his phone was wiped of his contacts.
ALAN DUKE: One of the sad things to me about his last month is he really wasn't around very many people who he knew and was used to being around

MAX ANDERSON: He was around strangers, and that's what I'm saying Alan, he fed off the energy that people gave him

…and for him to be shut down and, you know, kept indoors and you know some people say that nobody stopped him from walking out. Well let me ask you this. He has a cell phone and all you gotta do is push the numbers to call somebody right? Well if you don't know the person's number how's he going to call? If he doesn't have good vision how can he drive?

You might have the means but he didn't know how to call people, everything he had before was programmed. All he had to do is this, Siri call Max, Siri call Mike and it will just call automatically. Well they wiped the song, it was no longer there. That ability, accessibility to do it was gone.
Anderson mentions that one of his old employees was working with the Lees. He is clearly talking about Jonathan Bolerjack. He notes that Stan had been travelling to Tokyo, Beijing, and Shanghai… and suddenly wasn't doing any of that anymore. And that Max's only satisfaction is that Stan is now with Joan again. He mentions how they often talked about the afterlife.
Brad Herman and Duke talk about JC Lee in very complimentary terms, noting her huge talent and knowledge when focused, as well as her physical beauty. They also talk about JC's sister, who died as an infant, as haunting all their lives.
Notably, Herman and Duke also mention the role that Joan Lee played in the success of Stan's career. This is also backed by someone I haven't heard from in a long time; Stan Lee's partner in Stan Lee Media, Peter F Paul who was convicted for securities fraud in his business dealings with Stan.
And Duke also interviews Keya Morgan, who talks in effusive terms about Stan Lee. Duke promised that he will go into the charges against Morgan in later episodes. This is one of a number of podcasts to come.
Bleeding Cool reached out to JC Lee and her representatives asking for comment. She tells Bleeding Cool.
Once I and my lawyer Kirk Schenck were able to remove the various men who sought to alienate me from my beloved father, and who were telling my father vicious lies about me and my life, I was able to spend the last 4 months at my father's side in which we fully reconciled all of the issues caused by those lies told to him. My father was about love, not hate. He was disgusted when he heard people were seeking to publish these tapes to taint his image."

In Stan's last in-person interview (with the Daily Beast) and in his October 6, 2018 Statement on this matter, my father was crystal clear: he disavowed all of these tapes and the statements there made under extreme duress and based on lies, and he implored the responsible media not to taint his legacy by publishing or discussing these hostage tapes.
Go to Page 2: Audio Recordings, plus a Statement from Jonathan Bolerjack
Enjoyed this article? Share it!