As War of the Realms continues to shake the Marvel Universe to its foundations or some other such cliche comics PR metaphor, it also continues to grow large in size, looking to fulfill its promise of being Marvel's biggest-ever super-mega-crossover event. So it's fitting then that War of the Realms will spawn a new three-issue Giant-Man series, starring not one but four of Marvel's size-changing heroes. Leah Williams will write the series with art by Marco Catiello.
From the press release:
Written by Leah Williams with art by Marco Castiello and a cover by Woo Cheol, the three-issue limited series tells the tale of four of the biggest heroes in the Marvel Universe coming together for a common—and urgent—cause.

At the behest of All-Mother Freyja, these Super Heroes must infiltrate the most savage territory of New Jotunheim: Florida!

And in GIANT-MAN #2, the mission to the Frost Giant territory gets even more complicated as the heroes must kill the patriarch of all Frost Giants himself, Ymir. But how exactly will they penetrate Laufey's forces? By becoming masters of disguise!

Prepare for a WAR OF THE REALMS tie-in unlike any other when GIANT-MAN hits stores this May!
On the cover, we see… er… That's the newish Giant-Man, Raz Malhotra, on the left, followed by… is that Tom Foster as Goliath? Then, uh… Scott Lang as Ant-Man? And Atlas. We know Atlas because he has an A on his chest. You think that A stands for France?!
Look for Giant-Man in stores in May, but honestly… at that size, it will be hard to miss.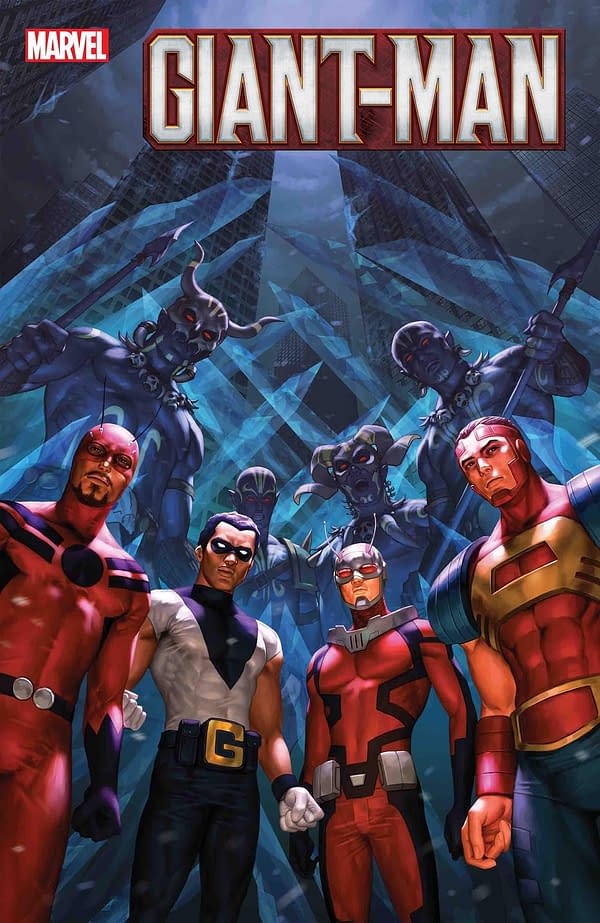 Enjoyed this article? Share it!