Solicits for DC Ink and Zoom Titles Mera, Harley Quinn: Breaking Glass, and DC Super Hero Girls: Search for Atlantis
The first solicits and listings for the upcoming DC Ink and DC Zoom lines for younger readers are starting to break through.
We previously headlined Harley Quinn: Breaking Glass as an "Intersectional Activist Comic About Drag Queens", because that's how the author described it.
The official DC Comics solicitation gives a few more details.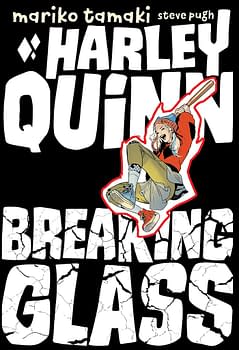 Harley Quinn: Breaking Glass by Mariko Tamaki, Steve Pugh
Paperback – September 4, 2018
Harley Quinn: Breaking Glass is a coming-of-age story about choices, consequences, justice, fairness and progress and how a weird kid from Gotham's poorest part of town goes about defining her world for herself. From Caldecott Honor-winning author Mariko Tamaki (This One Summer, Supergirl: Being Super).
Harleen is a tough, outspoken, rebellious kid who lives in a ramshackle apartment above a karaoke cabaret owned by a drag queen named MAMA. Ever since Harleen's parents split, MAMA has been her only family. When the cabaret becomes the next victim in the wave of gentrification that's taking over the neighborhood, Harleen gets mad.
When Harleen decides to turn her anger into action, she is faced with two choices: join Ivy, who's campaigning to make the neighborhood a better place to live, or join The Joker, who plans to take down Gotham one corporation at a time.
Harley Quinn: Breaking Glass is at once a tale of the classic Harley readers know and love, and a heartfelt story about the choices teenagers make and how they can define–or destroy–their lives. This is the first title in DC's new line of original graphic novels for middle grade and young adult readers.
06 November 2018 Trade Paperback
192 pages
From Danielle Paige, the New York Times best-selling author of Stealing Snow, comes a Mera and Aquaman origin story that explores Mera's first steps on land as well as her first steps as a hero or a villain, forcing her to choose to follow her heart or her mission to kill.
Mera is teenage royalty, heir to the throne of Xebel, the other not-so-lost colony under the sea. But Mera is destined to wear a different crown, that of Atlantis. When the inhabitants of Xebel plot to overthrow their homeland of Atlantis, Mera is sent to kill the heir to the throne, Arthur Curry. As the unrest between their colonies grows, Mera and Arthur unexpectedly fall in love…will Arthur Curry be the king at Mera's side in Atlantis, or will he die under her blade?
Mera by Danielle Paige is an astonishing story that explores themes of duty, love, heroism and freedom, all through the eyes of readers' favorite undersea royalty.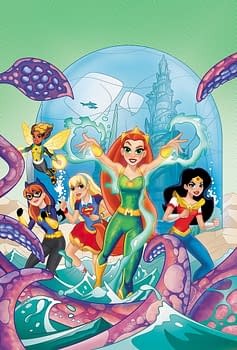 DC Super Hero Girls: Search for Atlantis by Shea Fontana and Yancey Labat
Paperback – October 2, 2018
The team is back and ready to rescue Mera's home in DC Super Hero Girls: Search for Atlantis! The Super Hero Girls join forces with the Teen Titans crew as they work together to save Atlantis and the Atlanteans from Brainiac!
Mera is the new girl at Super Hero High and when Wonder Woman takes Mera under her wing, Wonder Woman's best friend Bumblebee is overcome with jealousy. Despite her feelings, Bumblebee accompanies Mera and the Super Hero Girls on a field trip to Atlantis. But when they arrive, Atlantis is missing! Mera is horrified when they discover that Brainiac has shrunken and stolen Atlantis with the Atlanteans trapped inside! The Super Hero Girls must work together to defeat Brainiac and, along the way, Bumblebee must learn the true meaning of friendship.
DC Super Hero Girls: Search for Atlantis continues to develop the relationships forged in DC Super Hero Girls: Finals Crisis, Hits and Myths, Summer Olympus, Past Times at Super Hero High, Date with Disaster! and Out of the Bottle. Written by Shea Fontana, this story is perfect for ages 6-12!