Something Is BRZRKR-ing The Children
Yesterday saw the delayed release of the foil cover version of Keanu Reeves, Matt Kindt, Ron Garney ++Bill Crabtree's comic book, BRZRKR #1. With another 175,000 copies dropping onto the market just as the news of the inevitable film/TV adaptation starring Keanu hits. But alongside the comic book, is an offer for BRZRKR fans to pick up the next copy. And keep your receipt. A free edition of Something Is Killing The Children #1.
Basically, a free copy of a special edition of Something Is Killing The Children #1 – itself a massively successful hit book – when you buy BRZRKR #1 and #2. And for many comic book retailers, yesterday was the first they had heard of it. I'm sure Boom Studios will give them the details shortly.
UPDATE: And here they are – it's for the 8th printing of Something Is Killing The Children #1.
BOOM! Studios is excited to share with you information about an exciting promotional effort combining the star power of BRZRKR with the raw reader excitement for Something is Killing the Children to encourage direct cross promotion of both series in-store and assist you in maximizing your sell through on BRZRKR #1 and the upcoming BRZRKR #2.

Tomorrow, March 24th, you will receive your orders of the foil covers for BRZRKR #1. Inside each copy of the foil editions of BRZRKR #1 is a special blow-in card that encourages customers to make Something is Killing the Children their next favorite series, and includes instructions on how to receive a free issue of Something is Killing the Children #1. We've included a PDF of the blow-in card so you can easily identify it.

The free issue is the "BOOM! Studios #1 Surprise INCV" (JAN219529) that was listed on yesterday's FOC on March 22nd. You were able to order one copy of it for every three copies of BRZRKR #2 open-to-order covers you ordered at FOC. This special printing will be the 8th printing of Something is Killing the Children #1, and it will feature a new cover by Francesco Mobili, homaging the main cover for BRZRKR #1 complete with an homage logo. This printing of Something Is Killing The Children #1 is tied to your BRZRKR #2 orders, is free to you, and will be accompanied by a freight rebate.

However, as we noted ahead of FOC the release of BRZRKR #2 has been pushed to April 28th which impacts this promotion. You will see when you receive the Foil Variants for BRZRKR #1 that April 14th the original date of this promotion is printed on the back of the card, which was when BRZRKR #2 was scheduled to initially release in comic shops. After the cards went to press and were inserted, we shifted the date for BRZRKR #2 back two weeks so the standard covers could release alongside the foil variants for this issue, and thus made the promotion's original date void. To avoid further confusion with the product release date or your customers, we have proactively moved the release date of the Something is Killing the Children #1 8th printing back to April 28th as well.

We are calling on retailer aid to help us (and you) successfully launch this cross-promotion megastar in your shops on April 28th, which is why we are requesting retailers to act on the following:

1. Remove the promotional blow-in cards from your issues of BRZRKR #1 Foil Variants

2. Display the free 8" x 10" sign that BOOM! Studios is mailing directly to every retailer who ordered BRZRKR #1. We will be both sending a physical mailing shipment as well as including digital print-on-demand file with this message. Please display it prominently so your customers are aware of the correct release date for BRZRKR #2.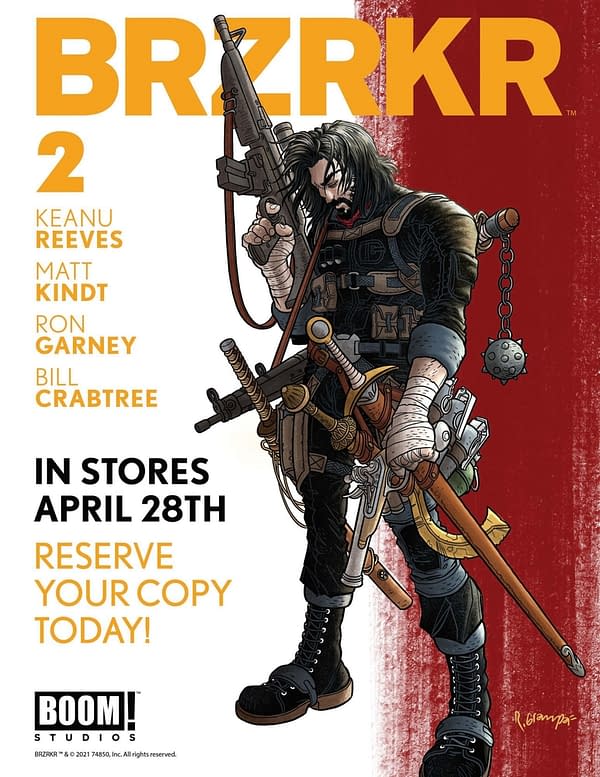 BRZRKR #1 CVR D BROOKS FOIL VAR (MR)
DEC208556
(W) Matt Kindt, Keanu Reeves (A) Ron Garney (CA) Mark Brooks
Discover the next blockbuster action franchise from the iconic KEANU REEVES in his Must Read comic book writing debut alongside New York Times best-selling co-writer Matt Kindt (Folklords, Bang!) and acclaimed artist Alessandro Vitti (Marvel's Secret Warriors) in a brutally violent new series about one immortal warrior's fight through the ages. The man known only as Berzerker is half-mortal and half-God, cursed and compelled to violence…even at the sacrifice of his sanity. But after wandering the world for centuries, Berzerker may have finally found a refuge – working for the U.S. government to fight the battles too violent and too dangerous for anyone else. In exchange, Berzerker will be granted the one thing he desires – the truth about his endless blood-soaked existence… and how to end it. NOTE: This is for Mature Readers In Shops: Mar 24, 2021 SRP: $5.99

SOMETHING IS KILLING CHILDREN #1
JUL191304
(W) James Tynion IV (A/CA) Werther Dell'Edera
GLAAD Award-winning writer James Tynion IV (Memetic, Batman: Detective Comics) teams with artist Werther Dell'Edera (Briggs Land) for an all-new limited series about staring into the abyss to find your worst fears staring back. When the children of Archer's Peak begin to go missing, everything seems hopeless. Most children never return, but the ones that do have terrible stories-impossible stories of terrifying creatures that live in the shadows. Their only hope of finding and eliminating the threat is the arrival of a mysterious stranger, one who believes the children and claims to see what they can see. Her name is Erica Slaughter. She kills monsters. That is all she does, and she bears the cost because it MUST be done In Shops: Sep 04, 2019 SRP: $3.99