Posted with permission of Redditor HydraVea, a before-and-after look at his diet regime, as seen through Black Spider-Man spandex costume. And this was his motivation. He writes 'Wanting to look good in this suit was my biggest goals when I began to work out. 2 years later, I feel truly ready to wear it.'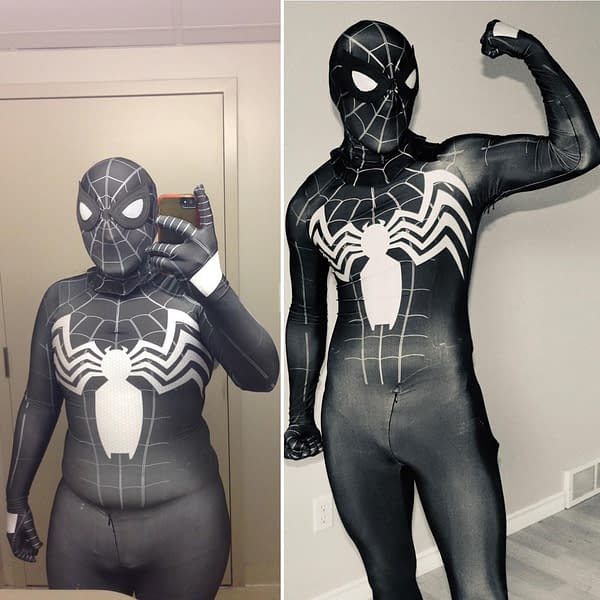 Incentive cosplay? He writes,
Yeah. That spidey endurance is real. I can now do chin ups without a problem. Cardio bores me now rather than makes me tired. I could always do sit ups and push ups, but never pulls. It is an amazing feeling. I was at a point in my life where I had literally nothing else to do. Heavily depressed, full of fears that I was going to fail university, drop out and be a failure. Graduating was my focus and although I continued to hit set backs until my last semester, I focused on school to pass my last courses. Hell, I failed the required math course 5 times before getting a B+ on my final semester.

My social life was non-existing because of school and depression. Video games stopped being enjoyable, and so I constantly pushed myself out of my room to keep myself sane. I focused on other hobbies and remembered the last time I worked out on my senior year in HS. I went through a similar change back then, but let myself go once university started. I have been going to the gym 6 days a week since March 2017 now, mainly because I have nothing else to do. Dragging myself out of my room was the most important part of the process. I constantly reminded myself that I wouldn't look good in costumes if I was overweight. Now that I can do Spider-Man, One Punch Man is next :)

Once I started working out, that "Aha, I am improving!" Feeling would come back bi-monthly. I began to run faster, taking less and less breaks until I can do a 7.15 min mile. Although I was scared to step on a scale for 3 more months, I would constantly be in dire need of smaller size jeans. I did lifting until November, but I saw the true change with myself when I began hitting the heavy bag. Boxing keeps me active, and always makes sure that I leave the gym tired.
People have read my own journey, do any have any others to share? With as convincing and as geeky imagery?
Enjoyed this article? Share it!