Move over, Apple! There's a hot new device in town that people are lining up around the block for, and it's not an iPad or an iPhone! Instead, it's Tony Stark's new eScape device, which allows people to escape their boring lives and enter a virtual reality world full of danger and adventure. What could possibly go wrong? We can't think of anything at all.
The only problem is, the devices are hard to come by, and selling for twelve times the retail price on eBay. But does it have Face ID?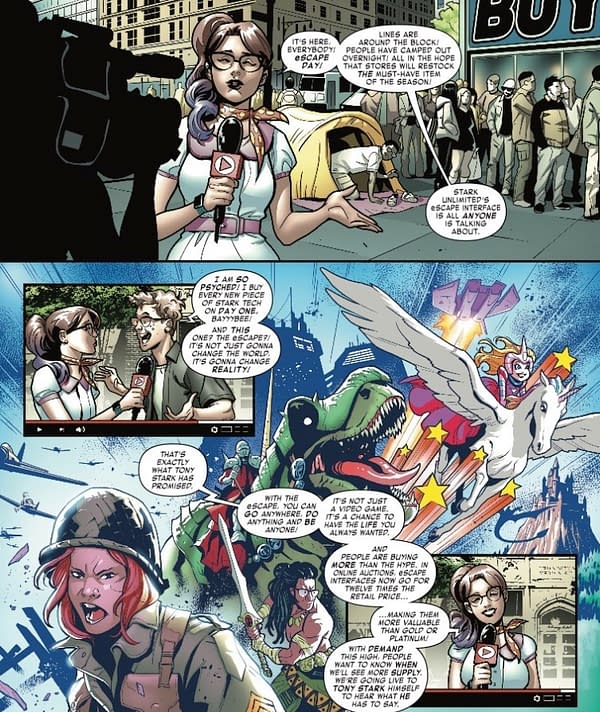 Oh, Tony! What have you done this time? We can forgive you for that whole Civil War thing. But creating a consumer frenzy this close to Black Friday? This time, you've gone too far. Riri would have never let this happen.
Tony Stark Iron Man #6 hits stores next Wednesday… hopefully it will be easier to get a copy than it is to get an eScape… so long as you pre-ordered.
Tony Stark Iron Man #6
(W) Dan Slott (A) Valerio Schiti (CA) Alexander Lozano
STARK REALITIES – Part 1
• Arsenal, the monstrous robot that once took on all of the Avengers, is back in an all-new way.
• Who does it serve? What are the secrets it's guarding? And how will they rock Tony Stark's world to its core?
• The trap that's been building for some time has finally sprung. Iron Man fans, you do not want to miss this one!
• THE NEW STORYLINE STARTS HERE!
Rated T+
In Shops: Nov 21, 2018
SRP: $3.99
Enjoyed this article? Share it!