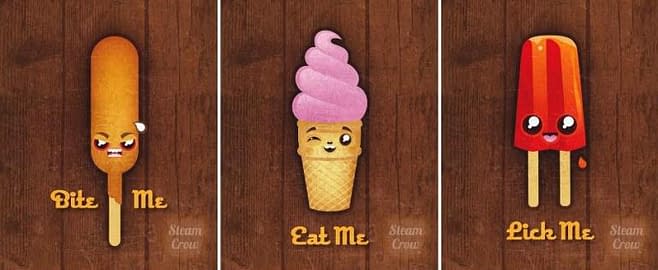 Jesse James writes for Bleeding Cool. We don't actually post the articles, they just appear. We think he's hacking the server.
As most of you know or are finding out about me, I travel a lot of cons every year. However, most tables look the same and most vendors sell the same product. Sometimes, someone does something a tad different but its maybe enough to catch my eye for a few seconds. Now, there is one team that just goes all out at every con. That's, the awesome team of Daniel Davis's Steam Crow. Family, Culture, Tradition and just a Bad Ass booth at every con is their theme. If you haven't seen them at a con, look again they are a sight to see. Even at San Diego they rock it out and really cant wait to see what they are doing this year. I have had the Honor of Knowing Dawna and Daniel for 2 + years now. They never disappoint. If Indy is your game then they are someone you want to get to know. To them its not just about comics its creating a plethora of goodies to go with each book. (cool I always wanted to use the word PLETHORA in a sentence!) I asked Daniel to take some time before the big dance in San Diego to chat with the B. Cool fans.

What part of the country are you from?
I hail from the Pacific Northwest – more specifically Spokane, Washington. It's a blue-collar land of pine, lakes and rivers, and hobo trolls. I miss it, but Phoenix is where we now call home.
Did comics play a role in your life growing up? Favorite Hero?
Money was tight when I grew up, so I didn't really know much about comics. I didn't have any siblings, so there was no older brother influence there.
However, my first comic was Star Wars 12: Doomworld, where the heroes are stuck on this water world, with a city that floated on logs. I loved that!
One time I was able to buy a Daredevil comic, because he looked cool and we shared the same initials "DD".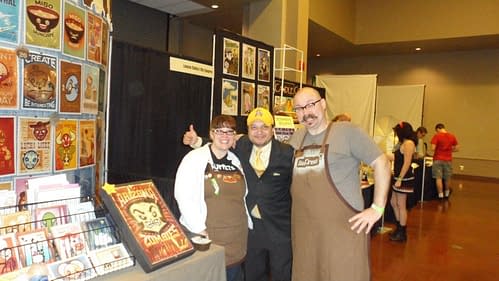 How did independent publishers effect your early career?
When I was in college in Oregon, I took a class where you had to interview somebody who did what you wanted to do. This other kid knew about this "Dark Horse Comics" place that was just a couple of years old, in the back of a Pegasus Books store. We went in there and interviewed some editor… and it was pretty cool. Watching Dark Horse grow over the years sowed the seeds to knowing that we could publish work too.
You have such a unique style in your creations. Did you find this art form or did it just come natural?
Oh, thanks!
It just came through lots and lots of drawing and making stuff. I have a variety of influences outside of comics, which probably makes my stuff look a bit different too.
I feel that an artist will naturally develop a style of their own through a lot of drawing… all of the tertiary affectations and techniques will fall off over time and the "pure" artist will come out. Draw first, worry about style second.
Everything you do has a very creative style. From the size of your books to the type of accessories you present at conventions, how do you continue to come up with these very cool ideals?
I have a LOT of ideas, but they're not aways the best ones. The trick is to work on the right stuff, and to develop the best ideas. It's really tough though, since it's hard to predict what people will like. Anymore, I just try to stay true to what *I* really like the best and usually that works.
We try to reflect the Steam Crow Brand, so our design is consistent and recognizable.
How did the Name Steam Crow come about?
It's a steam-powered scarecrow. The character is called "Marrow Thatch" and is based on a costume that I created in 2001ish – a steampunk mechanical pumpkin head. http://www.steamcrow.com/our-story/marrow-thatch/
Basically we wanted a name that reflected Halloween, monsters, and the steampunk stuff that we're into.
Is there a such think of having too much at your tables?
Is that a hint, Jesse?
:)
Sure, too much stuff isn't good.
It's a balancing act, having a big variety of products and various price-points, along with showing off as much of the work as possible. It's something that we're always working on and refining.
How do you come up with your outfits for each show?
From day one our uniform has been these brown canvas aprons… we try to reflect our working class roots. We think of ourselves as craftsman of what we create.
The hats change from paper diner hats to jackolantern fezes. We try to pick a theme and have fun with it.
How important for you to continue to be part of the Steampunk community?
Community is important, and we have a pretty thriving group of 'punkers here.
I'm not the "king of steampunk" by any means, but I enjoy talking to folks who share some of the same interests as ourselves. I've been aware of steampunk as a genre far before I ever saw any cosplay, so I tend to think of it more as a creative genre than a costuming one. I'm certain that we can thank the cosplay folks for making steampunk popular. (Thanks!)
Tell us about Monster Abduction?
"Friends, neighbors, Patriots! There are some secrets in this bad old world, that I'm here to tell you all about. One: Monsters are real. TWO: Monsters abduct manlings all the time. THREE: I have the answer for your FREEDOM from ABDUCTION! WHO's WITH ME!!!"
– Dr. Duke Davis, Monsterologist Level 7.22
Our friend and mentor Dr. Duke Davis performs a seminar from time to time, about monster abduction.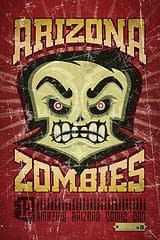 He's a bit nutty, but he does advise Steam Crow so that we keep our monster creations pure and accurate – reflecting the monster world. You should see Dr. Duke sometime: He's the 35th most important Monsterologist in this county.
You have been such a great leader and mentor in the community. How did Tiny Army come about?
Oh thanks! TINY ARMY is a local group of creators who meet monthly to talk about the issues of being a successful creative businessperson. We talk about conventions, marketing, pricing and anything else that can help artists become successful.
It came about because while I had a circle of peers that shared knowledge and experiences, I didn't know any of these people here locally. Once we decided to stay in Arizona, it became important for us to dig in, make friends, and be part of a successful local scene.
While I can't take credit for what we have here in Arizona, I can state that I'm proud of being part of this dynamic scene. I hope that TINY ARMY has helped some local folks improve their craft.
Your Wife is such a huge part of your continued success. Can you talk some about her role and how it has made your career somewhat easier with her support?
You're talking about my wife-partner Dawna!
She's the reason that I'm here doing this, and this whole thing was her idea.
She helps pack orders, she draws and creates stuff for us to sell. She sews all of our awnings, monster bags, aprons, tablecloths, and so on. She gives me feedback on what I create and we strategize quite a bit. Basically, she keeps my head on straight.
But more than that, she believed in me when I didn't. That's a gift.
Where can we see you the next couple of months?
SDCC is our next big bump… the biggest show of the year! We'll be at double booth 4207, with all of the stuff we've been working on all year.
We're also starting our own event called KEEN HALLOWEEN – which is a pop-culture celebration of Halloween… with how-to workshops, a monster marketplace, and entertainment.
It's going to be on September 29th, here in Tempe, Arizona.
http://www.facebook.com/keenhalloween
We seem to bump into each other at a lot of cons. Surprised on the growth of fans at the shows?
Well, yeah. It seems like the word has finally gotten out that comicons are fun! It's great to see so many people and families from all age groups and walks of life celebrating our pop culture icons.
I think that our culture has been needing a pop-culture carnival, and these shows scratch that itch.
What will be interesting to see is where it's at in 5-10 years. Will it die out? Will the United States have some HUGE shows like the Angouleme Comics Festival (220000 attendees) or FIQ in Brazil or Comiket in Japan? Can every city support 2-3 shows a year?
Since shows are our bread and butter, I'm really watching how they develop like a crow.
Any cool creations you have coming up soon?
We've got some more resin-cast toys in the works, new monster prints, and probably some t-shirt stuff for the fall. I'm working on the Monster Commute RPG, which is probably the biggest thing I've ever worked on. I'm getting back to the Steam Crow Show puppets here this fall.
We're always trying to create something monstery.
How can fans find you on the web?
Web? What is this that you speak of?
http://www.facebook.com/steamcrew
http://www.twitter.com/steamcrow
http://www.youtube.com/steamcrow
http://pinterest.com/steamcrow/
And our newsletter:
http://steamcrow.us1.list-manage.com/subscribe?u=b8821932d940bcfb99a6676c5&id=b9a0edf27f
Three cool outfits you would want to wear at your booth but never will?
Hmm…
I'd like to be skinny enough to be Nosferatu, and not be mistaken for Uncle Fester. (To chubby.)
I'd like to wear my Vendomat costume at the show, since it's a vending scarecrow robot. (Too big.)
I'd like to be Count Chocula. (Too tasty.)
I'm goth on the inside.
Enjoyed this article? Share it!