In a rare move for the comics industry, superstar artist Steve McNiven has taken the #ArtBlame for being unable to draw all five issues of the upcoming Return of Wolverine mini-series, requiring fellow artist Declan Shalvey to step in and draw Return of Wolverine #2-4. Though Wolverine's return was teased last year during the Marvel Legacy One-Shot, and was further drawn out with the extraneous Hunt for Wolverine mini-series (spoiler alert: they didn't find him), McNiven says he and Marvel agreed that the best course was to have McNiven draw just the "bookends" of the series, it's first and last issues. Plus a crapload of variant covers, of course.
It was in an interview with Newsarama that McNiven explained:
As with Secret Empire, I'm doing the bookends. The first and last chapter of the series and Declan is doing the meat of the story. I'm envious because he has some amazing stuff to draw as Charles has the whole thing all written out in full script. It's fantastic and I'm glad to be a part of the Return team.

But I don't think it comes as a great surprise that I'm not the fastest comic artist around, not by a long shot, and the show must go on. Both Marvel and I felt this was the best way to bring the story to the readers in as timely a manner as possible and at the same time keeping the quality of the book up to readers expectations. That's where Declan comes in. His artwork is amazing. I can't wait for readers to get their hands on these books!
For the two issues that he will be drawing, McNiven plans to put forth his best effort:
My goals are the same here as with any project I pick up; to do the absolute best work I can do. Ultimately that means that I try to tell the story that Charles has crafted as clearly and with as much excitement as I can deliver on the page!
It's good to see a man who knows his limitations. And two issues of McNiven drawing like Barry Windsor Smith is better than zero. Unfortunately, the story Charles Soule crafted is apparently about how Wolverine's claws now turn hot when he gets angry, and, well, there's only so much lemonade you can make when life gives you such silly lemons.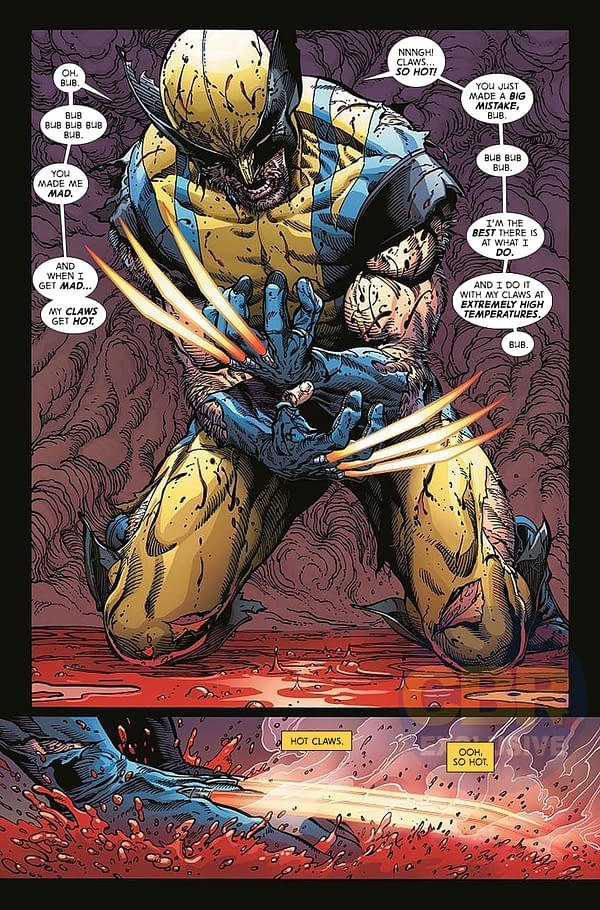 Return of Wolverine #1 hits stores next week. With a three issue gap between that and Return of Wolverine #5, we might be able to count on a Marvel event to stay on schedule for once! Stay tuned, true believers. We'll keep you updated.
Enjoyed this article? Share it!