Now Supergirl #36 and Batman/Superman #4 Are Infected With The Same Story
I don't know, you plonk down eight dollars for two comic books… and it turns out that they are the same comic. Again. And I don't mean you were fooled by variant covers but that a good chunk of the plot of one comic also appears in the other. Some people call that connective tissue, other parts has people wondering if this is closer to comic book recycling and which of the creative teams wrote these pages originally anyway? So we have Batman/Superman #4 byJoshua Williamson, David Marquez, Alejandro Sanchez and John J Hill, and Supergirl #36 by Marc Andreyko, Eduardo Pansica, Julio Ferreira, Chris Sotomayor and Tom Napolitano. Supergirl #36 sees her under assault by Braniac-2, not that she knows it, and she chooses not to sit down on him. Instead she is infested by Brainiac nanobots looking to take her over. While in Batman/Superman #4, Batman and Superman are tracking down the Infected, and begin a battle against the transformed Commissioner Gordon, Blue Beetle, Hawkman, Donna Troy and Shazam. At which point the two comics collide. Supergirl sees the battle from her perspective…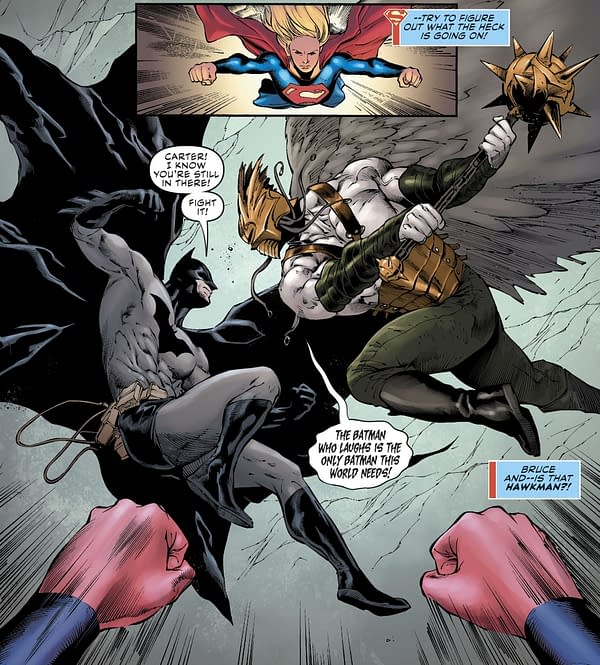 And from the perspective of those already involved in the fight.

The moment of her arrival in Supergirl…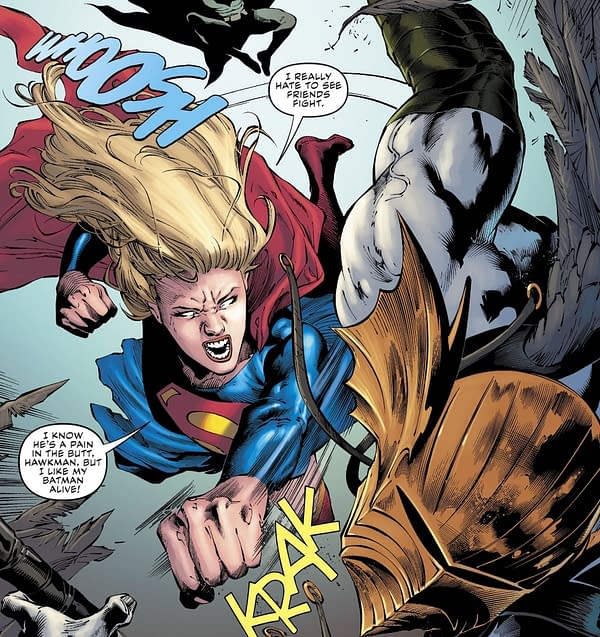 And in Batman/Superman…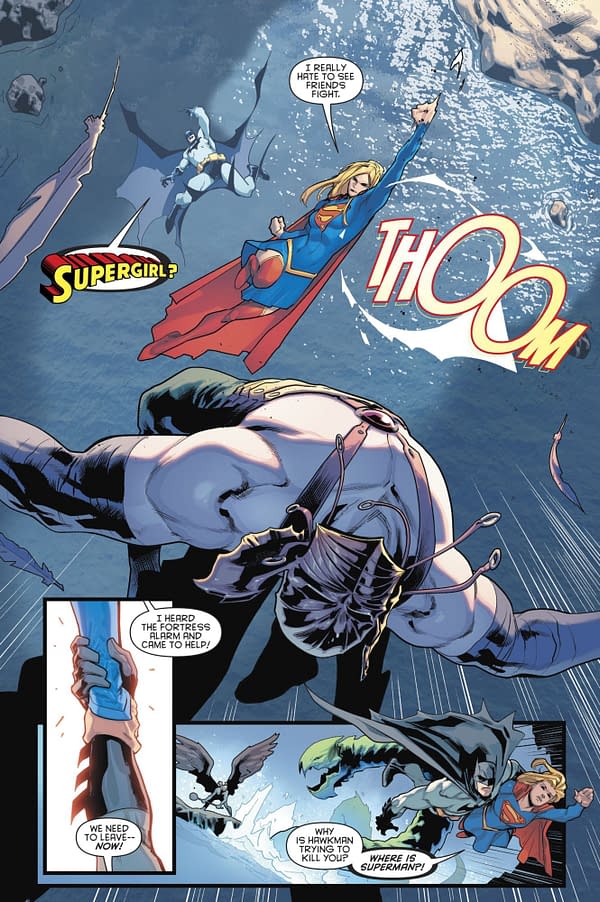 Supergirl just has more discussion of Batman's butt than Batman/Superman. Which is entirely just. But the fight goes to the Batarang in Supergirl…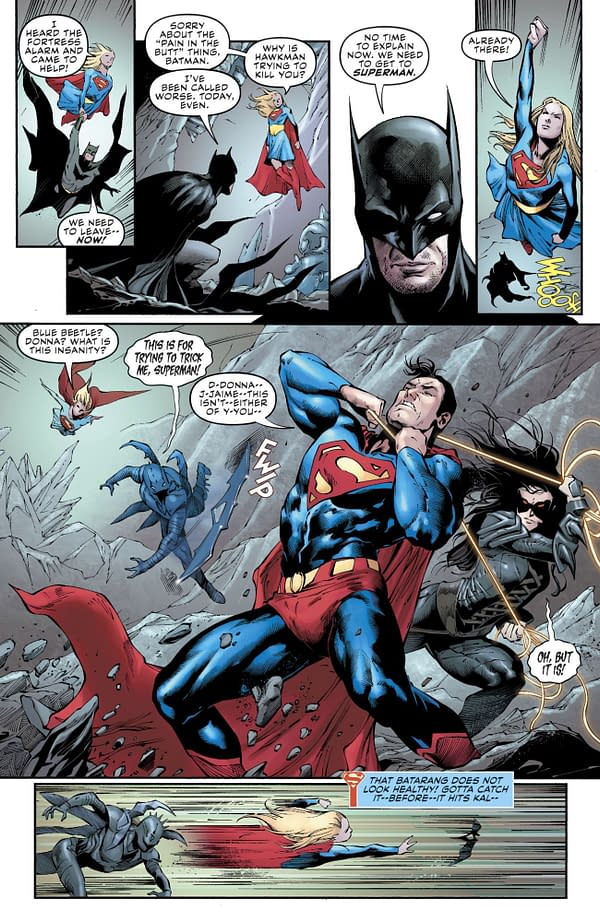 The Batarangs that have infected the others. And it's time to play catch in Batman/Superman as well…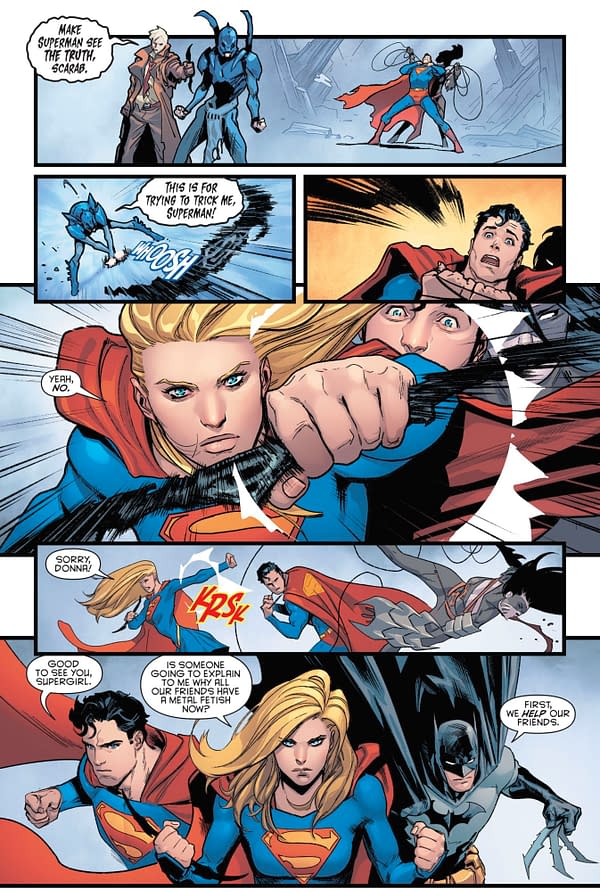 With more discussion of metal fetishes. For which, of course you can blame Scott Snyder. And in Supergirl…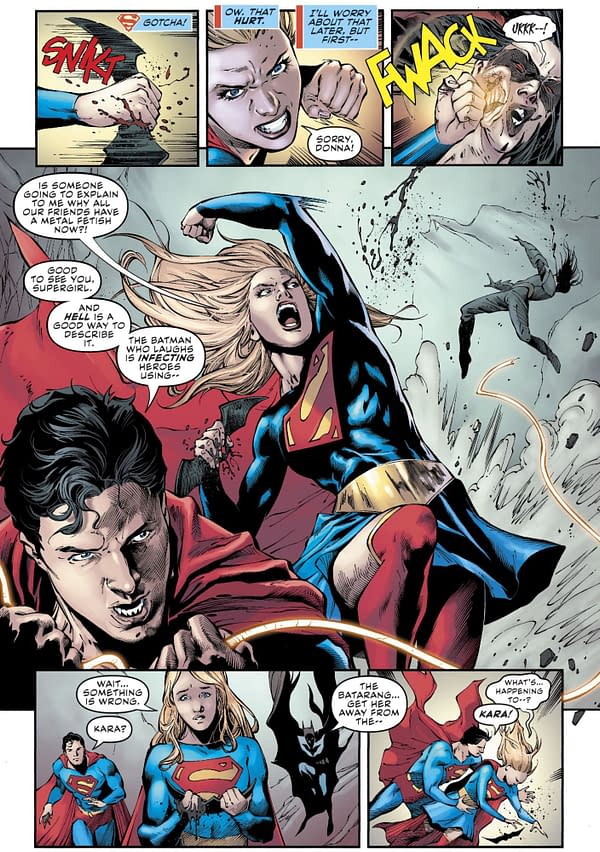 But with messy consequences. In Batman/Superman…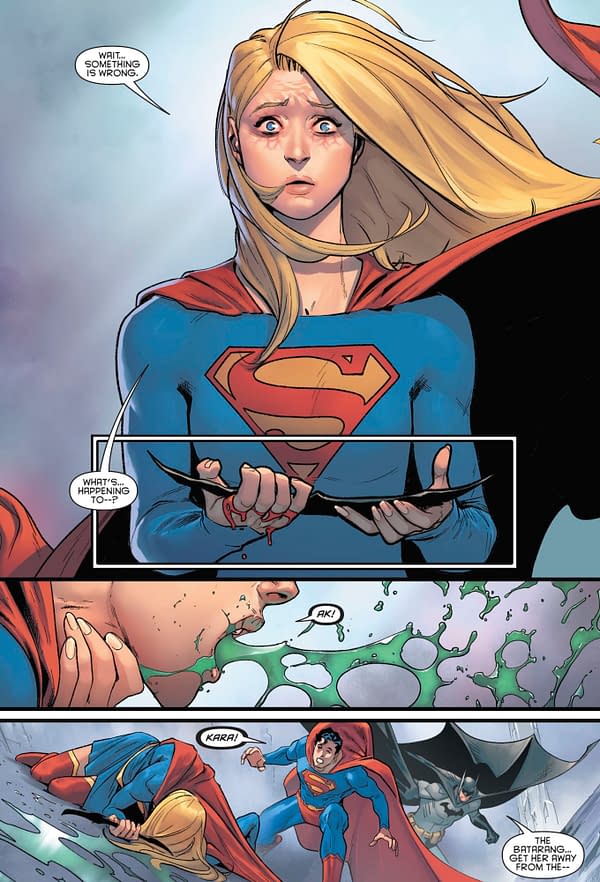 And in Supergirl too…

Superman/Batman #4 ends (mostly) with this stand-off.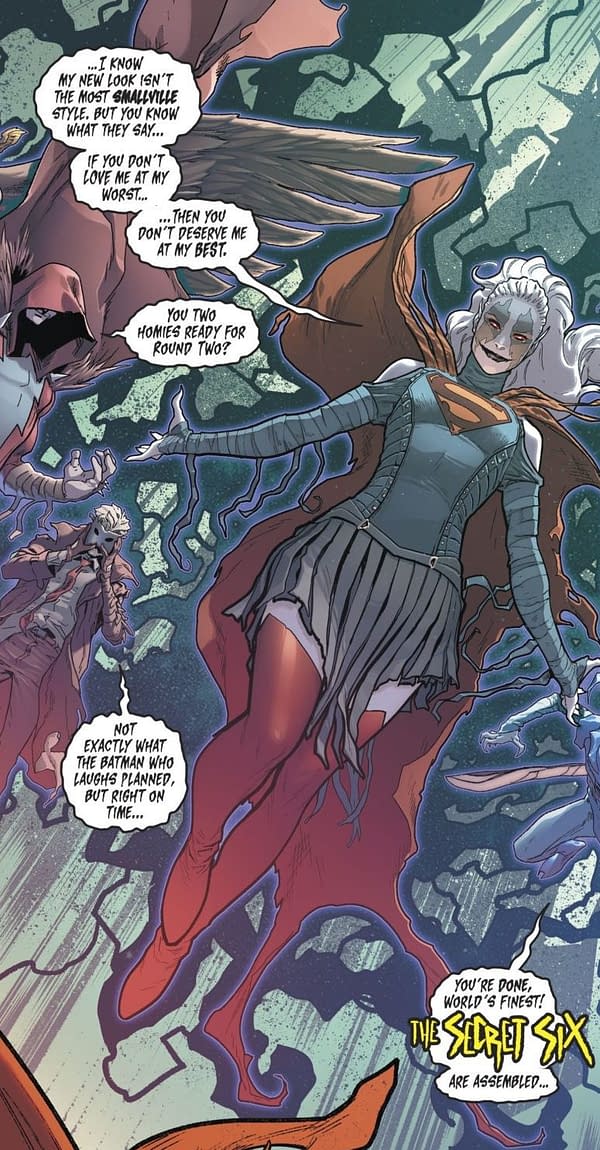 While in Supergirl, she has a bit of a rude awakening…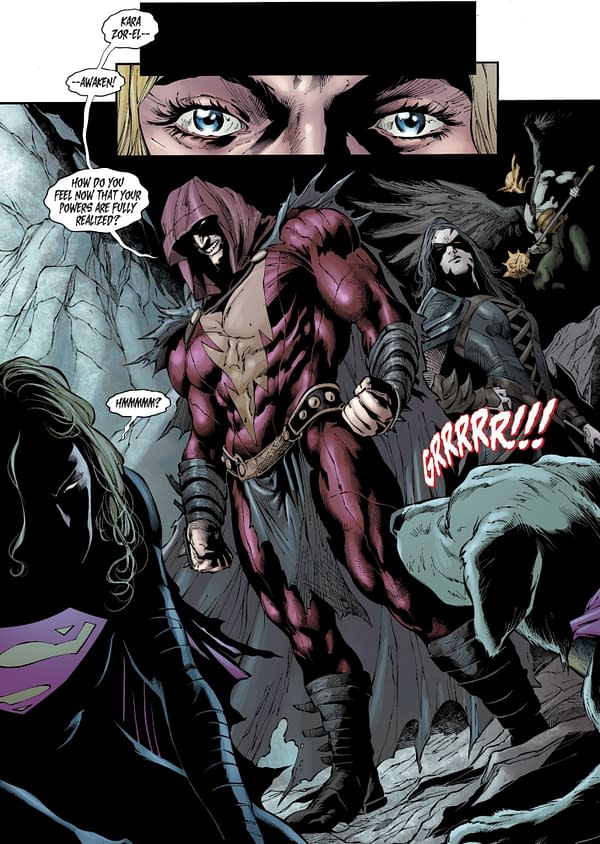 And doesn't quite have a Superman/Batman confrontation…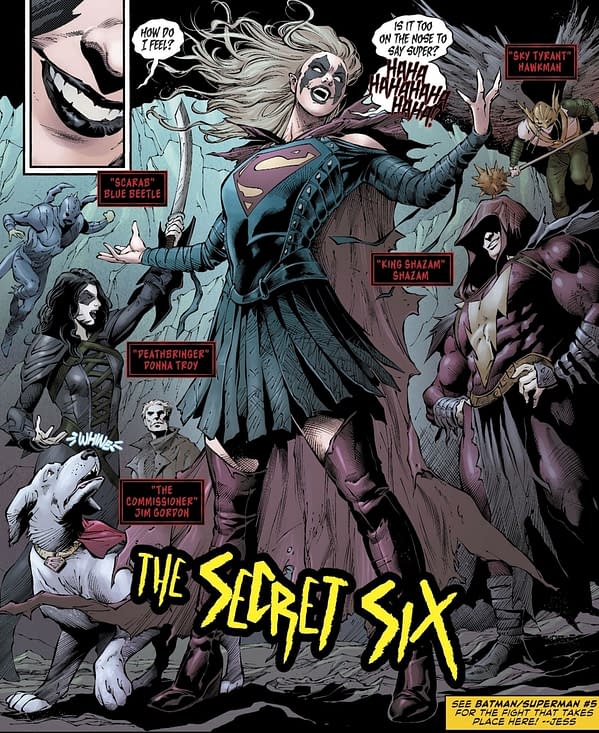 Before then flying off for her own confrontation with Braniac 2… will the two books tie together as well as they had earlier on? Maybe subsequent issues of both will tell…
SUPERGIRL #36 YOTV ACETATE
(W) Marc Andreyko (A) Eduardo Pansica, Julio Ferreira (CA) Dan Mora
Supergirl-the infected! Brainiac-1 attempts to contact Supergirl at the Fortress of Solitude, but for what nefarious purpose? No matter what he has planned, things are about to go from bad to worse as Supergirl heads on a collision course with the Batman Who Laughs! He's targeted Superman as part of his plan to infect heroes and transform them into their twisted Dark Multiverse counterparts-but Supergirl gets caught in the crossfire, and the Year of the Villain stakes get even higher!In Shops: Nov 20, 2019
SRP: $3.99

BATMAN SUPERMAN #4 YOTV ACETATE
(W) Joshua Williamson (A) David Marquez (CA) Emanuela Lupacchino
Even from prison, the Batman Who Laughs is staying two steps ahead of the Caped Crusader and the Man of Steel. His plan to infect heroes and turn them into the Dark Multiverse versions of themselves is starting to build steam, with Shazam and others already succumbing to his evil toxin. Batman and Superman are racing the clock to prevent the other three members of the Secret Six from being poisoned, but they realize they are too late when those three come looking for them instead-one of whom is a lot closer to Superman than expected and itching for a fight!In Shops: Nov 20, 2019
SRP: $3.99