Superman #44 Review: Night of the Living Bizarros
Superboy, Boyzarro, and their friends are trying to figure out how to hold the Bizarro world of Thrae together while Superman battles Bizarro himself. They discover that the planet is tied to Bizarro himself, and Bizarro feels like his life is falling apart. They need Bizarro to want to save Thrae if the world is to survive. Also, the Legion of Fun still has the Super Foes hostage.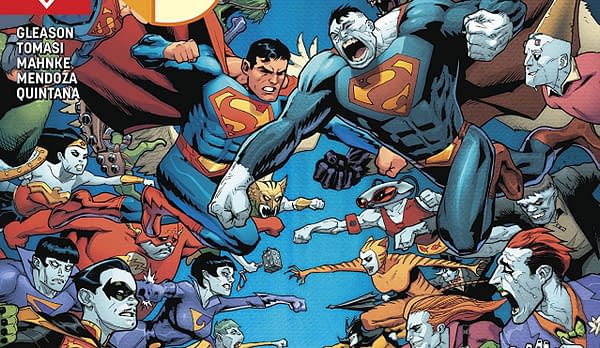 Superman #44 brings 'Bizarroverse' to a nice crescendo, more than making up for the aimless Superman #42 where this story began.
Tying the fate of Thrae to Bizarro's feelings about the people on the planet is a clever plot device, as it puts our heroes in the position of forcing Bizarro to face his problems if the world is to live. Plus, it's something Superman can't just solve by being himself.
That said, while I like Bizarro, Thrae is so absurd that it's hard to be attached to its fate. Plus, the rules are so vague that it's difficult to get a grasp on the stakes. The Super Friends references are nice, but Boyzarro is the only other Bizarro character anywhere near sympathetic. The comic seems to know that too, as the finale is a somber moment between Bizarro and Boyzarro.
The Bizarro speech is still exceedingly hard to follow when almost every character is using it. This language is such a loose mess of double-negatives and wavering rules of its own that I was often forced to reread it as the opposite, then decipher what the opposite of that opposite is.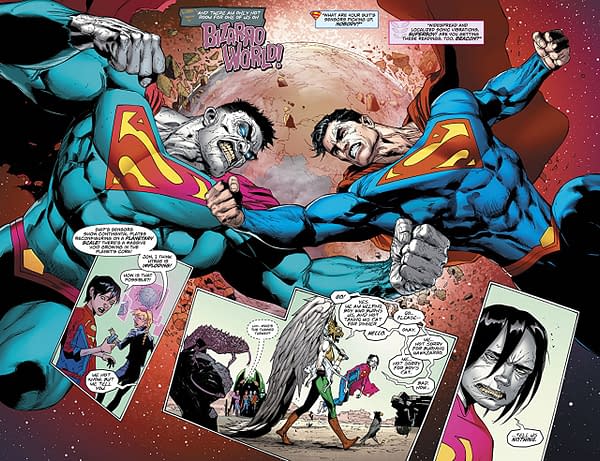 Doug Mahnke's excellent artwork is a boon to this comic. The battle between Superman and Bizarro has the weight and power it should, the characters are given a lot of expression through Mahnke's line work, and the Thrae Bizarro characters all have nice designs and gimmicks. His inking, along with the ink work of Jamie Mendoza, holds the lines together well. Wil Quintana's color art is aptly and appealingly wild throughout.
Superman #44 has its problems with establishing its world, but the overall product is enjoyable and has some heart to it. Bizarro receives some interesting character development, and Boyzarro is a potentially good addition. The art team puts in some great work to boot. This comic earns a recommendation. Check it out.