Superman, Batman And Justice League In DC's FCBD Gold Title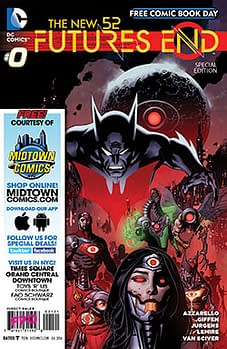 DC Comics are letting comic stores create customised versions of their Free Comic Book Day Gold level comic book, giving us a first tease of what's in it, featuring "pivotal new stories starring Superman, Batman and the Justice League."
All retailers have to do to get featured in the front cover, in much the way as they did last year (pictured right), is order five thousand copies at the standard 26 cents each, a minimum cost of $1,300. Some stores give them away in store much as they do any other comic for Free Comic Book Day, on the day or later, but some pay for them to be include in local newspapers.
Retailers have until January 20th to sort it all out with DC…