Tales Of Horror #11 and a Dangerous Flower in Florida, Up for Auction
Tales Of Terror indeed, as a woman falls victim to the Death Flower, in a great pre-code horror story taking bids at Heritage Auctions.
---
Tales of Horror #11 features a classic cover, with a killer flower wrapping its helpless victim in its grasp. More sci-fi than horror, a lot of the 50's pre-code books were a wonderful mix of the macabre and the dangers of science. The books would usually feature at least two stories, and this one featured "The Giant From The Tomb" and "Death Flower" featuring our cover star terrorizing the Florida Everglades. At Heritage Auctions today is a raw copy of the book, a very presentable copy. For a 10 cent horror comic, you could do much worse. The issues with the book almost give it more charm, as it looks well loved. Because of that, you can have it for a low price of only $3 right now. Check it out below.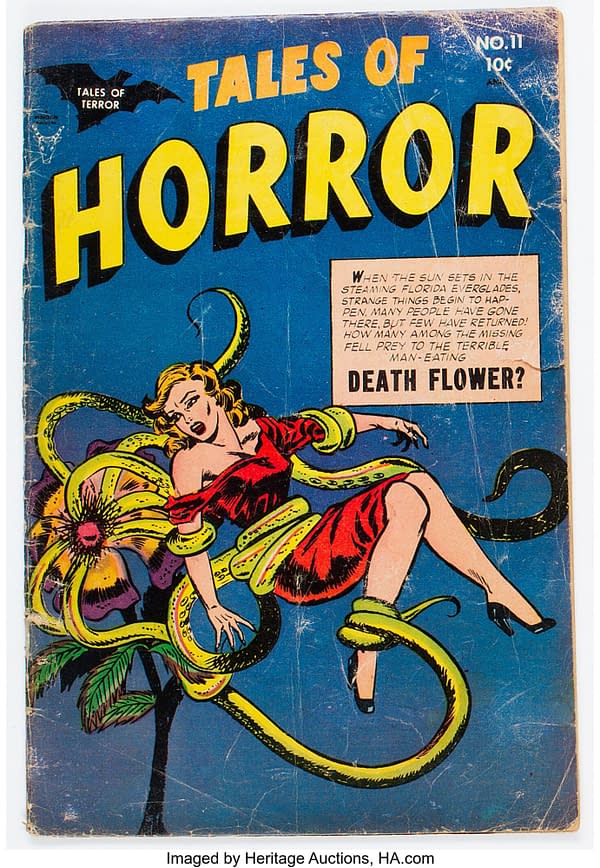 Tales Of Horror And Sci-Fi Goodness
"Tales of Horror #11 (Toby Publishing, 1954) Condition: GD. Ben Brown and David Gantz cover and art. Bottom staple detached and top staple popped. Overstreet 2022 GD 2.0 value = $34. Cover pencils by Ben Brown, inks by David Gantz. The Giant from the Tomb–A Purple Claw Mystery, pencils by Ben Brown, inks by David Gantz. Death Flower–A Purple Claw Mystery, pencils by Ben Brown, inks by David Gantz; a man-eating plant terrorizes the Florida Everglades. Sparks of Life cartoon by Chas. Kuhn. The Final Horror–A Purple Claw Mystery, art by Ben Brown. Just What the Doctor Ordered text story. 36 pgs. $0.10. Cover price $0.10."
This is a steal at that price, as it means you can actually read it. A lot of these auctions are usually for graded books, and getting to flip through a pre-code 10 cent horror book from this era at such a cheap price is a no brainer. Go here to bid on this one, and to get more info. While there, check out the other vintage horror comics taking bids today.

Affiliates of Bleeding Cool buy from and/or consign to Heritage Auctions.