Occasionally I get little tip-offs from retailers. From publishers. From creators. That something very special is coming. And right now that is Teen Titans Special #1. Published by DC Comics, tomorrow.
Post-Justice League: No Justice but Pre-Flash War, it has been hyped as a new start for the Teen Titans under Daman Wayne's auspices. And we have already been told who'se going to be in that team.
But I am told that, totally aside from all that, Teen Titans Special #1 is going to be very special for Batman And Robin fans. For Wally West fans – both of them (Wally Wests not fans). For fans. For Harley Quinn fans. For Red Arrow and Shado fans.
For all of you, this may be the most important DC Comics title you'll have picked up since DC Rebirth Special. Big things happen. Things change. Classic DC characters die. There are moments that, frankly, you have not seen in a DC superhero comic before.
And while much has been hyped about this issue, no one will have seen a lot of this coming.
How it moves into Teen Titans #20 is anyone's guess. But after tomorrow, we all should have a slightly better idea.
Though for people hoping for a major first appearance of Lobo's daughter Crush, you'll have to wait for that… until July 25th it looks like.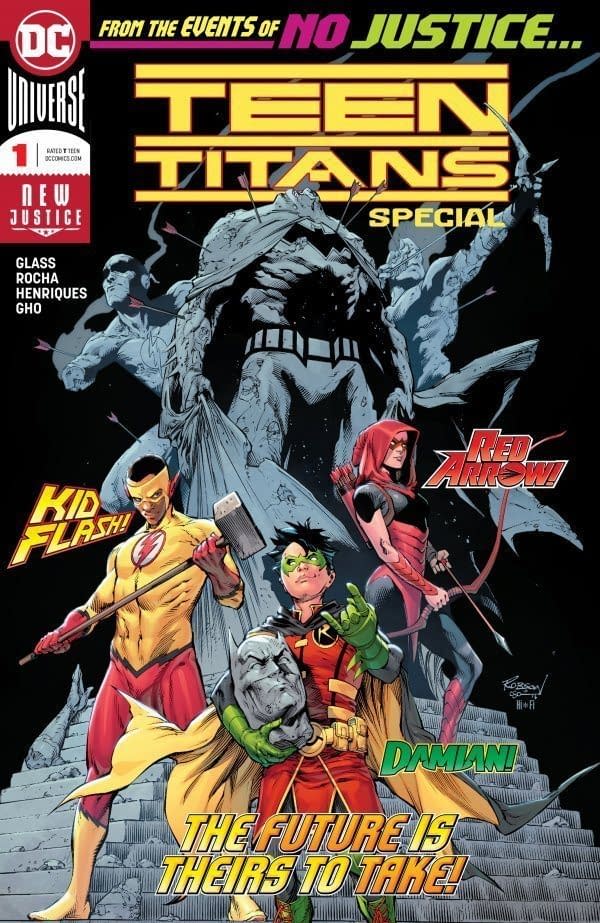 TEEN TITANS SPECIAL #1
(W) Adam Glass (CA) Trevor Scott (A/CA) Robson Rocha
Robin, Kid Flash and Red Arrow are sick of the super-hero status quo, and if the adults won't do anything about it, you'd better believe these teenagers will! Following the shocking events of NO JUSTICE, don't miss this special oversized issue that sets the stage for a fearless new direction that will change the Teen Titans forever! In Shops: Jun 27, 2018
SRP: $4.99
TEEN TITANS #20
(W) Adam Glass (A/CA) Bernard Chang
Batman has no idea what he's doing. Superman? Not a clue. Wonder Woman? Whatever. Damian Wayne is Robin, and he's done with the bleeding-heart approach favored by the heroes of the senior circuit. New plan of action: recruit a new Teen Titans. Kid Flash, Red Arrow and newbies Roundhouse, D'jinn and…wait, Lobo has a daughter? That'll end well. And then build something in secret deep beneath the new Teen Titans HQ. Secret from his teammates, secret from even Batman. It's a secret that will change the way you look at Robin forever! In Shops: Jul 25, 2018
SRP: $3.99
Enjoyed this article? Share it!