Terrifics #2 Review: A Second Issue That's Even Better Than the First
The team is baffled by the message left by Tom Strong, and they ask how Phantom Girl arrived in the Dark Multiverse. She explains how she was sucked in through a portal in space. Mister Terrific explains that they'll need the antenna attached to Tom Strong's device, and this wakes something up. The four must escape the Dark Multiverse or else suffer death at the hands of that "something."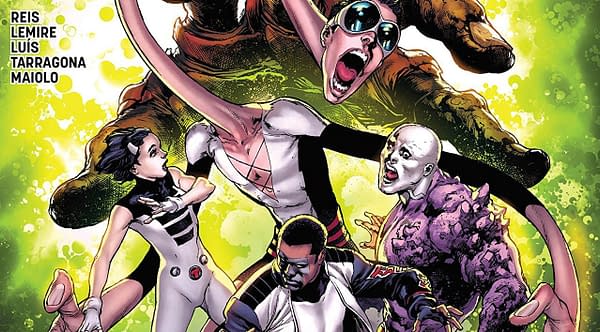 The team and its chemistry begin to take shape in Terrifics #2. Mister Terrific himself comes off as detached and goal-focused, and the interactions between Metamorpho and Plastic Man have a "Thing and Human Torch" vibe to them. Phantom Girl isn't as comparable to Invisible Woman as one might expect, as the former seems far less a leader than the latter. The threat which arrives towards the middle is visually quite cool, and it makes the escape from the Dark Multiverse even more tense.
In any case, the team is starting to take shape, and the reason they're sticking together, which isn't revealed until the end, does separate them from the FF somewhat. Then again, after todays Fantastic Four news, we really might need DC to fill in that particular gap.
Yes, I have criticized Damage for its Incredible Hulk-like qualities, but that book is far less interesting and has almost nothing original to bring to the table. Terrifics is different in having its own quirks and being more than just DC's Fantastic Four.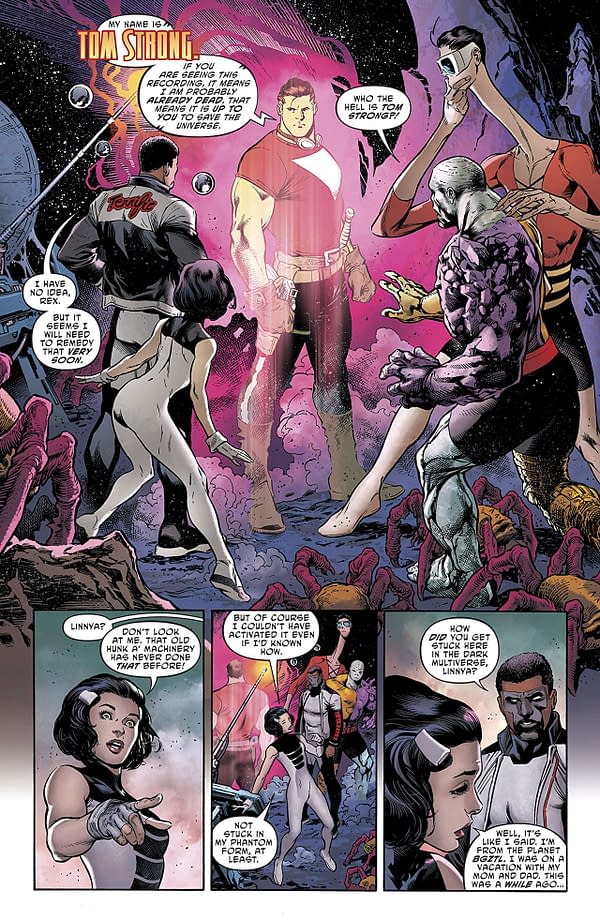 Ivan Reis contributes his distinctive and highly-detailed style throughout the first 15 pages of the book. There is a nice depth to the scenery, and Mister Terrific and Metamorpho in particular look great. Jose Luis takes over for the last five pages, and his work looks great too. It melds with Reis' well, and I didn't even notice the shift until looking back at the credits. The inking of Vicente Cifuentes and Jordi Tarragona keeps the visuals neat. The color work of Marcelo Maiolo is very well-balanced and appreciably wild when the need calls for it.
Terrifics #2 is a fun and fast-paced adventure with DC's newest team of heroes. The chemistry is coming together nicely, the story is interesting, and the art team put in some top-notch work. This one is strongly recommended. Check it out.