Bleeding Cool broke the news that DC Comics was to allow comic book retailers to return any unsold copies of Batman #50 (and Catwoman #1) after the news that the much-touted Batmarriage between the two was a case of Bruce being left at the roof altar. There had been talk of some retailers launching class action suits after having ordered too many. Some have reported that subsequent sales of the title have slipped as well.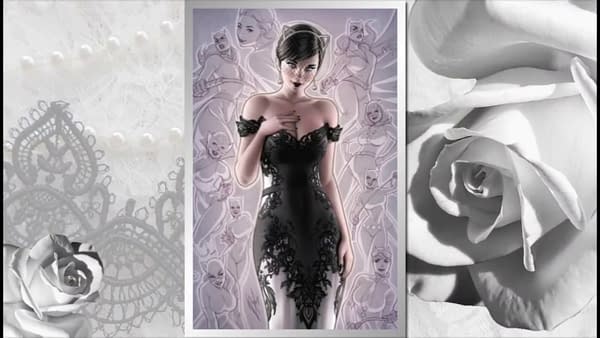 But at the ComicsPRO meeting at San Diego Comic-Con, the mood was very different. Retailers were talking about selling out of their copies with all the fuss and not having any to return.
However, those for whom it may have been more of an issue were retailers who had ordered thousands of copies in order to get an exclusive variant cover. Comic book artists, as well, whose studios were invited to order thousands of copies of an exclusive cover by them to sell to their fans. And it seems that not having a marriage inside the pages has made the desire to collect all the issues, or a specific artists variant cover, less.
Who'd have thought it, variant covers being affected by the contents of the book?
And it seems DC Comics may have sold more exclusive variant covers to more people for this comic than for any other. So the more restrictive variant artist list was widened a little. As one industry source put it unkindly, "every Zenescope artist got the chance to draw Batman for DC Comics". Even Eric Basaldua made a return to DC Comics, which was rather surprising considering.
I have been told that while DC Comics has not made any of these exclusive variant covers, they have allowed certain retailers and creators to return a certain percentage of them for a refund if they believe they have just too many and can make a case to DC why they should be allowed to send a certain amount back. Many stores and creators who have the storage are happy to keep them and sell through over time.
Enjoyed this article? Share it!