The Bleeding Cool Bestseller List, 20th October 2019 – "X-Men Swept Past Everything"
This is the Top Ten Bleeding Cool Bestseller List, as compiled by a number of comic stores from their sales on Wednesday and Thursday. It measures what are known as the "Wednesday Warriors", those who can't wait till the weekend to get this week's comics. X-Men took the top spot of every reporting retailer – and most followed with Batman. But with Once & Future and Something Is Killing The Children, is this the first time Boom Studios have had two titles in the top ten? I do think so.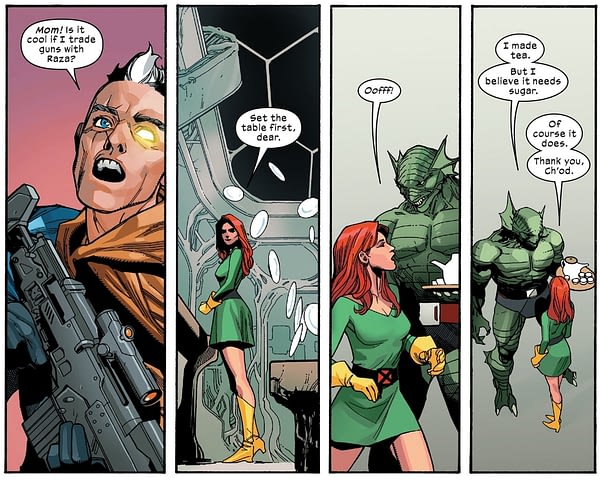 Top ten bestselling comics of the week
X-Men #1
Batman #81
Absolute Carnage #4
Justice League #34
Spider-Man #2
Superman Year One #3
History Of The Marvel Universe #4
Once And Future #3
Absolute Carnage vs Deadpool #3
Something is Killing the Children #2
Thanks to the following retailers…
Who had this to say:
Another week, another Top Ten with Hickman and the X-Men taking the #1 spot at FFF. People are still riding the HoX/PoX high which I foresee coming to a screeching halt next week with Marauders. People love Hickman and people love the X-Men. Hopefully enough care about the ancillary X-characters and follow their books too. I didn't think people would be about two bi-weekly alternating series, we'll see how they feel about six. Absolute Carnage was well represented this week. Out of the 4 issues under the banner, two were in our Top Ten. Aboslute Carnage proper was our second best selling book this week and Absolute Carnage vs Deadpool was our #7. Once and Future and Something is Killing the Children have fallen a bit since their debut issues. Once and Future has stayed around the Top Five but Something has fallen to #8. We finally got our DCeased #5 replacements and we made a lot of folders happy. Just based on the main cover replacements selling it made it to #5 on our Top Ten. Batman, Spider-Man, Justice League and Guardians of the Galaxy the remaining old faithfuls that round our our list.
—–
Oddly enough it was a pretty soft sales week for comics here. X-Men took the top spot but did not do as nearly as well as I thought it would. Lots of softening on sales. From Batman on down were noticeable drops for us. Hopefully just a week that people could not get in.
—–
Five Marvels, four DCs, and one Boom title on this week's top ten. X-Men swept past everything, selling more than twice as many as the number two title on this week's list. Superman: Year One was the best-selling DC book, holding on to an impressive 70% of its audience for #1 in terms of first-day sales. Once and Future remains a strong contender, placing in our top ten once again. An interesting fact: four of the five titles in the eleventh through fifteenth position were independent books (Something Is Killing the Children, Marked, Gideo Falls, and Vampirella), showing that readers are continuing to see the value in good comic from any publisher, not just from Marvel or DC.
—–
A customer summarized the lackluster sales of Abrams' Spider-Man comic most accurately with, "The book's alright, but it wasn't worth a countdown timer". We've been trying our hardest to sell that book to folks, and no matter what we do, the general response is an impassive "Eh, I'm good". Even the first issue didn't live up to expectations in terms of sales, despite how many people asked about it before its release, and the second issue only managed to make it to our sixth spot this week, beating an Absolute Carnage tie-in by a measly one copy sold. On that note, however, Absolute Carnage (and all tie-ins) have been huge sellers pretty consistently, with another handful of people piling on every week to see what's going on. Tales From The Dark Multiverse Batman Knightfall did surprisingly well, but it's a book with "Batman" in the title, so of course it did. Would have liked to see Metal Men #1 perform a little better. Unsurprisingly, the champion of the week was Hickman's X-Men #1, which has probably sold to every soul that's come in the door since we opened on Wednesday. Hope it keeps up!
—–
The Merry Mutants' complete and total domination of our weekly sales continues, as X-MEN #1 positively flew off of the shelves on Wednesday. Maybe it's the fresh new direction? Maybe it's the excellent creative teams? Or maybe everyone just needed to see that Cyclops/Jean/Wolverine living quarters layout for themselves?
Following that, BATMAN continues to sell well during the big climax of Tom King's run. Also going strong: SPIDER-MAN Presented By Abrams & Son maintained a decent amount of its sales momentum from the first issue and Venom's battle with his darker (darkest?) half over who's the scariest 90's monster continues in the popular ABSOLUTE CARNAGE.
Middle of the pack has us seeing decent sales from Snyder's JUSTICE LEAGUE, the conclusion of Frank Miller's SUPERMAN YEAR ONE, and the very excellent HISTORY OF THE MARVEL UNIVERSE from Mark Waid and Javier Rodriguez.
Holding things down at the back of the top sellers train we've got Gillen and Mora's ONCE AND FUTURE along with GUARDIANS OF THE GALAXY and the first of the "Dark Multiverse" one-shots: BATMAN KNIGHTFALL. All in all, a pretty solid week.
—–
CONTAGION, TREES THREE FATES, and GIDEON FALLS follow closely behind STEEPLE. A good week for the smaller publishers.
Notable sales:
Miracleman #15 vg/fn $40 Pretty cool find from a collection we bought. Not in the best shape, but still a key book.