The Bleeding Cool Top 100 Power List 2015 – 34 To 32 Welcome to the Fourth Bleeding Cool Top 100 Power List for the next Bleeding Cool Magazine, being serialized right now on the Bleeding Cool website.
It's an attempt to list the most powerful people working in the English speaking comic book marketplace. It's judged by all manner of attributes, the ability to influence what comics exist and sell, but also the willingness to use that power and the ability to retain said power if one aspect is taken away – a job, a gig or a prominent role. Which is why you will see a number of people on a higher spot than their bosses.
The Power List rewards those who combine roles, those who are double and triple threats and also where power is concentrated in one person or perceived identity. But it also notes certain teams who work together, who've built up a joint identity, a gestalt more powerful than the sum of their parts. Some powerful organisations or groups, where power is diffused amongst many, drop down or drop out altogether.
It does not measure talent or likeability and also does not intend to represent diversity. All it does is note power, used for the betterment – or the detriment – of comics.
The list has been created in consultation with a number of senior figures in the comics industry. However, I'm aware the one thing that can be guaranteed is that everyone will think it's wrong and prefer their own take. Including all of those who were consulted.
There will be a new post every day on Bleeding Cool. We'll run the previous ones below as well, so, in reverse order…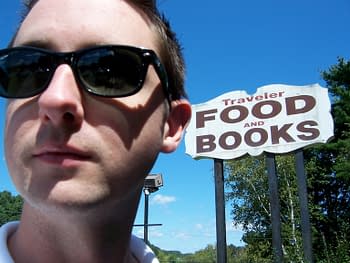 34. Mark Doyle (UP)
Batman Group Editor at DC Comics, Mark Doyle has turned a promotion from Vertigo to keep Scott Snyder happy into a real position of change. Revamping Batgirl, Grayson, Catwoman while introducing Gotham Academy and Gotham At Midnight, he is the king of "Batgirling" at DC Comics, radically changing a comic to reflect a younger audience's tastes with an eye on Tumblr as much as Diamond's sales charts, while running as much interference on DC's corporate concerns over the Bat. With his wife Jeanine Schaefer, ex of Marvel Comics, discovering the likes of Scott Snyder, Ming Doyle, Babs Tarr and many more, he has helped open up new audiences to the medium that in other days would have gone elsewhere.
Position on next year's list depends upon: Finding the right replacements for Snyder and Capullo.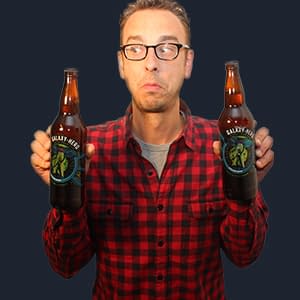 33. Lance Fensterman (UP)
Last year was the year that NYCC came into its own, outstripping San Diego in terms of official attendance and making a major pop cultural impact on the industry. Lance Fensterman oversees the entire sector for Reed Expo, including NY Special Edition, C2E2, ECCC and foreign fields of Beijing, Vienna and Shanghai that Reed is expanding into. And Lance keeps a strong grip on proceedings, his word being law on the show floor. If he wasn't so amiable and amenable, he'd be Judge Dredd.
Position on next year's list depends upon: Keeping all the bottles spinning…
32. Mark Millar MBE (DOWN)
Not only writing one of the biggest creator owned lines in comics, Mark Millar shares equity equally with co-creators and is the most likely reason an A-List artist will leave their Marvel or DC comic book – for a bit at least. While the shine has come of the automatic success of every Millarworld comic, the success of the Kingsman movie has ensured that they will keep coming. From his influence at 20th Century Fox on their Marvel films, his ties to Scottish government and fascination by the media ensures he will never be short of a headline. And with his past Marvel hit Civil War inspiring the new Captain America movie, you know he's going to find easy ways to capitalise on that as well…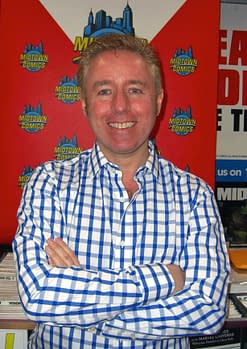 Position on next year's list depends upon: Avoiding the taint of a dud, whatever the cost.
#100-#98 – Dennis Barger, Janelle Asselin, Matthew Rosenberg
#97-#95 – Rich Johnston, Marc Silvestri, James Killen
#94-#92 – Jim Demonakos, Tim Buckley, Gahl Buslov
#91-#89 – Rob Liefeld, Peter Dolan, Catlin DiMotta
#88-#86 – Ken Levin, David Alpert, Kate Leth
#85-#83 – Jason Aaron, Stephen Christy, Jon Goldwater
#82-#80 – Stan Lee, Lorelei Bunjes, Marc Toberoff
#79-#77 – Jason Kingsley, Fiona Staples, Neal Adams
#76-#74 – Jim Sokolowski, Robbie Robbins, Corey Murphy
#73-#71 – Greg Capullo, Neil Gaiman, Art Baltazar & Franco
#70-#68 – Nemesis 43, Chris Powell, Mike Armstrong
#67-#65 – Hank Kanalz, Chuck Parker, John Rogers
#64-#62 – Alan Moore, Fred Pierce, John Wurzer
#61-#59 – Kate Beaton, CB Cebulski, Charles Soule
#58-#56 – Jeff Lemire, Matt Gagnon, Gail Simone
#55-#53 – Grant Morrison, Dinesh Shamdasani, Nicola Barrucci
#52-#50 – Skottie Young, William Christensen, Brian Azzarello
#49-#47 – Warren Ellis, Tim Lenaghan, Nicola Landau
#46-#44 – Eddie Berganza, Jonathan Hickman, Ross Richie
#43-#41 – Jonah Weiland, Peter Philips, Mark Waid
#40-#38 – Chris Ryall, Dan Slott, Mark Paniccia
#37-#35 – Nick Lowe, Raini Telgemeier, Sana Amanat
And catch up on previous years, here:
2014:
#100-#81
#80-#61
#60-#41
#40-#21
#20-#11
#10-#1
2013:
#100-#81
#80-#61
#60-#41
#40-#21
#20-#11
#10-#1
2012:
#100-#81
#80-#61
#60-#41
#40-#21
#20-#11
#10-#1
Bleeding Cool Magazine #19 is out now in all good comic book stores. Bleeding Cool Magazine #20 with the full Top 100 Power List will be out in January.