The Bleeding Cool Top 100 Power List 2018 Countdown: #70-66
Time for more kablooey.
Every year, Bleeding Cool runs its Top 100 Power List of members of the comics industry. And every year we get told how wrong we are. Somehow, it's always for completely different reasons and from completely different directions. Why was X in when Y was not? Why is Z is high when W is so low? And neither U or T should be on this list after that incident involving V… and condemning us for being either infested with SJW virtue signalling or providing platforms for fascists – and sometimes simultaneously. Man, I don't know how Time Magazine manages.
But that's part of the process. This attempt to list the most powerful people working in the English-speaking comic book marketplace is, of course, flawed. It is judged by all manner of attributes, the ability to influence what comics exist and sell, but also the willingness to use that power in the industry to affect things, and the ability to retain said power if a job is taken away. Which is why you will see a number of people on a higher spot than their bosses.
The Power List rewards those who combine roles, creator, publisher, distributor, retailers, those who are double and triple threats, and also where power is concentrated in one person rather than being spread out among many. Some powerful organisations or groups, where power is diffused amongst several individuals, may drop down or drop out altogether.
It does not measure talent or likeability, respect or fairness, and it does not intend to represent diversity or balance. All it does is note power, used for betterment — or detriment — in the English speaking comic book world.
The list was created in consultation with a number of senior figures in the comics industry, and I thank them for their help. Although because they all disagree, they'll all think the final list is wrong, too.
If you really hate this list, then do the obvious thing. Write your own. Otherwise, watch for new batches every day…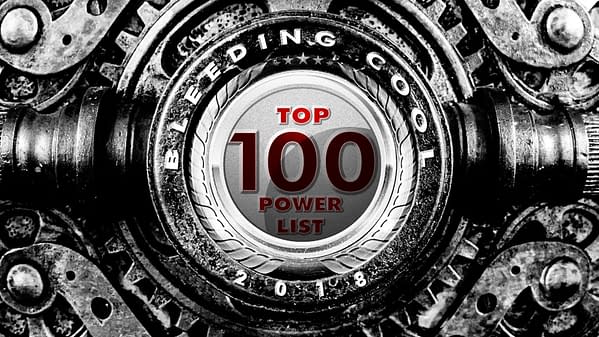 66. Fiona Staples. Saga is taking a break for a year. This is more of a Fiona Staples move than a Brian K Vaughan move (though his Legendary deal must be a factor). As a result, comic book fans are in mourning, as are comic book retailers and Image Comics have dropped a percentage point or two on the monthly charts until the comic returns. Fiona gets to work on some different material in the interim while also taking more of a break. And the comic book industry waits for her return to Saga…
67. Mike Marts. Editor-In-Chief of AfterShock Comics. TKO and WAALLC are launching, and competing for the same kind of creator-owned titles that Aftershock are publishing, who also have to deal with a newly financed Dark Horse Comics, Chris Ryall returning to IDW and the continuance of Vault, Oni Press Black Mask. But AfterShock still manages to find biggish name creators – and the potential of biggish media deals to match. Marts continues to use his experience of editing the big Marvel books to land the sizeable fishes
68. Renfamous. A cosplayer-turned-confidant of the comics industry. While 2018 was full of comicsgate hate expressed towards comic book creators, Renfamous took on the role of the Sin Eater and actively sought out that attention, drawing them away from their usual targets. If comic creators across the industry felt a collective sigh of relief that the hatred felt like it was getting less, Renfamous was part of that reason, serving as a single-handed teflon-coated lightning rod and giving everyone else a break. She is set to earn the fruits of her labour.
69. Charlie "Spike" Trotman. Cartoonist and publisher as Iron Circus Comics, the largest comics publisher in Chicago, she sponsors the "Creators For Creators" grant and has monetised the crowdfunding-as-pre-order continually and longer than anyone else, raising millions directly from readers. She's also been able to publish erotic comic books at a time when a new puritanism is challenging such moves again.
70. James Tynion IV. A rising central voice at DC Comics, alongside his mentor Scott Snyder, this comic book writer is using the Batbooks as a way to build a lot of what will be DC Comics through 2019, while his work on Hellblazer is being stripped for DC's Legends Of Tomorrow. Expect a monotonous list of announcements going forward with his name attached.
See you tomorrow, if I survive the combination of hate from people angry for saying what I said, and from others for saying anything at all. Happy Christmas one and all.. And keep up with this handy-dandy Top 100 Power List tag.