When things are looking their darkest, that just means its time to look for a silver lining. So when the entirety of New Japan falls out of the sky in Valiant Entertainment's Fallen World, that just provides Circadian with an opportunity to look on the bright side of life.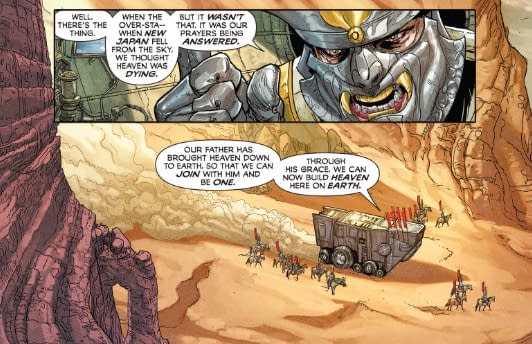 Even if pessimist Raijin insists on being a party pooper, Circadian simply isn't having it.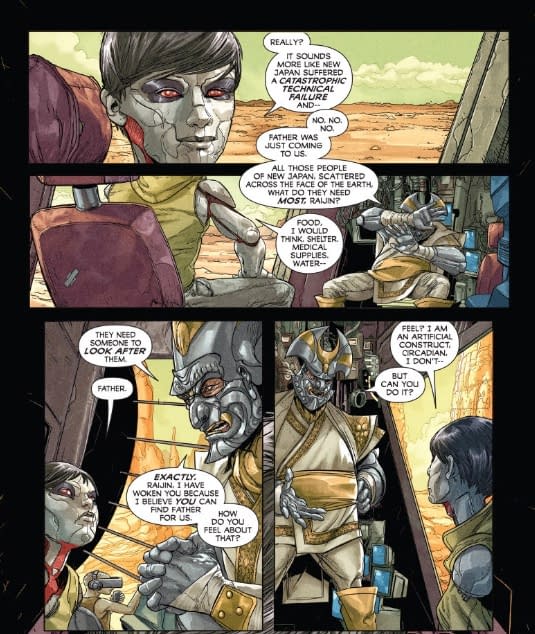 Keep that positive attitude, Circadian. Maybe you can make a run for the Democratic presidential nomination next!
Final order cutoff for Fallen World #2 is today, so get your orders in!
Savage sword fights, rampaging robot dinosaurs, and an unrelenting army of… blood soldiers?! FALLEN WORLD #2 (of 5) transports you to the ferocious world of 4002 A.D. as a cyborg samurai and an immortal fighter struggle to strike down an immensely powerful foe. How can they defeat a virtually unstoppable enemy… or are they simply delaying the inevitable?

Written by DAN ABNETT
Art by ADAM POLLINA
Colors by ULISES ARREOLA
Letters by JEFF POWELL
Cover A by SANFORD GREENE
Cover B by DECLAN SHALVEY
Cover C by NIK VIRELLA

Get ready for the second thrilling chapter in Valiant's explosive event series! Rai's creator and most dangerous foe has returned! The cyborg samurai faces an impossible challenge. Can he stop his greatest enemy from gaining even more power? How many more positronic dinosaurs will have to die for Rai to save the future?
$3.99 | 32 pgs. | T+ | On sale JUNE 5th
Enjoyed this article? Share it!