The Curse of Brimstone #2 Review: Saving the Hometown
Joe awakens in his own bed. His sister, Annie, tells him that she brought him home, and York Hills has been decimated. Fires burst out across the city, but they were punctuated by falling ash and a blizzard. Joe comes clean about Brimstone and the Salesman, and the two try to find out who the Salesman is and how to save York Hills.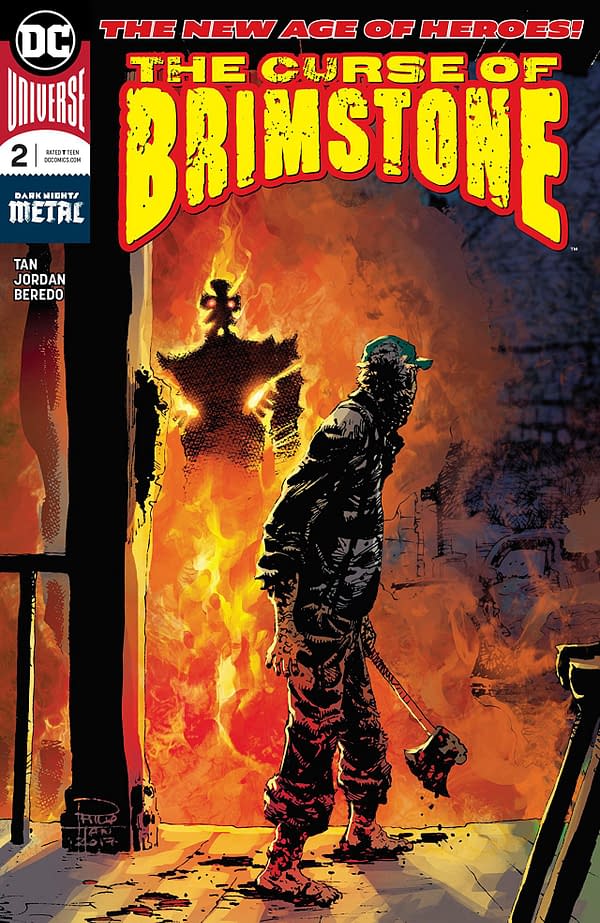 Curse of Brimstone #2 continues the comic's good streak of keeping the narrative personal and character-focused. It follows up on the pseudo-Southern Gothic motif of the first issue with an apocalyptic scene with Joe and Annie left to see what pieces are left to pick up of their hometown.
Among the clever storytelling decisions is its avoidance of the bothersome disbelief cliché between Joe and Annie. Annie sees what Joe has done, so she believes his story.
We learn more of the Salesman and his history of destroying towns like York Falls. The comic is indecisive as to why this hasn't caught attention on a national level yet. Annie believes that it's just because they are such small and obscure towns; Joe says it's something supernatural. The former is more compelling, but it's also harder to believe given the scale and horror of said destruction.
Annie proves to be a likable and engaging character, and Joe's own emotional hang-ups keep him interesting. Curse of Brimstone is turning out to be very impressive title.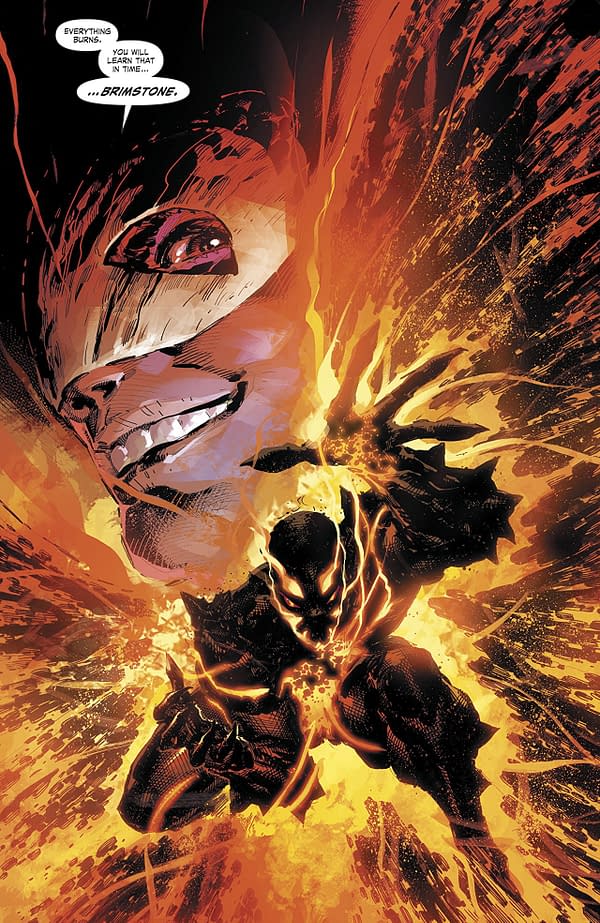 Philip Tan's gritty and textured style continues to bring life to this bleak and rundown city now accompanied by destruction. The paneling as well as the miasma of said destruction do make some scenes and sequences hard to parcel out. Thankfully, this isn't too common, and the stylism of the artwork makes up for those negatives. Rain Beredo's color art is also quite good. It adds additional texture and dark atmosphere to the already atmosphere-heavy comic.
Curse of Brimstone #2 is an excellent second issue to a series already filled with promise. With a narrow focus, a personal quest, and complex lead characters, Brimstone is easily among DC's best New Age of Heroes titles. Hopefully Justin Jordan, Philip Tan, and Rain Beredo will keep up the good work. This comic comes highly recommended. Give it a read.