Welcome to the pretty-much-mostly-daily Lying In The Gutters. A run around the day before and the day ahead. You can sign up to receive it as an e-mail here.
The 15 most-read stories yesterday
One year ago…
Happening today…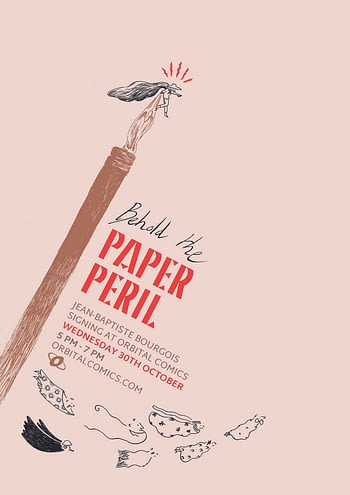 Jean Baptiste Bourgois signing Behold The Paper Peril. In a whimsical world of sinuous shapes and scribbly ink lines, an aspiring artist embarks on a perilous quest to experience the exhilaration and chaos of the creative process. Prints for sale. At Orbital Comics, London, 5-7pm.
These Savage Shores Signing with Ram V, Gosh Comics, London, 6-7pm.
Billionaires Launch Party with Darryl Cunningham, Gosh Comics, London, 7-9pm.
Comica Social Club, Central Bar, Royal Festival Hall, London, 6pm
Mike Henderson Dead Man Logan #12 Signing, Things From Another World, Beaverton, Oregon 4-7pm.
Tom Scioli/Jim Rugg signing at Phantom of the Attic Comics Oakland, Pittsburgh, Pennsylvania 4-7pm.
Halloween Double Threat signing, Comics Dungeon, Seattle, Washington 4.30-6.30pm.
Hi De Ho Comics signing Kayden Phoenix, Santa Monica, California 2-6pm.
Austin St. John signing, Alter Ego Comics, Lima, Ohio 1-3pm.
Phillip Kennedy Johnson signing Bedrock City Comic Co, Westheimer, Houston, Texas, 5-7pm.
And a happy birthday to…
P. Craig Russell, artist on Elric, Sandman and many Neil Gaiman adaptations.
Copperhead, Dracula and Lost Boys artist Scott Godlewski
Comics podcaster Alastair Pulling
Comics writer, editor and crossworder T Campbell
Dead Last artist Shaun Speight
Subscribe to our LitG Daily Mailing List
Enjoyed this article? Share it!