[rwp_box_recap id="0"]
We're going to jump into this review of East of West #41 assuming that the reader is familiar with, and hopefully caught up with, the continuing narrative of this sprawling, ambitious science-fiction/western/political thriller from Jonathon Hickman and Nick Dragotta.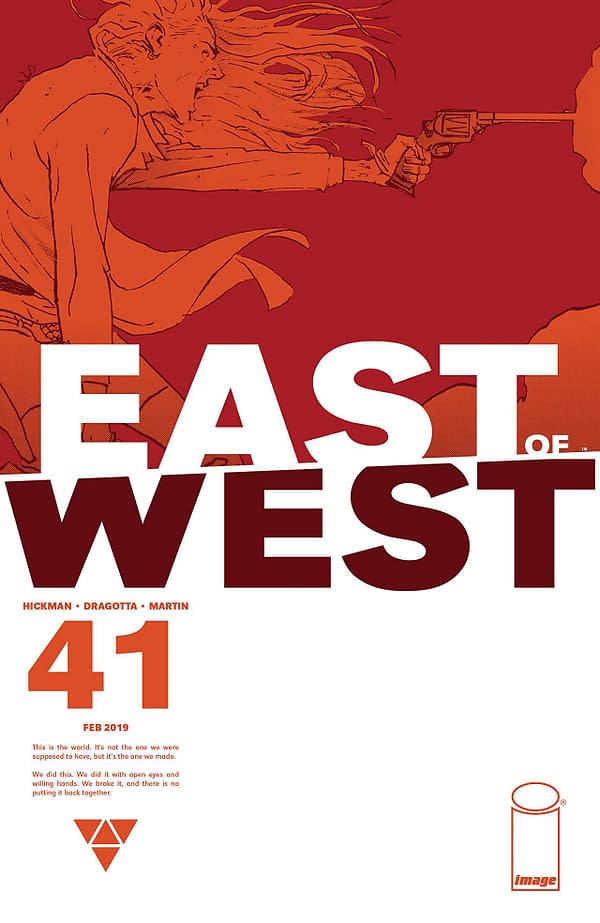 East of West continues to advance an already impressive storyline, as the events behind the Ranger's assassination attempt on Prince John Freeman are brought into clearer focus.
Hickman must have an entire library filled with the different threads of this story, as it ducks and weaves among 7 nations, the Four Horsemen of the Apocalypse, countless feuds, and a century old conspiracy theory. It would be easy to lose one's place in the telling of this work, but Hickman is far to nimble a narrator to allow that to happen.
East of West #41 is, like its predecessor issues, not a fast read. You're getting plenty of mileage out of your entertainment dollar with this title. There's a lot of gears spinning simultaneously throughout this story, and Hickman isn't afraid to take the time needed to give each element its due.
This is an alternate history of an America that never was, brilliantly told and boldly rendered.
Nick Dragotta's art is as crisp and evocative as ever, with every character so perfectly captured they come to life. There's a real pulse to Dragotta's art, each and every character unique and lived in. There's a lot of time spent with Wolf and John Freeman in this issue, and the conversation between them is vibrant and kinetic, never once stooping to static panels.
Dragotta has an excellent accomplice in Frank Martin, who brings a minimalist perfection to the color palette of East of West. It's lovely work, stark and brutal in its contrasts.
It's easy to see how East of West was optioned for television, and we can't wait to see how this series translates. After seeing Deadly Class and The Umbrella Academy brought so aptly to life, we can't help ourselves! This is truly a great time to love indie comics!
SUMMARY: Script: Jonathan Hickman; Art; Nick Dragotta; Colors: Frank Martin; Letters: Rus Wooton; Publisher: Image Comics; Release Date: February 20, 2019; Cover Price: $3.99; 31 pages.
[rwp-review-ratings id="0"]
[rwp-review-form id="0"]
Enjoyed this article? Share it!