The Great Krypton Conspiracy Deepens in Today's Supergirl #32 and Superman #13 (Spoilers)
Today's Superman rewrites the destruction of Krypton. There's been a lot of that around of late. Recently, with the return of Jor-El, snatched from death by Dr Manhattan, we've sees the arrival of Rogol Zaar, a Kryptonian killer who claims he destroyed Krypton, rather than the natural disaster foreseen by Jor-El, and from Superman was a refugee. And evidence in Superman and Supergirl titles that he did the deed.
In today's Superman #13, we get to revisit those days. With Brandon Peterson drawing up a storm on this comic book. Jor-El, Lara and baby Kal-El, with the blame for inaction solely on the Science Council of Krypton…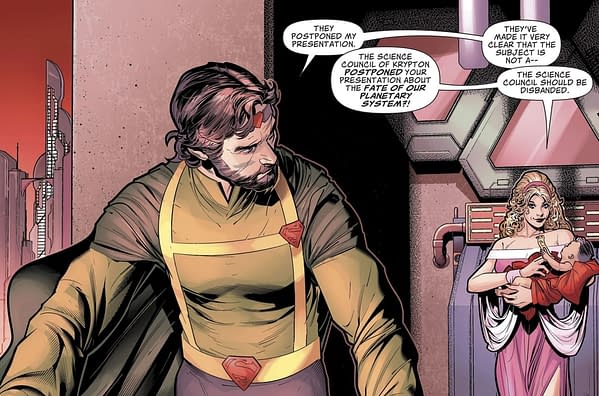 But also seeing Jor-El's involvement with The Circle.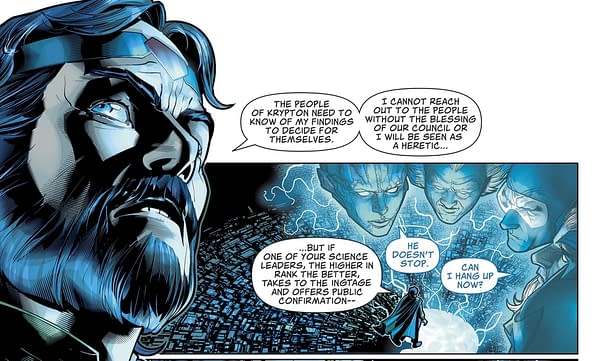 We've seen The Circle a number of times before, In Man Of Steel #1, they were the group of alien leaders, led by Guardian Appa Ali Apsa, Sardath of Rann, Thangarian Defense Minister, King Myand'r of Tamaran, and Empress Gandelo who work together to decide the fate of their galaxy, that Rogol Zaar appealed to, to destroy Krypton, though they denied his request. The intimation that he did it anyway.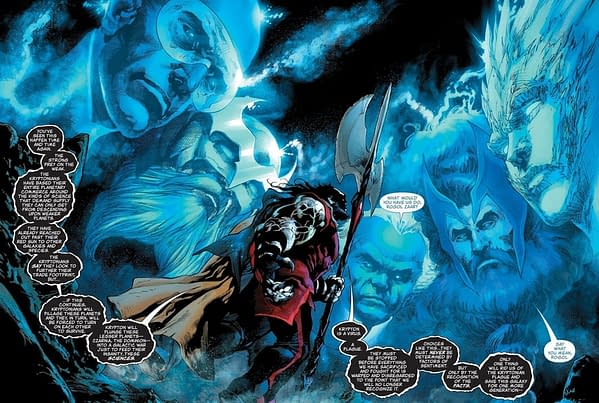 After the destruction, Gandelo voiced concerns and demands answers of Appa Ali Apsa of the Guardians of the Universe and demands answers. How could this happen? Where was the Green Lantern Corps to protect these people?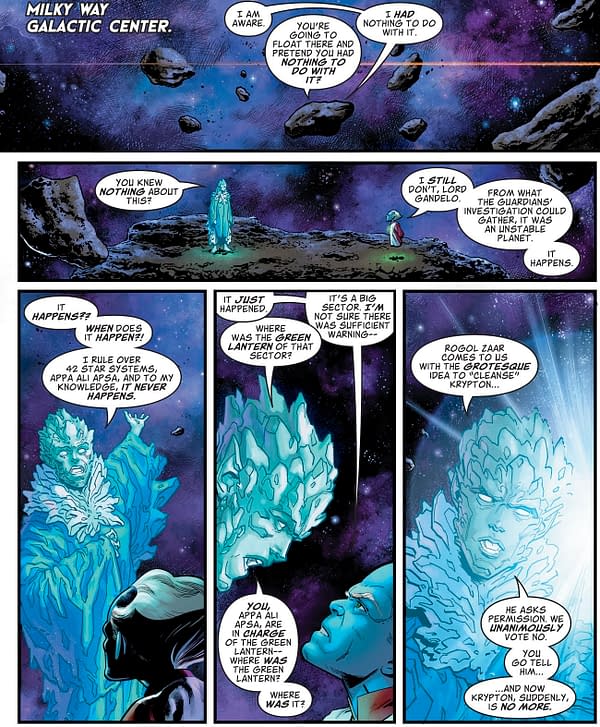 Well, it seems this was all a bluff, and later in Supergirl it was revealed that Gandolo went behind the Circle's back and did her own deal with Rogal Zaar to deliver what he wished.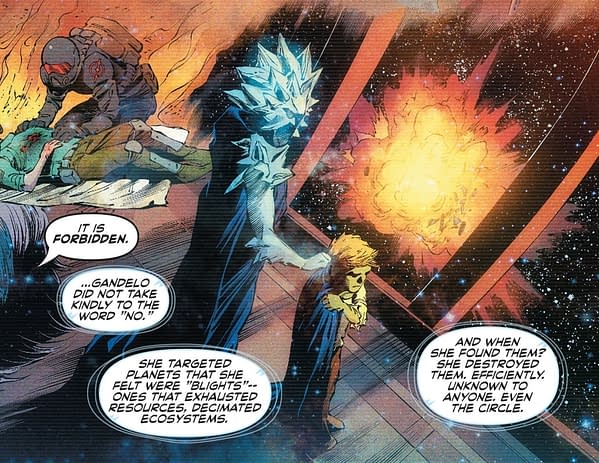 With Appa Ali Apsa leaving his deathbed confession for Supergirl…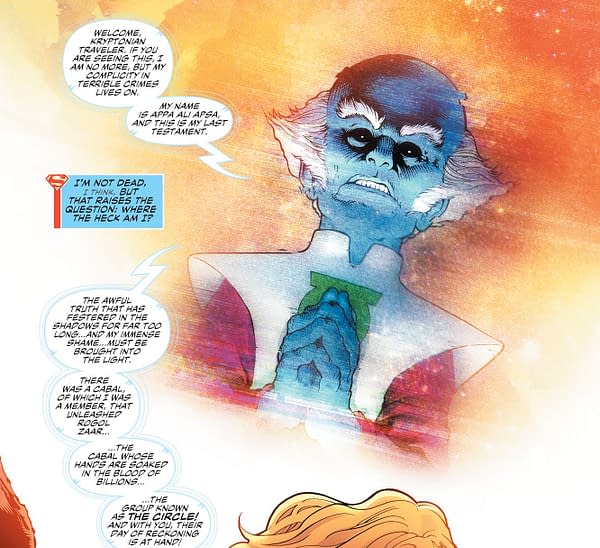 In a handy holographic AI form…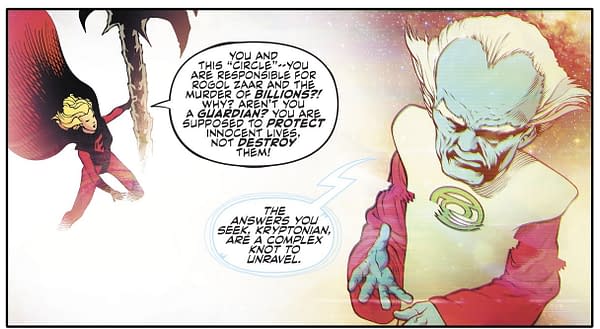 And discovered that Gandelo was behind it all… including the deaths of Rogol Zaar's people.

And today, takes it all to Gandelo's home world for battle, as she doubles down.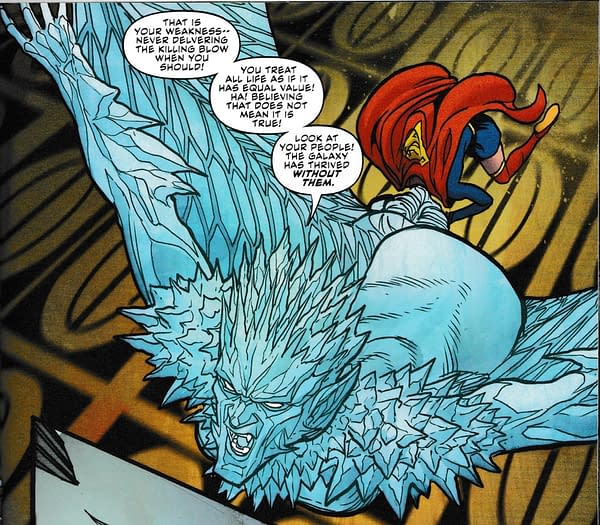 While Superman gets the low down on what happened from his dad. And Jor-El's relationship with The Circle also exposed.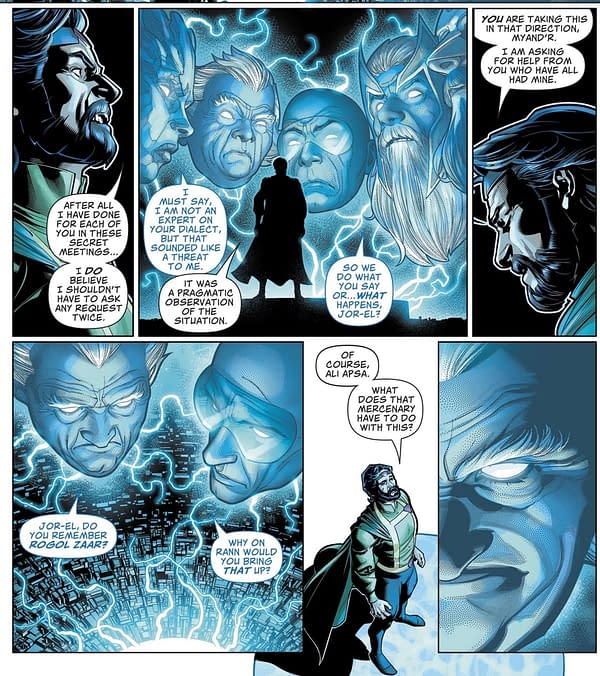 Even if none of them believe him either, he has strings he can pull… and the locations of bodies buried.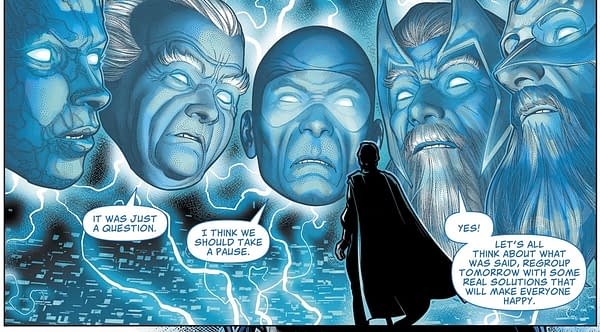 Though not all co-conspirators were happy to continue discussions.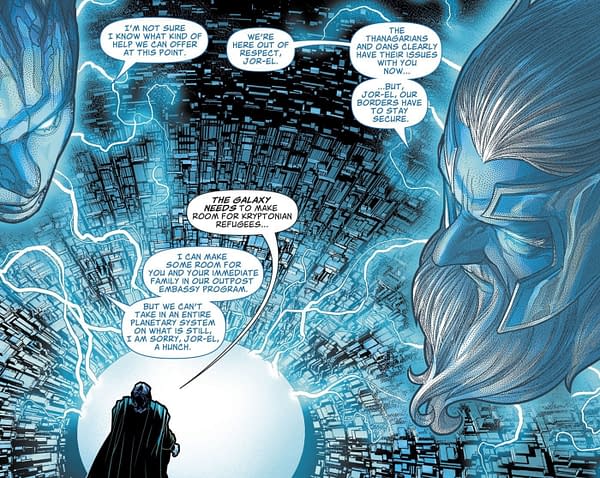 Such as the Thangarians…

Though it also leads directly into discussions about refugees and disaster emergencies. And now Superman knows the truth about his Dad. So far at least.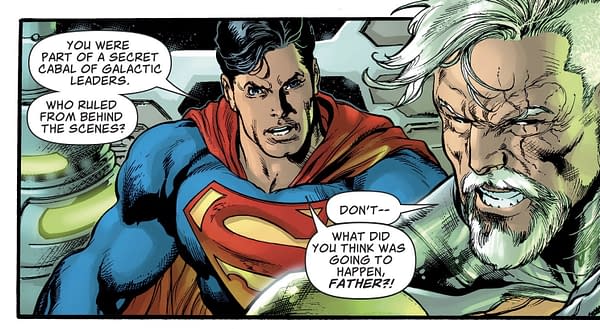 This secret cabal joining the secret cabal beneath Metropolis. The cabal of detectives in Event Leviathan. The cabal that were the Illuminati for Marvel. And the… Cabal. Bendis does like a cabal, he really does…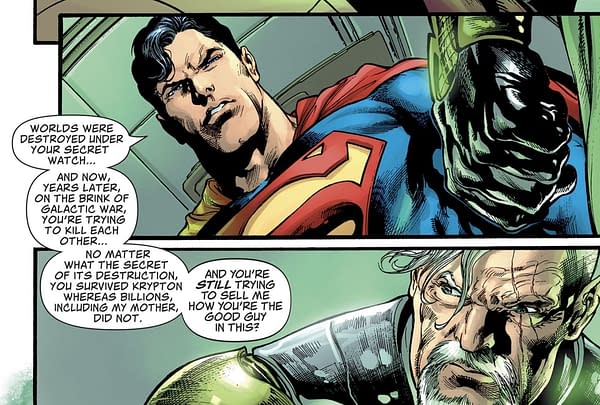 SUPERMAN #13 YOTV THE OFFER
(W) Brian Michael Bendis (A/CA) Joe Prado, Ivan Reis
Superman, intergalactic hero! A major chapter in the galaxy-spanning "Unity Saga" begins as Superman reluctantly takes the lead in a quest for peace bigger than he has ever tried before. It's Superman, Superboy, Supergirl and a cast of thousands in a fight to keep the universe intact. But it's this issue's final page that will have fans everywhere talking. It's a moment almost a thousand years in the making… Deadly plans, murderous schemes and evil dealings. Each of Lex Luthor's offers means doom for the heroes. So why is Lex now talking to Lois Lane?In Shops: Jul 10, 2019
SRP: $3.99

SUPERGIRL #32 YOTV THE OFFER
(W) Marc Andreyko (A) Sean Parsons (A/CA) Kevin Maguire
The conclusion to the SUPERMAN/SUPERGIRL team-up is here! As the House of El is united, Superman, Supergirl, Superboy and Jor-El struggle to defeat the seemingly unstoppable Rogol Zaar, who is now teamed up with General Zod, Jax-Ur and even Gandelo! New alliances are forged and betrayed, and Kara must fight battles on two fronts: alongside her cousins and inside herself, as she faces her own rage and the corrupting influence of Zaar's axe! If she survives it all, who will be the Supergirl who emerges on the other side? Join us on the epic finale to Supergirl's space-opera adventure! Also, if Brainiac is in the Hall of Doom, why is Lex Luthor upgrading an old Brainiac drone body? And why is the drone calling itself the true Brainiac?In Shops: Jul 10, 2019
SRP: $3.99