The Incredible Hulk Comes to the British Supreme Court
From outside the Supreme Court of Great Britain today, where the court is deciding whether or not the proroguing of Parliament is legal or not. The case will take three days, but that doesn't stop protestors from lining up outside as I was cycling by. Now whether or not Prime Minister Boris Johnson can prorogue (close, before reporting) Parliament is less an appeal to constitutional parliamentary practices, but a tribalist call for those who want Brexit and those who don't. Proroguing Parliament increases the chances of Brexit happening with a no-deal crash-out by stopping Parliament from doing all it can to stop it in its tracks. So support or opposition to proroguing Parliament, despite the Prime Minister saying it has nothing to do with Brexit, is solely to do with Brexit, not Parliamentary sovereignty. The Prime Minster lies.
Nevertheless, today the government, told the court that Boris Johnson would comply with any declaration it made. That he had to say such a thing is because there has been some doubt of late. Or course he didn't rule out a second prorogation, and the whole thing to start again. And that Boris had not provided a witness statement regarding the length of the prorogation was also brought up.
Anyway, certain people don't like me writing about British politics on what is ostensibly a comics/pop culture website (rather, that tech website Wired is more of an appropriate venue) so I had better bring this round sharpish.
Oh yes, Boris Johnson compares himself, and Britain, to the Incredible Hulk over the weekend, in quite some geeky detail, leading to plenty of similarly-themed responses. Which gave us this protestor…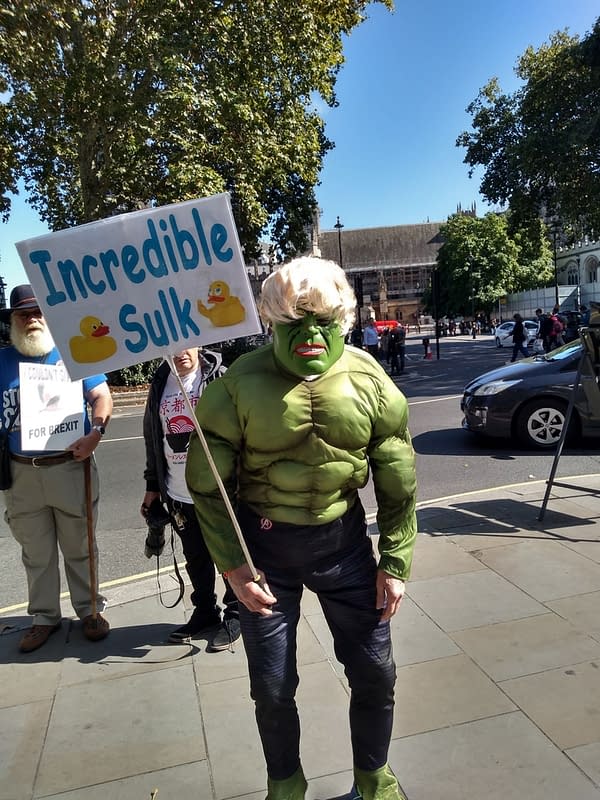 Didn't say much… I do like the wig though.