The Joker is a bad guy. A psychopathic mass-murderer bordering on the genocidal, everything he does is despicable. That the ultimate Big Bad does it without any super powers or abilities, other than the will to do it, makes him even more of a threat. He acts without consequence and often manages to get away with it, seeing incarceration as a temporary inconvenience. He is the ultimate case for capital punishment, in a world where it is the one thing the Batman will not allow.
But is his mass-murdering racist? His appearance, the result of chemical alteration, makes him the whitest person on the planet. But how far does that go? And would anyone care? Bleeding Cool got few notes this morning about today's Detective Comics #1023, part of the current Joker War crossover that saw The Joker heading to the underground of Gotham to revive one of The Court of Owls' zombie assassins, the Talons. And having to choose one, resorts to an old nursery rhyme.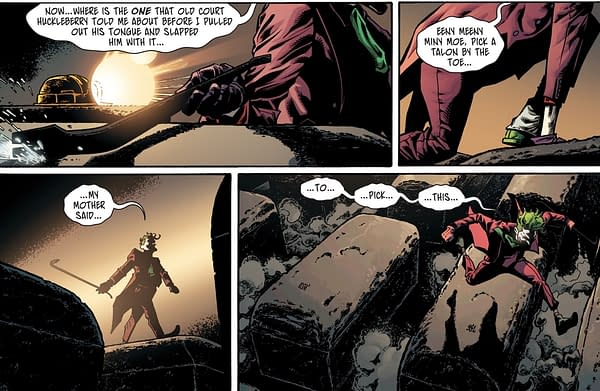 'Eeny, Meeny, Miny, Moe, pick a Talon by the toe.'
A familiar counting rhyme, the most infamous version uses a racial slur rather than 'Talon'. Though 'tiger' largely replaced it at some point during the twentieth century, the racial slur version was still widely known, at least in North American usage. But in recent years, any version of the rhyme has been considered offensive by some as a result. In 2003, a jury found that an airline whose steward encouraged a group of Black Americans to take their seats saying "Eeny meeny miny mo, Please sit down it's time to go" were guilty of the intentional infliction of emotional distress and negligent infliction of emotional distress. A BBC outtake from the Top Gear show saw presenter Jeremy Clarkson reciting the rhyme with a mumble for the offensive word. He later apologised stating that attempts to obscure the line "weren't quite good enough". And in 2017, the British retailer Primark pulled a T-shirt from its stores that featured the rhyme spoken by Negan, from The Walking Dead, overlaid with an image of his baseball bat.
Since then, big media brands have become more sensitive to these issues. Will the rhyme spoken by the Joker be as acceptable as when Negan said it in the comic of the TV version of The Walking Dead? Or will it be seen more like the T-shirt?
Enjoyed this article? Share it!