Bleeding Cool had the tip-off that evidence of 5G and the new DC Comics Timeline we have been talking about for quite a while, would officially appear in an already-solicited comic book from DC Comics, something out in the first third of the year. We came up with a list of possibles. One on that list was Wonder Woman #750. Another was The Flash #750. We also looked today at how the new DC timeline will make Wonder Woman the first superhero of the DC Universe.
Well it appears that Wonder Woman #750 is where it will all begin, in a story by Scott Snyder and Bryan Hitch. And we should look for something similar in Flash #750.
Today, addressing comic book retailers on Facebook, DC Publisher Dan DiDio talked about a number of matters (and you can catch up with them all with this handy tag). Including the new DC Timeline. He told them,
"There's been a lot of chatter, myself included, about our timeline. The purpose is to bring in a baseline of storytelling that brings a level of consistency and more uniformity in the interpretations of the characters. We are looking to build a series of books that will re-tell the history of the DC Universe. In some ways, that will become our bible for the DC Universe."

One of the first places you'll see this happening is in Wonder Woman #750. The change in numbering is purposeful in the sense that [ Wonder Woman #750] is the first time that we're acknowledging the timeline, and establishing [Wonder Woman] as our first superhero, in a story by Scott Snyder and Bryan Hitch. Something similar is going to be happening in The Flash."

The #750 numbering is not a stunt. It is the ongoing numbering. You will not be seeing a Flash #1 or Wonder Woman #1 in the foreseeable future. That is their new numbering going forward. And you'll see that happening with a couple of other series. It will not happen with every series, but will certainly be happening with some of the key books."
Looks like some folk might want to up their numbers on Wonder Woman #750. Remember how I also said that Death Metal, the Metal sequel by Scott Snyder and Greg Capullo would have a Wonder Woman focus? Maybe this is where that begins too…
When asked what DC going to do to help drive new readers to comic shops, he echoed a line that we had heard regarding 5G and the new DC Timeline, that 'everything happened'.
"It's one thing to do an event, it's another to do one that has impact. 'Stories that matter' is an important conversation we have-something that has a lasting effect on the line. That's a lot of what we're building to right now.
Wonder Woman #750 is out in less than two weeks.
WONDER WOMAN #750
(W) Vita Ayala, Marguerite Bennett, Kami Garcia, Dean Hale, Jeff Loveness, Steve Orlando, Greg Rucka, Gail Simone, Mariko Tamaki, Various Others (A) Elena Casagrande, Colleen Doran, Jesus Merino, Gabriel Picolo, Others (CA) Jo?lle Jones
Prestige Format
An all-star 96-page celebration of the Amazon Princess by longtime favorites and acclaimed new voices! In the lead story, Wonder Woman's epic "Year of the Villain" battle comes to a close, leading the way to new challenges ahead. Additionally, this oversized gem tells tales from Diana's past, present and future by some of the greatest storytellers in the business- including Colleen Doran, Mariko Tamaki, the Teen Titans: Raven team of writer Kami Garcia and artist Gabriel Picolo, and legendary Wonder Woman creators returning to the character, including Gail Simone and Greg Rucka!In Shops: Jan 22, 2020
SRP: $9.99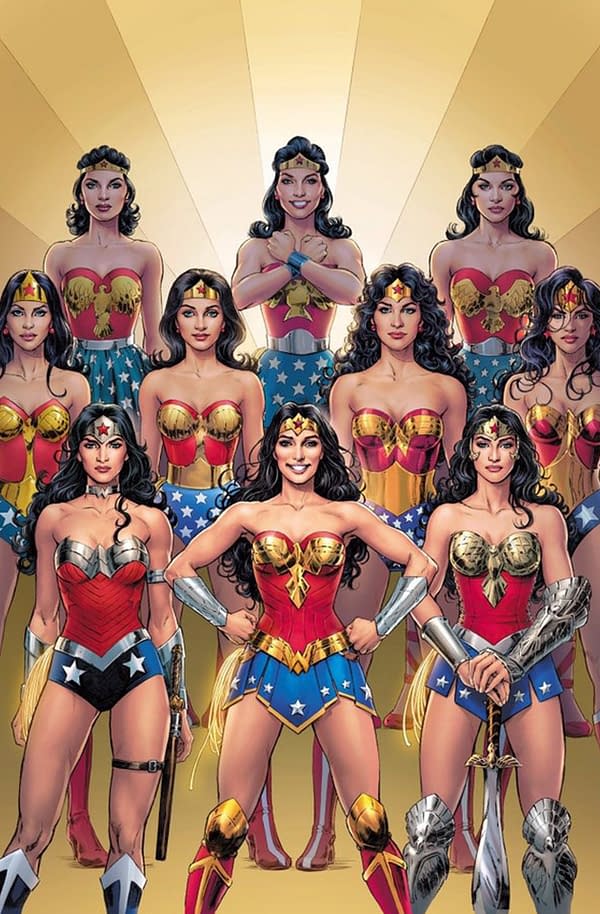 Enjoyed this article? Share it!