The New York Comic Con #NYCC Friday Only Party List, 4th October 2019
We ran the Insanely Big After Party List for all of New York Comic Con 2019 earlier this week. But we're splitting it up for each night, for easier attendee access. This is the list for Friday alone… though expect some of the events to keep going into Saturday…
TWD Whiskey's The Last Bar in the World at NYCC, experience The Walking Dead Universe with Spirits of the Apocalypse. Be amongst the first to try The Walking Dead Kentucky Straight Bourbon Whiskey and to take photos with Walkers. Signing with Robert Kirkman 1-2 pm. 23 W 24th St, New York, 11am-6pm. 21+
Metropolis Gallery's new J. Scott Campbell exhibit gallery reception, 36 West 37th Street, 6th Floor, 6-9 pm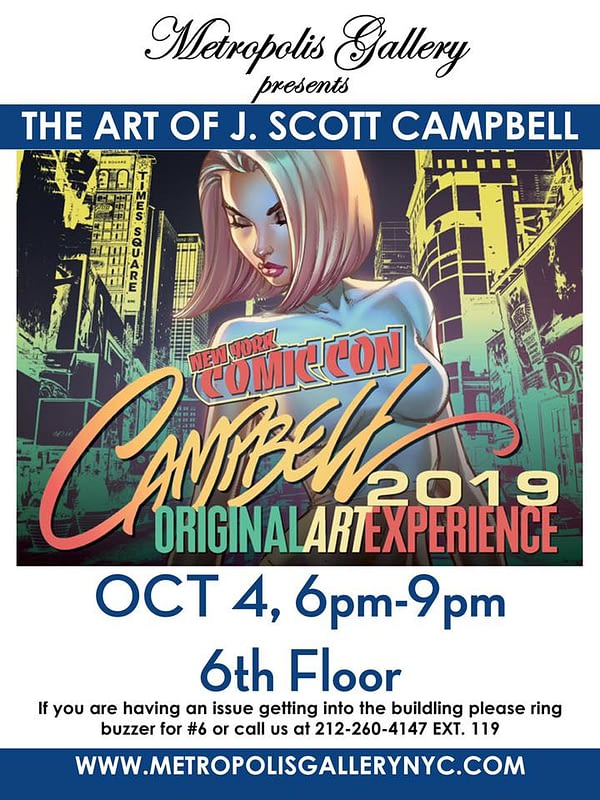 Lee Bermejo with Mark Doyle for Batman: Damned, Barnes & Noble Upper West Side, New York, 7-9pm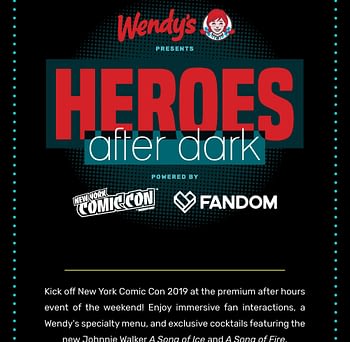 Wendy's Presents 'Heroes After Dark'. A featured DJ set by Chromeo, and music by DJ Elliot. Enjoy immersive fan interactions, a Wendy's specialty menu, and exclusive cocktails featuring the new Johnnie Walker A Song of Ice and A Song of Fire limited edition whiskies. The event will also benefit charity partner, the Cystic Fibrosis Foundation. Sony Hall, 235 W. 46th Street. 8pm-midnight. RSVP.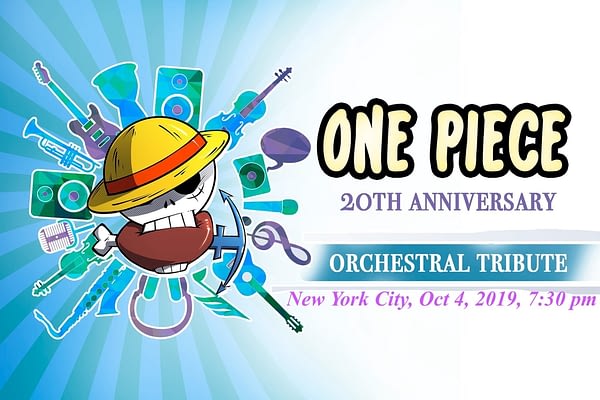 One Piece 20th Anniversary Orchestral Concert. The chamber orchestra concert will feature iconic music from the series by Kohei Tanaka, Shiro Hamaguchi, and Shouko Fujibayashi. Mary Flagler Cary Hall of the DiMenna Center for Classical Music. 450 West 37th St. 7.30pm. $20 tickets.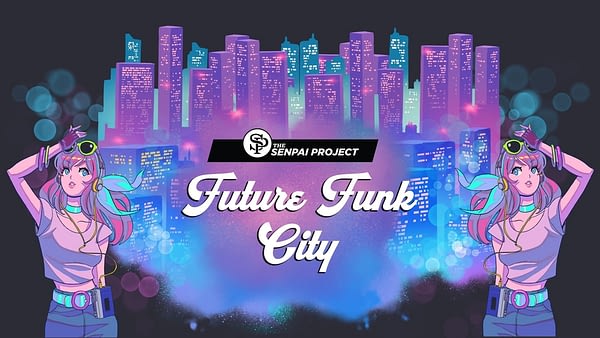 Future Funk City NYCC Afterparty, The Tailor Public House, 505 8th avenue, 8pm – 1.30am. $10 early, $20 on door.
Creator After Con Network's Annual After Con Networking event. bringing together comics creators to connect, collaborate, and discuss their medium. Welcome to Writers, Illustrators, Pencillers, Inkers, Colorists, Letterers, Editors, Publishers, Printers, and all facets of the industry. Discover your next, or first collaborator! Features a portfolio review by Bob Salley of Source Point Press. Twins Pub upstairs – 421 9th Ave, 8 pm
WebToons Private Party, Green RoomCNVS, 635 W 42nd Street, 21+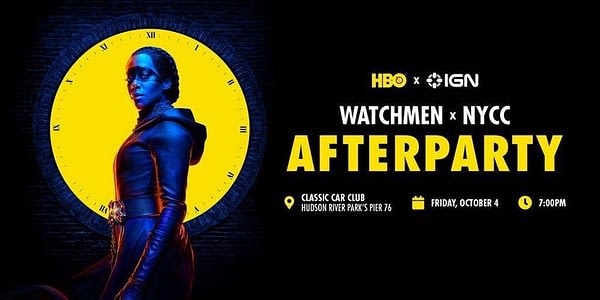 IGN/Watchmen Party, Classic Car Club Manhattan, props from the show, menu of Watchmen-themed cocktails and appetizers, limited edition Watchmen swag. Free, 21+, 7-10pm
Outlander Fan Meet Up, Vessel at Hudson Yards, 4pm.
LGBTQ+ Official NYCC After Party – LGBT HQ has teamed up to present the exclusive LGBTQ+ Official New York Comic Con After Party. The night will feature drag and burlesque performances, A Cosplay Contest with over $1,000 in prizes, Video Games, Raffle Bags, Surprise Convention Guests & more. Printers Alley, across from Midtown Comics, 215 W 40th St, $10, $15 at door, includes raffle tickets, 21+ 9pm-2am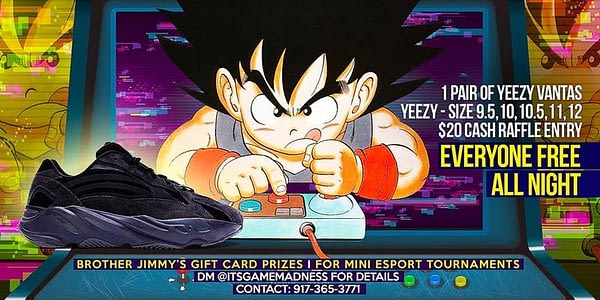 Arcadia Fest 2019 Brother Jimmy's BBQ 181 Lexington, NYC Everyone Free All Night Check in Downstairs Full Floor of Gaming, 5pm to Midnight
Adam McArthur's First Ever East Coast Super Awesome Boba Meetup. Adam McArthur (Voice of Marco Diaz) is bringing his Super Awesome Boba Meetup to the EastCoast for NYCC. An hour of hangout time with Adam McArthur, A boba drink for each person, location will be released to ticket buyers, $15. 3-4pm.
Geekcaster Presents: Unofficial NYCC Content Creator's Happy Hour Mixer, Troy Liquor Bar, 675 Hudson Street, 6pm-1am, Happy hour until 9pm. Free.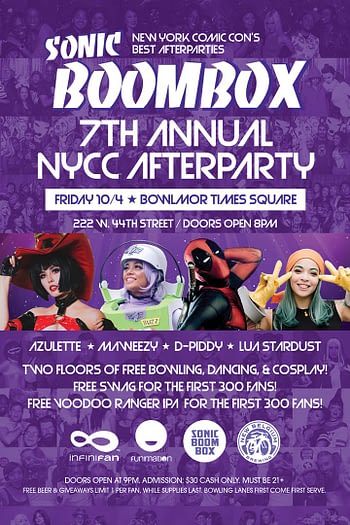 Sonicboombox NYCC 2019 Afterparty, Bowling, Dancing, Cosplay, Swag for first 300, Bowlmor Times Square, 222 West 44th Street 21+, 9pm-3am, $15 advance, two for $20, $30 cash on door.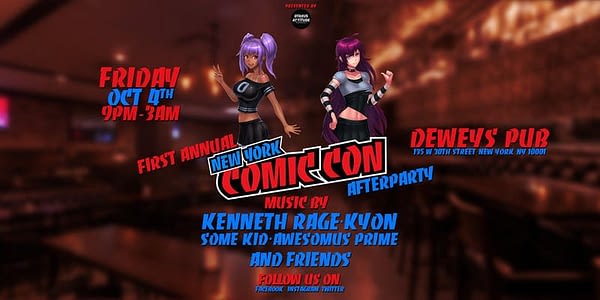 Otakus With Attitude: NYCC Afterparty -Deweys Pub, 135 w 30th Street, $15 advance, $20 on door (reduced for cosplay)
Rave Of Thrones with Kristian Nairn, Schimanski, 54 N 11th St, Brooklyn,, 21+, 9pm-4.30am.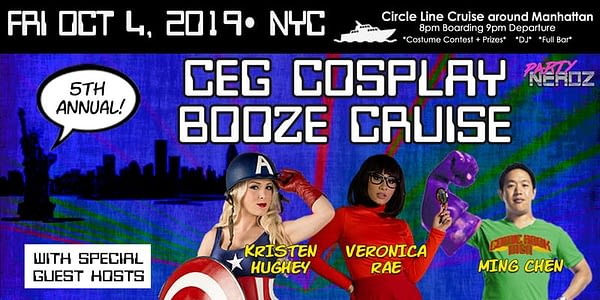 Cosplay Cruise, with Veronica Rae, Kristen Huey and Ming Chen, Circle Line Sightseeing Cruises, West 42nd Street, Boarding beings at 8pm, Departure is 9pm, return midnight, 19+
Fantastic Beats and Where to Find Them – NYCRavers NYC Comic Con Afterparty, 3 Huge Areas + 20+ Wizard DJs + a multi-level 3 stage recreation of Hogwarts, amazing art , mind-melting visuals, unique vendors, an arcade and tons of wizardly activities, The Tailor Public House, 505 8th Avenue, 8.30pm-4am, $20.
DC Universe Headquarters – DCU subscribers get brunch, talent meetups, screenings, signings and private events. 447 W. 36th Street – third floor.