The Orville's Writer/Producer David A. Goodman to Write an Orville Comic Book
Dark Horse Comics may have lost Star Wars, Buffy and Angel in comic book form of late – but they have a new Fox property to replace them with. And Fox-owned Boom Studios just didn't see this one coming.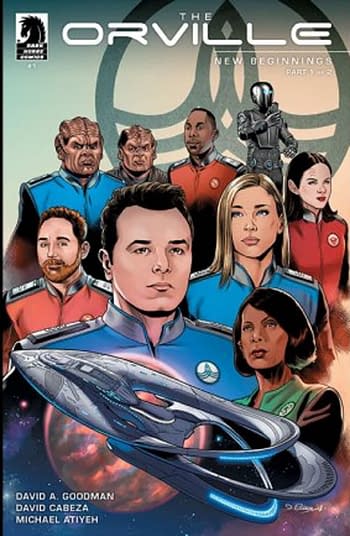 Dark Horse are to publish a new comic based on the Fox TV show The Orville, created by Seth McFarlane and ripped off from Star Trek: The Next Generation.
THR have the PR that the show's executive producer and writer David A. Goodman will write the series, drawn by David Cabeza and coloured by Michael Atiyeh.
A four-issue series made up of two stories, it will be set between the first and second season.
"New Beginnings," sees Ed and Gordon's journey to a fleet conference interrupted by a distress call from what appears to be a Union ship that's older than a century, while Kelly has to intercede in a domestic dispute on board the Orville itself as Bortus plans to enroll his child in school despite their young age.

"The Word of Avis," begins in The Orville No. 3, as the ship discovers what appears to be a Union ship headed towards Krill space — but the reality is something far more complicated and potentially deadly.
The Orville will be published on July 17th.