Things To Do In New York And Philadelphia This Week If You Like Comics
Tuesday, February 24th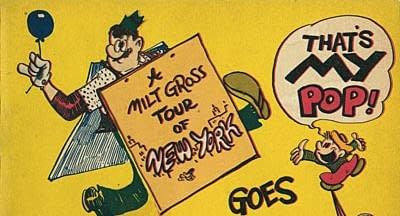 Editor Craig Yoe is presenting a multi-media presentation about the new book Milt Gross' New York: A Lost Graphic Novel at the Mid Manhattan Library. They say: "There will be a few advanced copies of the deluxe reprint of the 1939 pioneering graphic novel at the event. This hardback reprint has a fascinating introduction by Jim Steranko. IDW Publusher Greg Goldstein will be at the event to introduce Yoe and to wish him happy birthday! Come Tuesday at 455 Fifth Avenue, New York, NY, 10016 at 6:30 pm until 8:00 pm".
Wednesday, February 25th The 112th meeting of the NY Comics & Picture-story Symposium will be held on Wednesday, February 25, 2015 at 7pm at Parsons The New School, 2 West 13th Street, in the Bark Room (off the lobby). Free and open to the public. Please note: This event was snowed-out in January and is now rescheduled! Please note Wednesday date and 7pm starting time! The presentation will be Nick Thorkelson on Herbert Marcuse and Pedagogical Comics. They say: "Nick Thorkelson will talk about his projected book-length nonfiction comic on Marcuse, the German philosopher who was a mentor to the 1960s radical movements. The talk will also survey the field of pedagogical comics, from Rius and Rifas to Gonick and Sacco, and Nick's contributions to that field which include The Underhanded History of the USA, The Comic Strip of Neoliberalism, Economic Meltdown Funnies, and short comics about Mr. Block, Kenneth Patchen, Yiddish poets, radical Christians, and the origins of modern jazz".
Thursday, February 26th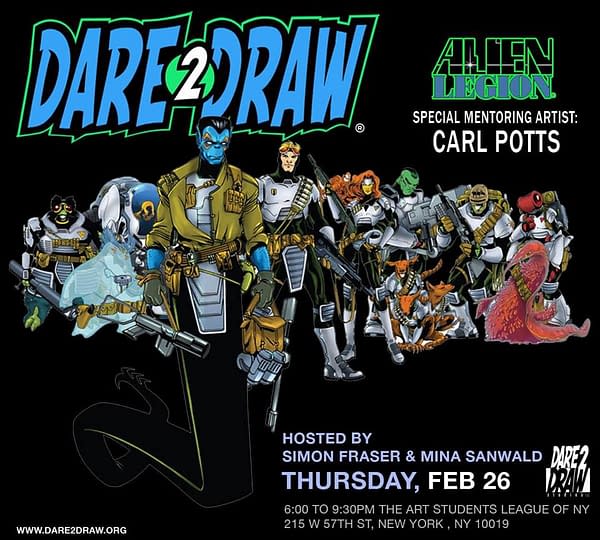 Dare2Draw with Special Mentoring Artist: Carl Potts will be hosted by Simon Fraser and Mina Sanwald from 6 to 9:30PM at the Art Students League of NY at 215 West 57th Street in New York. They say: "Carl will be talking to us about the Art of Visual Storytelling and doing some critiques, so bring your portfolios!
• Bring your sketchbooks for an evening of live drawing
• Contests & Give-aways
• Demonstrations, Q&A and mingling with other cartoonists
• Our signature "Quick Draw" Contest and "The Re-Load"
• At the historical The Art Students League of New York
Featuring 90 minutes of dynamic figure drawing, with live-action models & props and our signature Dare2Draw "Quick Draw" Contests, with all art done on Blue Line Pro boards. The pro art is auctioned for artists-in-need".

Thursday, February 26th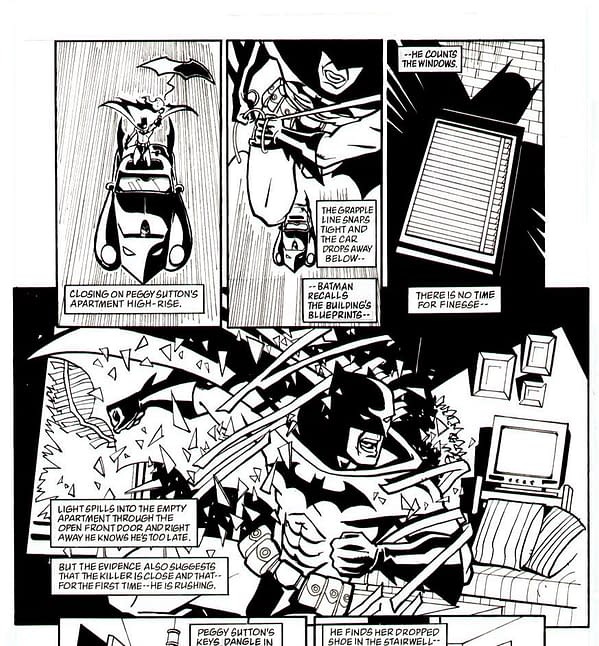 Thief of Thieves artist Shawn Martinbrough will appear in conversation with Danny Fingeroth at the Society of Illustrators at 6pm at 128 East 63rd Street in New York. They say: "Acclaimed comics and graphic novel artist SHAWN MARTINBROUGH will speak on his career, his influences, and his noir-influenced approach to storytelling as part of The Society of Illustrators' celebration of Black History Month. Martinbrough will be joined in conversation by comics writer and historian Danny Fingeroth, longtime editor of Marvel's Spider-Man comics line. The event will take place on Thursday, February 26, from 6-8 PM, at the Society of Illustrators, 128 E. 63 Street, in Manhattan. To reserve tickets, go to: http://tinyurl.com/oda2ty7".
Thursday, February 26th

Locust Moon Comics at 34 South 40th Street in Philadelphia are hosting the Maps for Earthmates Art Show from 7 to 10PM. They say: "Local West Philly artist Joey Hartmann-Dow (working under the name Us & We Art) brings her signature map creatures to Locust Moon for a solo show "Maps for Earthmates", opening February 26.
As seen at Go West! Craft Fest and occasional First Fridays in Old City, the artist paints and draws directly on maps, making creatures out of the borders of land and water. In her artist's statement she asks: "Can we see that land as a moving, breathing creature, worthy of love and care? How would we treat the earth differently?" The work invites viewers to look at the features of our planet in a new light—as living things with hearts and souls.
The opening reception for Maps for Earthmates is 7pm to 10pm on Thursday, February 26 at Locust Moon Gallery. The work will be up through March 28, and digital art prints will be available for sale throughout the show".
**And if you happen to be in New Jersey, remember that Adam Hughes is appearing on Feb. 25th and 28th at Conquest Comics to sign his variant covers for Spider-Gwen #1!