This Week, Marvel Teases Original Sin, In All-New X-Men, Ghost Rider And Even Daredevil? That's a scene from this week's All-New Ghost Rider #2. A comic book from a publisher about to give away a lot of promotional Watcher's eyes as their mega event Original Sin gives us a Watcher with both his eyes removed…
But it's not alone this week. Okay, that's probably a red herring from Daredevil #1.50. But All-New X-Men #25 is very pointed as The Beast receives a visitor and gets told of infinite consequences and realities based on his time travelling actions, with a string eye close up… Which may get increased resonance when compared to Original Sin #0 out next week, with this scene. Even Mighty Avengers gets in on the act, thinking of a happier, safer time – when only the Earth was being threatened with complete and utter destruction. Oh, the stakes have risen since then…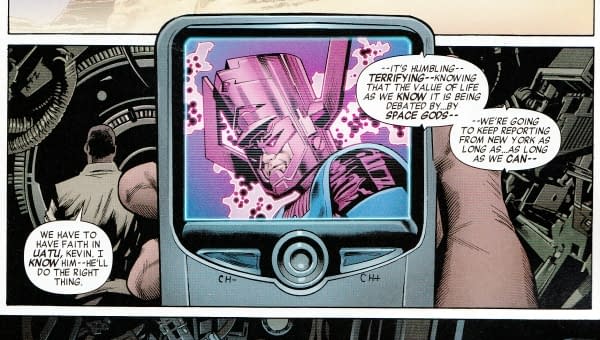 All comics, except for Original Sin #0, are published today. Comics courtesy of Orbital Comics, London. About to host an underground event hosted by a collection of the UK's most promising emerging comic creators: Owen Michael Johnson, P M Buchan, Mark Penman, Jon Lock, Nich Angell, Andrew Tunney and James Lawrence.
CULT will consist of a group art exhibition from the 14th to the 20th of April, including exclusive comic launches, boutique merchandise and signings. The artists will be in-store Saturday 19th April 2pm-5pm to sign their event exclusives, discuss their work, and unveil special items.